Best 1913 Adventures (3)
By: Joshua Glenn
February 20, 2018
One in a series of 10 posts identifying Josh Glenn's favorite 1913 adventure novels. Happy 105th anniversary!
*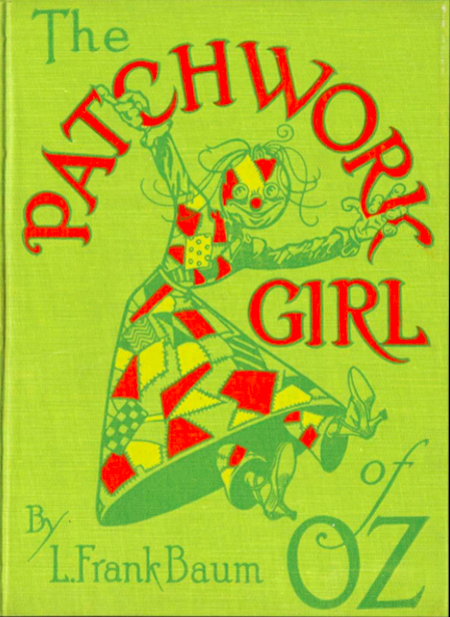 L. Frank Baum's children's Radium-Age sci-fi/fantasy adventure The Patchwork Girl of Oz
Baum considered this one of his very best Oz books. I don't agree, but it's a good one — and a disquieting one, since it forces readers to reconsider whether Oz is a utopia… or a dystopia. Ojo, a young Munchkin boy, is starving. (Who knew you could starve in Oz?) He and his uncle strike out in search of food, and the first place these refugees arrive is the home of the Crooked Magician, a kind of wizard-scientist whose experiment goes awry, petrifying the uncle and the wizard's wife. Before that, Ojo mischievously adds extra brains to the head of a patchwork doll whom the wizard intends to animate and utilize as a mindlessly obedient servant (Karel Capek's RUR wouldn't be written for another decade). Ojo, Scraps the patchwork girl, and a glass cat embark upon a quest to obtain the magical ingredients required to unpetrify Ojo's uncle. They encounter the Scarecrow, Jack Pumpkinhead, and Dorothy and Toto, as well as some new characters… including an Afro-futurist tribe of Hottentot-like imps who live in black domes lined with… radium!
Fun facts: Baum had intended The Emerald City of Oz (1910) to be the series finale; its conclusion describes Oz as being isolated from outside worlds forever. Here, he explains that he was able to make contact with Oz via wireless telegraphy.
***
JOSH GLENN'S *BEST ADVENTURES* LISTS: BEST 250 ADVENTURES OF THE 20TH CENTURY | 100 BEST OUGHTS ADVENTURES | 100 BEST RADIUM AGE (PROTO-)SCI-FI ADVENTURES | 100 BEST TEENS ADVENTURES | 100 BEST TWENTIES ADVENTURES | 100 BEST THIRTIES ADVENTURES | 75 BEST GOLDEN AGE SCI-FI ADVENTURES | 100 BEST FORTIES ADVENTURES | 100 BEST FIFTIES ADVENTURES | 100 BEST SIXTIES ADVENTURES | 75 BEST NEW WAVE SCI FI ADVENTURES | 100 BEST SEVENTIES ADVENTURES | 100 BEST EIGHTIES ADVENTURES | 75 BEST DIAMOND AGE SCI-FI ADVENTURES | 100 BEST NINETIES ADVENTURES (in progress) | 1994 | 1995 | 1996 | 1997 | 1998 | 1999 | 2000 | 2001 | 2002 | 2003 | NOTES ON 21st-CENTURY ADVENTURES.