Joshenilia (36)
By: Joshua Glenn
April 18, 2017
One in a series of posts exhuming the juvenilia and significant objects of HILOBROW's Josh Glenn.
*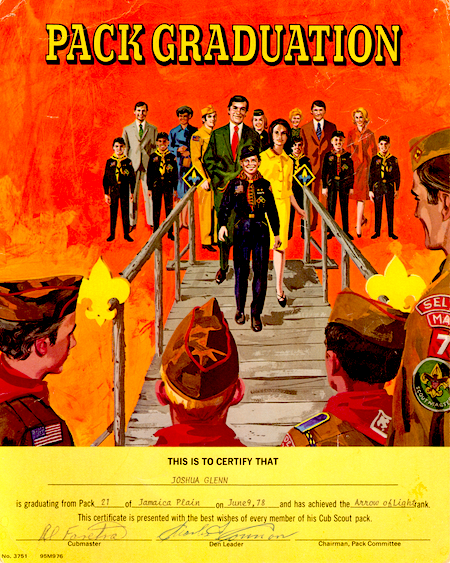 ARROW OF LIGHT, bitches! The ceremony was exactly like this, except: no bridge, no parents, the ceremony took place in the dingy rec hall of Our Lady of Lourdes Church in our neighborhood (or, to use the proper Bostonian geo-locational term: our parish); and the older scouts were all the Catholic thugs who'd terrorized me and my friends.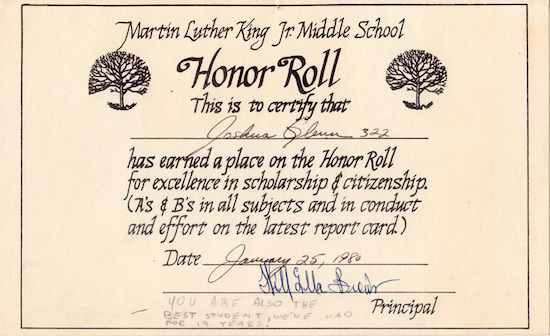 Note the penciled-in marginalia on this Martin Luther King Jr. Middle School document.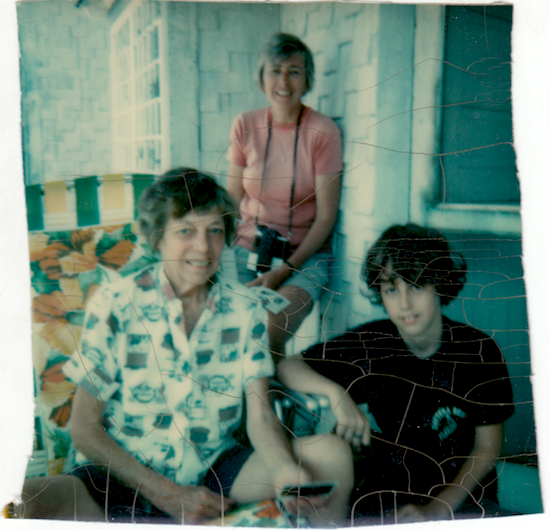 Random Polaroid of me with my grandmother and Aunt Maggie in Eagles Mere, PA, c. 1978.
***
READ MORE essays by Joshua Glenn, originally published in: THE BAFFLER | BOSTON GLOBE IDEAS | BRAINIAC | CABINET | FEED | HERMENAUT | HILOBROW | HILOBROW: GENERATIONS | HILOBROW: RADIUM AGE SCIENCE FICTION | HILOBROW: SHOCKING BLOCKING | THE IDLER | IO9 | N+1 | NEW YORK TIMES BOOK REVIEW | SEMIONAUT | SLATE