Best 1911 Adventures (10)
By: Joshua Glenn
November 29, 2016
One in a series of 10 posts identifying Josh Glenn's favorite 1911 adventure novels. Happy 105th anniversary!
*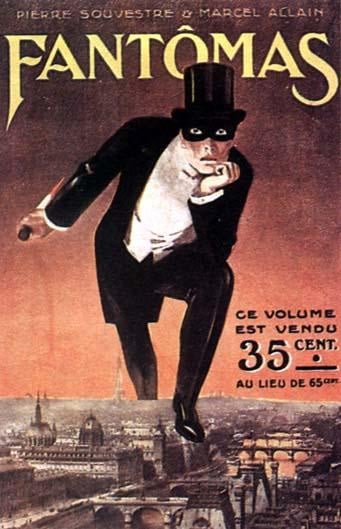 Marcel Allain and Pierre Souvestre's crime adventure Fantômas.
A bloodthirsty avenger/artful dodger adventure about the ruthless Fantômas — who would become one of French crime fiction's most popular characters. When Marquise de Langrune is murdered, her friend Rambert accuses his son, Charles, of having committed the heinous crime. Inspector Juve of the Paris Sûreté suspects that Fantômas was to blame, but it's too late — Charles's body is pulled from a river, an apparent suicide. Meanwhile, Lord Beltham has disappeared; Juve finds his body stuffed into a trunk belonging to Beltham's friend, Gurn. Then, when a Russian princess is robbed, Juve questions Mademoiselle Jeanne, the hotel's cashier — who knocks him out, before revealing herself to be… Charles, who is not dead! (Charles winds up becoming Juve's assistant.) Juve captures Gurn, who is actually… Fantômas! How will Fantômas escape the guillotine?
Fun fact: Allain and Souvestre would crank out over 30 subsequent Fantômas feuilletons together — including nine in 1911 alone! These lowbrow entertainments were devoured by high-lowbrow artists and authors — Raymond Queneau, Blaise Cendrars, René Magritte, Robert Desnos, Guillaume Apollinaire, James Joyce — some of whom were inspired to introduce adventure elements into their own writing.
***
Let me know if I've missed any 1911 adventures that you particularly admire.