Best Adventures of 1961 (1)
By: Joshua Glenn
September 5, 2016
One in a series of 10 posts identifying Josh Glenn's favorite 1961 adventure novels. Happy 55th anniversary!
*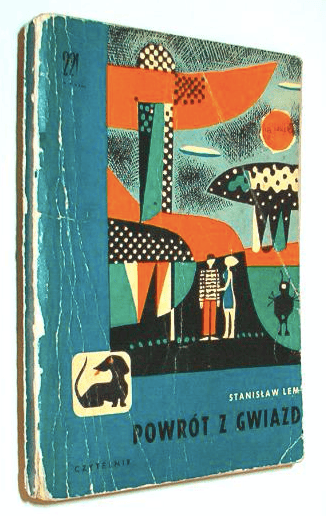 Stanislaw Lem's sci-fi adventure Powrót z gwiazd (Return from the Stars).
Returning from a 10-year mission, astronaut Hal Bregg returns to Earth — where nearly 130 years have passed, due to time dilation. He and the other astronauts discover a global utopian social order free not only of violence (thanks to "betrization," a biochemical procedure that neutralizes aggressive impulses), but even car crashes (thanks to Google Self Driving Car-like tech). Physical risk-taking has been eliminated… but has the cost been too high? Bregg can't adapt — he's a monstrous figure, an anachronism. (Hello, Demolition Man.) Space exploration is now seen as youthful adventurism, too dangerous to continue. Earth, to him, is no longer home, but "another, alien planet." Will Bregg settle down and accept this pacified existence, or join his fellow astronauts on a new space mission?
Fun fact: One suspects that Lem was influenced by Vladimir Mayakovsky's Radium Age sci-fi parable The Bedbug (1929). PS: Return from the Stars predicts e-readers: "No longer was it possible to browse among shelves, to weigh volumes in hand, to feel their heft, the promise of ponderous reading. The bookstore resembled, instead, an electronic laboratory. The books were crystals with recorded contents. They can be read with the aid of an opton, which was similar to a book but had only one page between the covers. At a touch, successive pages of the text appeared on it."
***
Let me know if I've missed any 1961 adventures that you particularly admire.