Best 1931 Adventures (2)
By: Joshua Glenn
April 24, 2016
One in a series of 10 posts identifying Josh Glenn's favorite 1931 adventure novels. Happy 85th anniversary!
*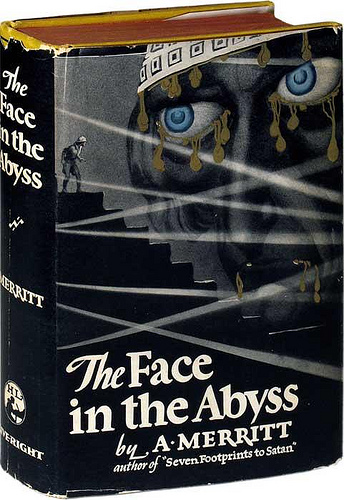 A. Merritt's The Face in the Abyss.
This semi-occult SF novel combines Merritt's stories "The Face in the Abyss" (serialized Sept. 1923) and its sequel, "The Snake Mother" (serialized Oct.-Dec. 1930). In the Peruvian Andes, treasure-hunter Nicholas Graydon rescues Suarra, handmaiden to Adana, the Snake Mother of Yu-Atlanchi. Adana is the last of a race of superintelligent serpent people whose servants, the Old Race, are immortal. Although possessed of fragments of their superior science, they are now obsessed only with sex, hunting mutants with dinosaurs, and dream machines. (Who can't relate?) Adana, who possesses spectacular paranormal abilities, is humankind's only defense against Nimir, a Sauron- or Voldemort-like mage who'd conquer the world if he could inhabit a physical body. He wants Graydon's.
Fun fact: Merritt was once considered the greatest living science fiction and fantasy writer; he even had a magazine — A. Merritt's Fantasy Magazine — named after him. The Face in the Abyss is on HILOBROW's 100 Best Radium Age Sci-Fi Novels list.
***
Let me know if I've missed any 1931 adventures that you particularly admire.