Best 1926 Adventures (10)
By: Joshua Glenn
March 14, 2016
One in a series of 10 posts identifying Josh Glenn's favorite 1926 adventure novels. Happy 90th anniversary!
*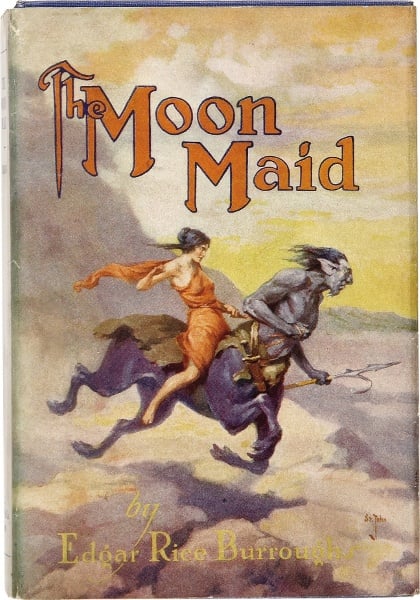 Edgar Rice Burroughs's The Moon Maid (1926).
A sprawling saga that gallops from Julian 5th's crash-landing on the moon, where he makes a daring getaway (with a moon maid in tow) from subhuman Kalkars who dwell in the asteroid's hollow interior; to the same Julian's doomed effort to defeat a Kalkar invasion of Earth; to Julian 9th's failed but inspiring rebellion against the mongrel descendants of the Moon Men, communistic tyrants who've presided over the Earthlings' regression to a medieval agrarian lifestyle; to the final triumph of Red Hawk (Julian 20th), the leader of a primitive tribe of freedom-fighters — who, 400 years after the invasion, defeats humankind's overlords in a pitched battle set in the ruins of Los Angeles.
Fun fact: The Julian 9th story, one hears, was originally written after the Bolshevik revolution, and was rejiggered later to fit into the Moon Maid saga. Reissued by Bison Frontiers of Imagination.
***
Let me know if I've missed any 1926 adventures that you particularly admire.