Best 1926 Adventures (6)
By: Joshua Glenn
March 10, 2016
One in a series of 10 posts identifying Josh Glenn's favorite 1926 adventure novels. Happy 90th anniversary!
*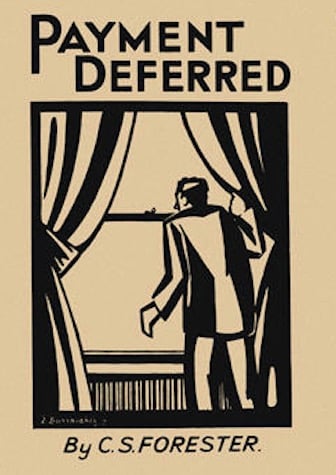 C.S. Forester's crime adventure Payment Deferred.
In this early effort by the author of the Horatio Hornblower series and The African Queen, William Marble, a London bank clerk desperately worried about his family's finances, is presented with an opportunity when a nephew carrying a large amount of cash drops by unexpectedly. Speculating with his ill-gotten gains, Marble makes a fortune in the foreign currency market — at which point his family wants to move to a new home. But Marble can't leave… because his nephew is buried in the garden! What will happen when his wife realizes the truth? Something terrible!
Fun fact: Payment Deferred was overshadowed, in the year of its publication, by Agatha Christie's much-discussed The Murder of Roger Ackroyd. Today, it is almost entirely fogotten. Adapted in 1931 as Broadway play, and in 1932 as a movie. Both starred Charles Laughton.
***
Let me know if I've missed any 1926 adventures that you particularly admire.