Best 1926 Adventures (1)
By: Joshua Glenn
March 5, 2016
One in a series of 10 posts identifying Josh Glenn's favorite 1926 adventure novels. Happy 90th anniversary!
*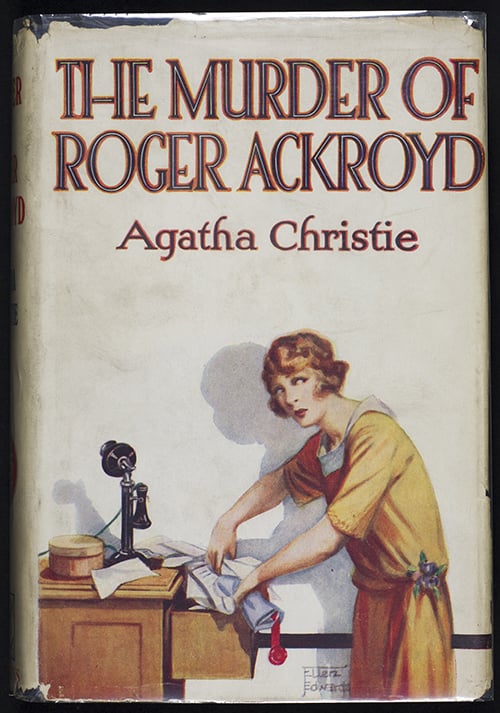 Agatha Christie's crime adventure The Murder of Roger Ackroyd.
In his third outing, retired detective Hercule Poirot — a short, mustachioed, bombastic and egocentric Belgian — has come to roost in a sleepy English village, where he intends to grow perfect vegetable marrows (that is, squashes). When his neighbor, Roger Ackroyd, is murdered, Poirot promises his niece that he'll ferret out the killer. Ackroyd's friend Dr. James Sheppard, the novel's narrator, assists Poirot's investigation — for example, by inquiring into the private life of parlourmaid Ursula, who has no alibi. Everyone in Ackroyd's household, it seems — Mrs Cecil Ackroyd, Roger Ackroyd's widowed sister-in-law; Flora, Ackroyd's niece; Ralph Paton, Ackroyd's stepson; Ursula, who is secretly married to Ralph; Hector Blunt, Ackroyd's house guest; Geoffrey Raymond, Ackroyd's secretary — has something to conceal from Poirot. Whodunnit? The novel's startling final plot twist was innovative and much-admired at the time.
Fun fact: The British Crime Writers' Association voted The Murder of Roger Ackroyd the best crime novel ever. Literary critic Edmund Wilson felt differently; he titled an essay critical of most detective fiction, "Who Cares Who Killed Roger Ackroyd?"
***
Let me know if I've missed any 1926 adventures that you particularly admire.