Pluperfect PDA (13)
By: Joshua Glenn
June 14, 2013
Thirteenth in an occasional series.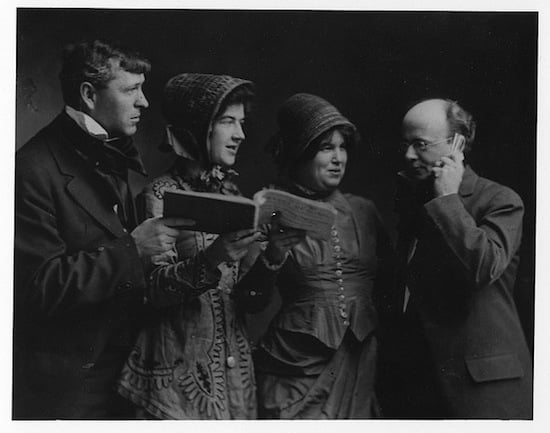 Here's a mind-bender: A 1915 photo of a quartet dressed up in vintage costumes, pretending to be an "old fashioned singing school." At least one of these historical re-enactors, however, is a time traveler from the future. A time traveler from the future who is pretending to be a 1915 man re-enacting a 19th-century scene. He is also a rude time traveler who should hang up now!
Ringtone: "It's A Long Way to Tipperary"
***
READ MORE by Joshua Glenn, originally published in: THE BAFFLER | BOSTON GLOBE IDEAS | BRAINIAC | CABINET | FEED | HERMENAUT | HILOBROW | HILOBROW: GENERATIONS | HILOBROW: RADIUM AGE SCIENCE FICTION | HILOBROW: SHOCKING BLOCKING | THE IDLER | IO9 | N+1 | NEW YORK TIMES BOOK REVIEW | SEMIONAUT | SLATE
Joshua Glenn's books include UNBORED: THE ESSENTIAL FIELD GUIDE TO SERIOUS FUN (with Elizabeth Foy Larsen); and SIGNIFICANT OBJECTS: 100 EXTRAORDINARY STORIES ABOUT ORDINARY THINGS (with Rob Walker).