UNBORED
By: Joshua Glenn
October 16, 2012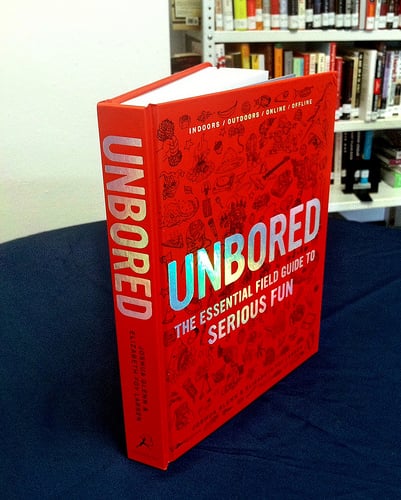 Hooray! UNBORED: The Essential Field Guide to Serious Fun, the kids' DIY activity guide and curiosity-sparker on which I've been working — with my friends Elizabeth Foy Larsen and Tony Leone — for the past two years, is now available online, and in bookstores everywhere. Today!
Check out this terrific UNBORED slideshow at Design Observer's OBlog!
UNBORED was conceived of as a real-life version of the Young Lady's Illustrated Primer, an artifact described in Neal Stephenson's The Diamond Age. The YLIP is an amazing book (but so much more than a book) which challenges its reader — an 8-year-old girl, in Stephenson's novel — to try new experiences, exercise her imagination, and think for herself. As a result, her childhood is anything but tedious… and she grows up to be a bold, omnicompetent woman who changes the world for the better. We conceived of our book — which is driven by a DIY ethos that Elizabeth and Tony and I picked up back in the '70s and '80s — as more than just a book of (awesome) activities and information. It's a kids' field guide to life.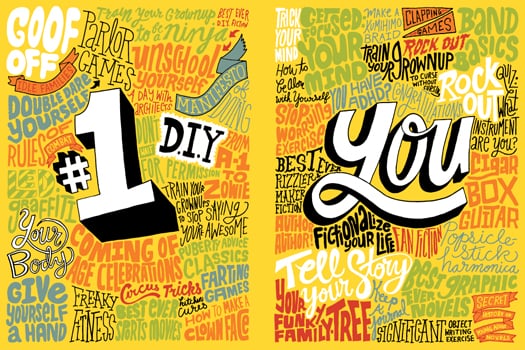 With contributions from a diverse crowd of experts — including HiLobrow contributors Joe Alterio, Deb Chachra, Matthew De Abaitua, Mark Frauenfelder, Flourish Klink, Geoff Manaugh, Tom Nealon, and Douglas Rushkoff — UNBORED provides information on everything from using the library to the history of videogames to the best grownup-free adventure fiction. Teachers interested in boosting student achievement will want a copy in their classroom. Most of its 352 full-color pages, however, are dedicated to activities — the best of the old (crafts, bicycle repair, science experiments), and the new (geocaching, yarn bombing, LED "graffiti") — for boys and girls to do on their own and with their parents.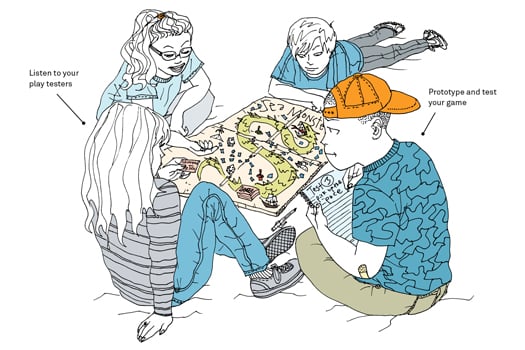 Below is a manifesto of the book's underlying ethos. Click here to visit the UNBORED website. Here is our Facebook page. We're @UnboredGuide on Twitter.
I'm so excited that it's finally here! Please help me spread the word about UNBORED far and wide… it makes an amazing gift for any kid in your life. Thanks!
*
UNBORED MANIFESTO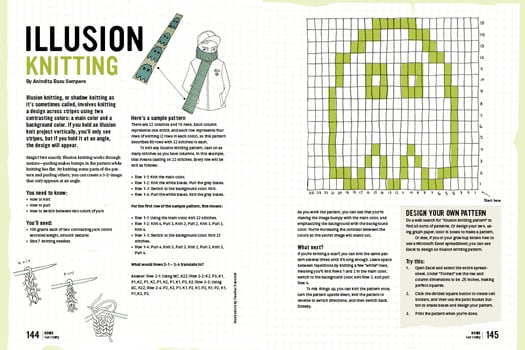 Invent, grow, and build. Kids today are increasingly tasked with mastering basic math and reading skills. But our society's emphasis on testing has also meant that shop, music, and even science classes are falling by the wayside. Kids should learn how to make stuff — whether it's a robot, a knitted hat, or a garden — in a hands-on, leisurely way that engages the imagination. It's important for kids to develop skills and expertise around their passions, and stuff that you make yourself is always more charming and cool than stuff you buy.
Hack, modify, and fix. We live in a "throwaway" culture; but there are creative, cultural, and economic benefits to taking things apart, figuring out how those things work, and learning how to fix them if they're broken — or creatively improving things, even if they're not broken. What we learn from the hacker movement is that you don't have to accept the way things are, you can modify them. That goes for your own behavior, too.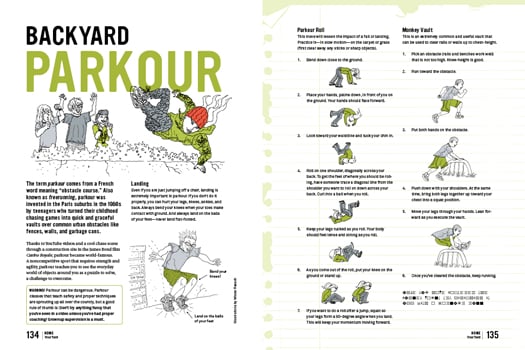 Get mobile, in town and in nature. In 1969, 41 percent of children walked or biked to school; today, fewer than 15 percent do; the same period has witnessed increases in pollution, traffic, and obesity. Kids who ride bikes, do parkour, hike and camp, and otherwise roam and explore, not only develop their agility, flexibility, and dexterity, but they also gain the ability to adapt to a situation if it doesn't turn out the way they expected.
Plug into the world. Videogames are fun and often educational challenges. But you're only a kid once. It's so important to have low-tech fun–to build backyard forts, learn the names of trees and birds, and discover first-hand how food is produced. The greatest videogames were inspired by their creators' childhood exploration of woods and cities — why? Because being an independent kid is already a fun and educational challenge.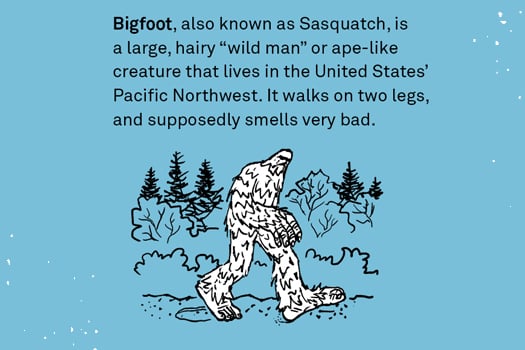 Seize control of your time. Over 15 million American kids are left on their own in the afternoons; this can be an opportunity to become more resourceful and independent. Kids can cook meals and snacks, and in doing so explore their tastes. They can do research on topics about which they're curious. They can investigate mysteries, practice magic tricks, dream and doodle and tinker. We need time offline, to imagine and create.
Unearth the history of the present. Everyday life casts a bewitching spell — it would have us believe that the way things are now is not only natural and inevitable, but permanent. Studying the history of your town, your family, your gadgets, your food, your culture, is a way to break out of the voodoo of the everyday. When we go through life in a passive, unthinking way, we risk forgetting that the impossible is actually possible.
Transform your world. Like parkourists, skateboarders, and unschoolers, kids can learn to see any given environment as temporary and modifiable. Everyday life is an obstacle course, a code to crack, a puzzle to solve. From their room to their backyard, to their school, neighborhood, and town, kids can leave their mark — become actively engaged. In doing so, they become activists who will change the world for the better.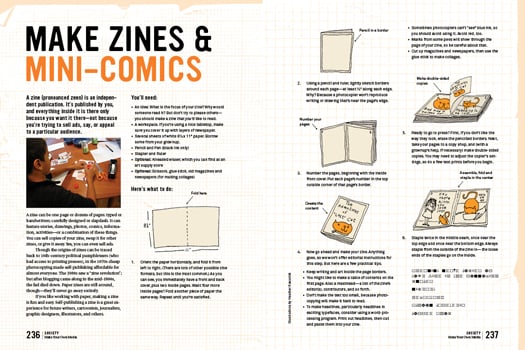 Find a scene. Sharing your own ideas and know-how with others, and learning from them in return, is incredibly rewarding. Joining a community of folks who share your interests is the closest we'll ever come to living in a utopian society, where differences are respected, free speech is celebrated, and decisions are made democratically. Kids should use social media as a way to support real-life community — not as a substitute.
Experiment, gamify, make mistakes. Anything, from cooking to programming to modifying your own behavior, can be approached as an experiment, or a game — and the best way to learn is to jump right in. Perfect is the enemy of good. Engineers, scientists, game designers, and others know that making mistakes early and often is the fastest way to learn. It's all about prototyping, iterating… and enjoying the process.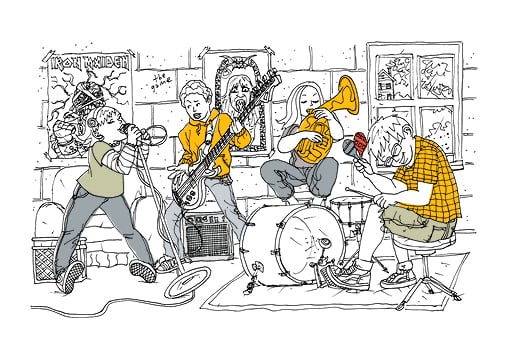 Break free. Many kids go directly from school to afterschool activities like organized sports, extracurricular classes, and music or karate lessons. These opportunities are terrific in moderation, but the adults who amaze us with innovative ideas were the kids who obeyed the siren call of their own eccentric, unique passions and interests.
*
A FEW ADVANCE REVIEWS & BLURBS
"The first kids' book to truly encourage a hands-on approach to creating a personally meaningful life."
— Mark Frauenfelder, editor-in-chief of MAKE magazine, co-editor of BoingBoing
"This year's hottest activity book for kids may well be UNBORED … Gathering contributions from the likes of media theorist Douglas Rushkoff and GetCrafty.com founder Jean Railla, among many others, the 350-page book highlights science experiments, crafts and upcycling, board game hacking, and geocaching…"
— Publisher's Weekly
"Deliciously abundant… Any parent who has survived a school break or a summer vacation knows how difficult it is to keep their kids occupied, stimulated, and interactive. UNBORED is a 350-page treasure chest of games, computer fun, creative projects, nature hunts, lists, quizzes, science experiments, and much, much more. One family and childcare book we can't praise enough."
— Barnes & Noble editorial review. NB: UNBORED is a Barnes & Noble SELF-HELP PICKS (BOOKS WE LOVE) selection for October 2012
"A parent-and-kids guide to doing things that are smart and quirky. Fun facts about condiments? Advice on starting a band? Yarn bombing, fan fiction, game hacking? It's all there, illustrated."
— The Los Angeles Times Book Review blog, Jacket Copy. CLICK HERE to see an LATBR video chat with Joshua Glenn and MAKE Magazine editor in chief Mark Frauenfelder.
"This is what we've been waiting for! A playful and informative journey built on exhilarating activities and adventures. This is not just a book, it's a way of life for kids and parents alike."
— Anthony DeBenedet, MD, author of The Art of Roughhousing
"That's what I love re: the book UNBORED — it's for ALL, not 'daring girls' or 'dangerous boys'…"
— tweet from Peggy Orenstein, author of Cinderella Ate My Daughter
"If your kids ever give UNBORED back to you, you may want to do a whole lot of the great ideas yourself. Which is why you may find me at the bus depot, yarn in hand (see p. 197), or making my first paper football since 1983."
— Lenore Skenazy, author of the book and blog Free-Range Kids
"What a treasure trove Glenn and Larsen have created! All parents, teachers, and anyone else who wants kids to have fun and wants to have fun with kids will love, love, love this book."
— Edward Hallowell, M.D., ADHD and parenting expert, author of Delivered From Distraction
"The coauthors of this book believe that young people are capable of much more than grownups usually think possible. And they are right! If you love outdoorsy, crafty, and adventurous stuff, then this book is perfect for you. It's a guide to life — if you want an exciting and unbored life!"
— Emma Kristjanson-Gural, age 12, in the magazine New Moon
"This mixture of step-by-step how-tos, inspirational articles, comics, and excerpts from literature puts a priority on having fun and learning new skills, all while becoming more independent."
— School Library Journal
"In the same vein as The Dangerous Book for Boys and The Great Big Glorious Book for Girls. Except without all of the vomit-inducing gender stereotyping."
— from the momblog Coffee With Julie
"Sure to bring a new generation and new kind of maker into the world."
— Douglas Rushkoff, author of Program or Be Programmed: Ten Commands for a Digital Age
"This is the awesome family book we didn't know we were waiting for!"
— tweet from Homa Sabet Tavangar, author of the parenting guide Growing Up Global
"This 352-page book is filled — no, jam-packed! — with so many awesome ideas of things to do, make, think about, puzzle over, experiment with, play, and wonder about, that I dare anyone to start reading it and not find something to interest them. That includes adults, too… This is the kind of book I wished I had as a kid, but better late than never."
— Kids Outdoors, an Appalachian Mountain Club blog
*
FUN FACTS: In the mid-'90s, Elizabeth and I were colleagues at the Minneapolis-based magazine Utne Reader. In the late '90s, Tony and I were colleagues at the Boston-based zine/journal Hermenaut, and now Tony is the designer for HiLoBooks' Radium Age Science Fiction series. More info here.