Wage Slavery in the News (5)
By: Joshua Glenn
November 2, 2011
Please check out the Wage Slave's Glossary homepage and help Seth, Mark Kingwell, and me spread the word…
***
November 1: OCCUPY LONDON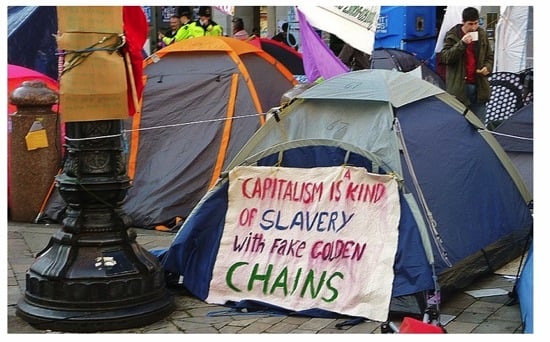 Photo taken by Flickr user helenoftheways.
November 1: TWEETS BY @MATIFESTO and @JOSCOTTCOE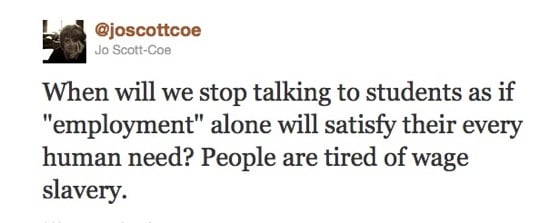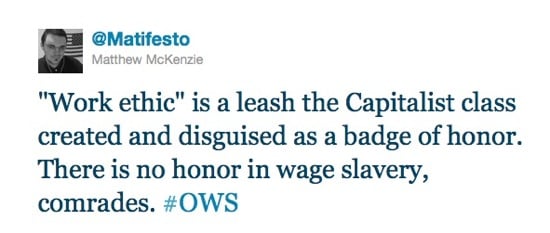 October 31: GOODREADS.COM CONTEST
On Oct. 31, the website Goodreads announced a book giveway contest. The book? The Wage Slave's Glossary. Enter for a chance to win — you have 20 days!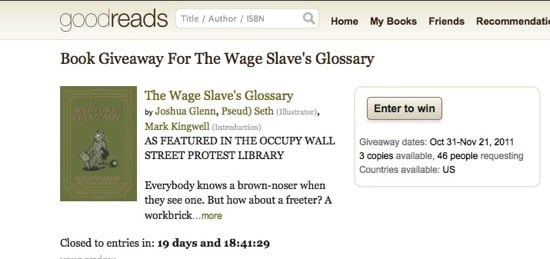 October 28: TWEETS BY @THEGAVINO and @REBELCAPITALIST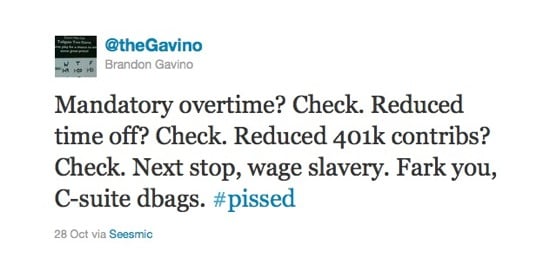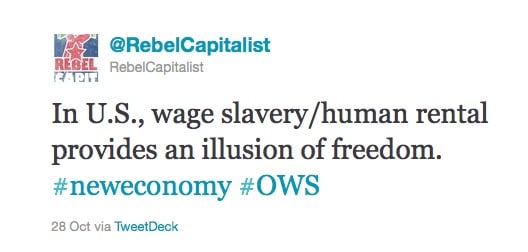 October 28: AMAZON USER REVIEW
On Oct. 28, Amazon user T. Muragtroyd wrote:
This book couldn't have come at a better time. I heard about it through the N.Y. Times and saw that the Occupy Wall Street Library had picked it up, so I went out and found a copy, and I was glad I did. There was nothing of what I was afraid of: it wasn't kitschy or insubstantial or trying too hard to be funny. Instead I found it wonderfully incisive, satirical, contemporary, on-point. Kingwell's introduction on Wage Slavery and Bullshit is market-savvy and goes a long way towards unpacking the rhetoric of capitalism. […] Kingwell's essay in combination with Glenn's incredibly wide-ranging definitions (which move from the 16th century to 2011, and include terms from Britain, China, and Japan), produces a substantial — far more substantial than you'd think for such a little book — assessment of work language. […] As Kingwell & Glenn admit, this little book may not overthrow capitalism, but it succeeds in doing what they set out to do: "highlight essential things about our predicament — philosophy's job ever." Five stars. And speaking of stars: the illustrations by Seth are out-of-this-world good.

TWEET BY @JAE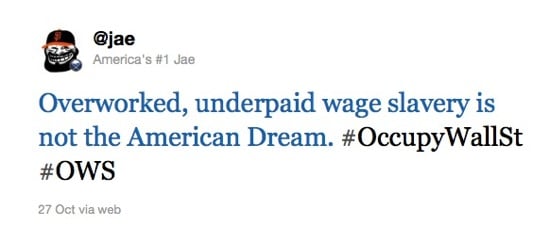 ***
ALSO SEE: Rushkoff vs. the 1% (1) | Tactical Utopia | Feral Dissent | Don't Mourn, Organize | Occupying Our Gardens | Grand Theft Politics | The Black Iron Prison | News about the Wage Slave's Glossary