Fanchild (10)
By: Adam McGovern
April 29, 2011
HiLobrow.com has curated a collection of our favorite recent blog posts by comic-book scriptwriter and translator Adam McGovern. This is the tenth in a series of ten installments.
Face Time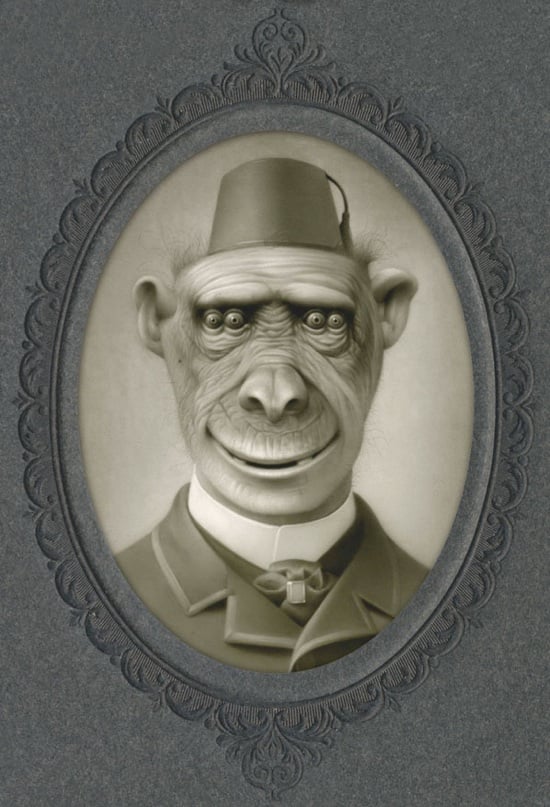 "Believable" is a funny word, wavering on the needle's eye of faith and verifiability. From the densely imagined audioplays of Rasputina to the pokerfaced tomes of John Hodgman, a whole industry has sprung up in our age of information-glut to burlesque an earlier time of self-assured speculation. The Victorian era obsessively catalogued and voluminously documented species, diseases, cultures and industries in an age of rigorous education but pervasive and now laughable third-hand communication and eugenic bias. Anything was believable at a time of emerging scientific wonders and opening borders that mostly mapped the vast volumes of what we still didn't know, and artist Travis Louie's lethal wit and welcoming eye trace a long and vivid parallel history of the superstition that can pass for certainty in any century.
Louie creates widely reproduced and endlessly refreshed portraiture of the kinds of goat/man hybrids and dog-faced boys that could be imagined lurking in the nearest forest or seen working the local sideshow in times closer to our own than we tend to remember. Louie's paintings of cyclopes, six-clopes and frog-headed gentlemen are rendered with an unassailable veracity at the opposite end of the photoshop era that fools us with technology just as the entirely hand-crafted artist fooled us with the authority of his or her "realism" before the camera took over. Seeing is believing, and the livelihood of many a ghosthunting reality-show crew to this day depends on what we think we saw.
One of Louie's central jokes of course is that these portraits aren't made to look like classic oil paintings but early photographs themselves, and he shows a hilarious fidelity not only to the particulars of how such Addams Familyesque individuals would actually look, but to the technical glitches and material shortcomings of the period medium. Many such antique shots have more of their mask-like retouching survive over 100 years than the actual photo components, a trait which Louie turns on its head (so to speak) with a crystal-clear technique that's all fabricated, and a deliberate re-creation of all the imbalances of fledgling photography — weird variations of fuzz and focus, hazes of over- and underexposure, not to mention musty gray expanses that could be brain-eating mold.
Tuned in on Louie's cameo-framed magic mirrors, these alternative lifeforms and folklore fancies are being called back through the mist of faulty memory and the lost language of ancient tech. Especially sharp are the glassy eyes, flooded by primitive flashpots to look both taxidermied by time and immediately, piercingly (and personably) alive. These portrait heads are a natural history museum of perceptual roads not taken and evolutionary possibilities cut off, but also an honored family album of the freakish individuality we all feel inside.
In the days before scientific skepticism, cosmetic-surgery touch-ups and selective birth, many such human variants could be met up with, though usually kept at the distance of social exile and carnival display. Now, when we try to show some imagination and hope that every one of us is a different person, we can look at each other face to face. In the frames of Travis Louie's fresh antiques, everything's far away enough to be seen clearly.
[On view at Joshua Liner Gallery in NYC, with Sylvia Ji's reliquary art-nouveau lucha goddesses, through August 7, and in Louie's book Curiosities, from Baby Tattoo
This post originally appeared at poodcomics.blogspot.com , on July 12, 2010.
***
CURATED SERIES at HILOBROW: UNBORED CANON by Josh Glenn | CARPE PHALLUM by Patrick Cates | MS. K by Heather Kasunick | HERE BE MONSTERS by Mister Reusch | DOWNTOWNE by Bradley Peterson | #FX by Michael Lewy | PINNED PANELS by Zack Smith | TANK UP by Tony Leone | OUTBOUND TO MONTEVIDEO by Mimi Lipson | TAKING LIBERTIES by Douglas Wolk | STERANKOISMS by Douglas Wolk | MARVEL vs. MUSEUM by Douglas Wolk | NEVER BEGIN TO SING by Damon Krukowski | WTC WTF by Douglas Wolk | COOLING OFF THE COMMOTION by Chenjerai Kumanyika | THAT'S GREAT MARVEL by Douglas Wolk | LAWS OF THE UNIVERSE by Chris Spurgeon | IMAGINARY FRIENDS by Alexandra Molotkow | UNFLOWN by Jacob Covey | ADEQUATED by Franklin Bruno | QUALITY JOE by Joe Alterio | CHICKEN LIT by Lisa Jane Persky | PINAKOTHEK by Luc Sante | ALL MY STARS by Joanne McNeil | BIGFOOT ISLAND by Michael Lewy | NOT OF THIS EARTH by Michael Lewy | ANIMAL MAGNETISM by Colin Dickey | KEEPERS by Steph Burt | AMERICA OBSCURA by Andrew Hultkrans | HEATHCLIFF, FOR WHY? by Brandi Brown | DAILY DRUMPF by Rick Pinchera | BEDROOM AIRPORT by "Parson Edwards" | INTO THE VOID by Charlie Jane Anders | WE REABSORB & ENLIVEN by Matthew Battles | BRAINIAC by Joshua Glenn | COMICALLY VINTAGE by Comically Vintage | BLDGBLOG by Geoff Manaugh | WINDS OF MAGIC by James Parker | MUSEUM OF FEMORIBILIA by Lynn Peril | ROBOTS + MONSTERS by Joe Alterio | MONSTOBER by Rick Pinchera | POP WITH A SHOTGUN by Devin McKinney | FEEDBACK by Joshua Glenn | 4CP FTW by John Hilgart | ANNOTATED GIF by Kerry Callen | FANCHILD by Adam McGovern | BOOKFUTURISM by James Bridle | NOMADBROW by Erik Davis | SCREEN TIME by Jacob Mikanowski | FALSE MACHINE by Patrick Stuart | 12 DAYS OF SIGNIFICANCE | 12 MORE DAYS OF SIGNIFICANCE | 12 DAYS OF SIGNIFICANCE (AGAIN) | ANOTHER 12 DAYS OF SIGNIFICANCE | UNBORED MANIFESTO by Joshua Glenn and Elizabeth Foy Larsen | H IS FOR HOBO by Joshua Glenn | 4CP FRIDAY by guest curators