Fanchild (7)
By: Adam McGovern
April 26, 2011
HiLobrow.com has curated a collection of our favorite recent blog posts by comic-book scriptwriter and translator Adam McGovern. This is the seventh in a series of ten installments.
Thank You, Dwayne McDuffie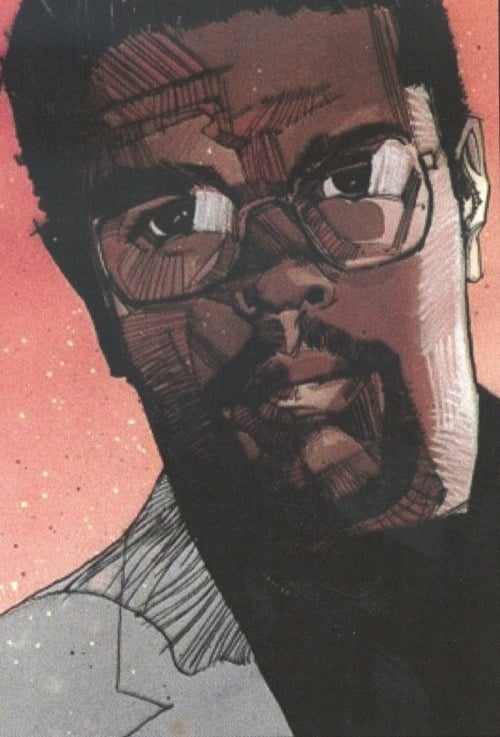 The creators most dedicated to the comics artform are often the ones whose personalities are least in view, and the writers most committed to their craft are sometimes the ones you don't see behind the achievements and possibilities that are all around you. Dwayne McDuffie's essence was to put forth the personalities of characters as true as life and the potential of artists and writers the history of pop can't do without (though their names may long be more well-known than his).
Dwayne once told me that "the most important element…was the sense of fun" (he was writing Fantastic Four at the time), but no one took superheroes more seriously. Not in an unsmiling way, but in the sense that fantasy can mean something to people. McDuffie communed with the essence of what made these stories work for us as kids, and perceived the frontiers of how they can stay significant both as "properties" and parables. It's no accident that the writer who reconnected many lifetime comic-readers with their childhood passion spoke to children in a way that medium had largely forgotten about, from comic-themed cartoons like Static Shock to comic-inspired ones like Ben 10. And with his grasp of what makes people gather round the eternal storytelling campfire, it's no surprise — just a miracle — that he could revitalize the most established franchise fantasies, like Justice League and FF, with a cosmic viewpoint and a face-to-face sense of character, in the last five years of his life.
Dwayne's part of eternity now, and the new bards of mainstream comics' expansion into meta-folklore (like his phenomenal FF successor Jonathan Hickman) owe Dwayne a tremendous debt. So do generations of the medium's most essential creators, like John Paul Leon and ChrisCross, who made it to a new universe of imagination when the Milestone imprint that McDuffie co-founded opened the gates to unheard-of talent — and unheard-from communities — by giving vivid multicultural characters their launch and vital creators of color their start.
In that as in all ventures Dwayne was both a visionary and a businessman, and businesses can swallow up their hardest workers and best names. More people will have seen his work — the cartoons he helmed reset the standard of the Justice League for the whole coming century and a worldwide TV audience — but more comics fans probably know his collaborators' names. And no name is bigger than the brand; McDuffie's last run on the Justice League comic, while ingenious, was one of the most meddled with in recent history. Geniuses in corporations get that a lot; him most of all, Gail Simone a little less, and Grant Morrison lesser still but still too much (and if you're seeing a sliding scale of race and gender, well, some parts of comics are still not your imagination).
But McDuffie's "Milestone Forever" finale stories last year were all him and gave his co-created characters the most satisfying and upbeat of epitaphs; and his DVD adaptation of Morrison's own All-Star Superman appeared to cheers across the country on the very day Dwayne died. In that old interview with me, he said of current superhero comics, "we confuse solemnity for maturity and are trying very hard to be too cool to smile." So I'm trying to smile, Dwayne. I won't say goodbye because generations of my future favorite artists will exist because they found your work. I won't say Rest in Peace because you never stopped and weren't here long enough. I'll say what many whose calling is found and life made easier by creative work never get to say, or know who to say it to: Thank you, Dwayne. Thank you.
This post originally appeared at ComicCritique.BLOG, on February 22, 2011.
***
CURATED SERIES at HILOBROW: UNBORED CANON by Josh Glenn | CARPE PHALLUM by Patrick Cates | MS. K by Heather Kasunick | HERE BE MONSTERS by Mister Reusch | DOWNTOWNE by Bradley Peterson | #FX by Michael Lewy | PINNED PANELS by Zack Smith | TANK UP by Tony Leone | OUTBOUND TO MONTEVIDEO by Mimi Lipson | TAKING LIBERTIES by Douglas Wolk | STERANKOISMS by Douglas Wolk | MARVEL vs. MUSEUM by Douglas Wolk | NEVER BEGIN TO SING by Damon Krukowski | WTC WTF by Douglas Wolk | COOLING OFF THE COMMOTION by Chenjerai Kumanyika | THAT'S GREAT MARVEL by Douglas Wolk | LAWS OF THE UNIVERSE by Chris Spurgeon | IMAGINARY FRIENDS by Alexandra Molotkow | UNFLOWN by Jacob Covey | ADEQUATED by Franklin Bruno | QUALITY JOE by Joe Alterio | CHICKEN LIT by Lisa Jane Persky | PINAKOTHEK by Luc Sante | ALL MY STARS by Joanne McNeil | BIGFOOT ISLAND by Michael Lewy | NOT OF THIS EARTH by Michael Lewy | ANIMAL MAGNETISM by Colin Dickey | KEEPERS by Steph Burt | AMERICA OBSCURA by Andrew Hultkrans | HEATHCLIFF, FOR WHY? by Brandi Brown | DAILY DRUMPF by Rick Pinchera | BEDROOM AIRPORT by "Parson Edwards" | INTO THE VOID by Charlie Jane Anders | WE REABSORB & ENLIVEN by Matthew Battles | BRAINIAC by Joshua Glenn | COMICALLY VINTAGE by Comically Vintage | BLDGBLOG by Geoff Manaugh | WINDS OF MAGIC by James Parker | MUSEUM OF FEMORIBILIA by Lynn Peril | ROBOTS + MONSTERS by Joe Alterio | MONSTOBER by Rick Pinchera | POP WITH A SHOTGUN by Devin McKinney | FEEDBACK by Joshua Glenn | 4CP FTW by John Hilgart | ANNOTATED GIF by Kerry Callen | FANCHILD by Adam McGovern | BOOKFUTURISM by James Bridle | NOMADBROW by Erik Davis | SCREEN TIME by Jacob Mikanowski | FALSE MACHINE by Patrick Stuart | 12 DAYS OF SIGNIFICANCE | 12 MORE DAYS OF SIGNIFICANCE | 12 DAYS OF SIGNIFICANCE (AGAIN) | ANOTHER 12 DAYS OF SIGNIFICANCE | UNBORED MANIFESTO by Joshua Glenn and Elizabeth Foy Larsen | H IS FOR HOBO by Joshua Glenn | 4CP FRIDAY by guest curators