Cthulhuwatch (1)
By: Joshua Glenn
May 28, 2010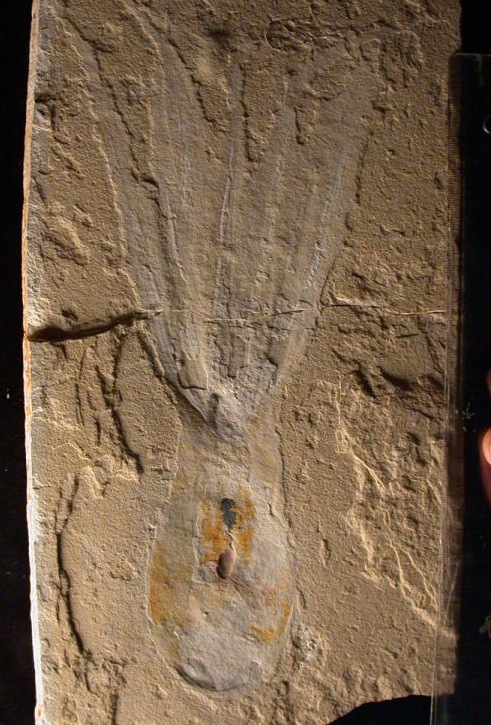 As those of us who follow Cephalopod News have known for some time now, 95 million years ago five creatures perished in the waters covering what is now Lebanon. Last January paleontologist Dirk Fuchs of the Free University of Berlin and his colleagues released their analysis of these fossils — and it was a coverup!
The five creatures are octopi, according to Fuchs — though different enough from the octopi we know that they're considered previously unrecorded species: Keuppia hyperbolaris, Keuppia levante, and Styletoctopus annae.
Bullshittus maximus!
Check out this ultraviolet image from the January/February 2010 issue of Discover.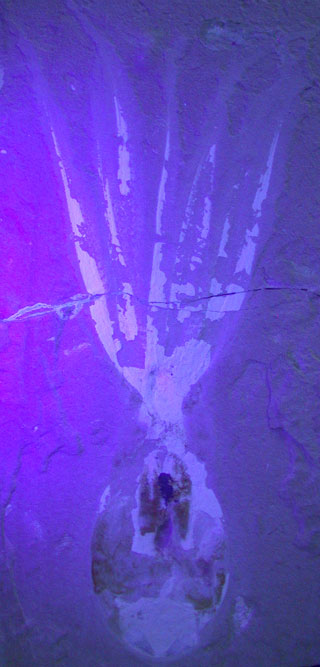 What we're seeing here is clearly the head of a juvenile alien-god from the planet Vhoorl. Just as we read in Lovecraft's story "The Call of Cthulhu," the fossil here can be described as an "awful squid-head with writhing feelers."
Fuchs notes that octopuses, due to their delicate construction, have left almost no evolutionary trail — i.e., fossils — to follow. How to explain these fossils, then? Um… he suggests that a lack of oxygen on the local seafloor might have kept the area free of bottom-dwelling scavengers, and sediment quickly covered the corpses, preserving them in astonishing detail. Spare us.
As noted in Lovecraft's At the Mountains of Madness and "The Whisperer in Darkness," Cthulhu's species is made up of some unknown and foreign matter. One capable, we might imagine, if leaving behind a fossil like the one pictured here.
In "The Call of Cthulhu," Lovecraft has Castro, an immensely aged mestizo, describe a creature who arrived on this planet "vigintillions of years" ago, and now slumbers beneath the waves. These fossils suggest that the creature spawned offspring, some or all of whom were destroyed.
Scientists should be studying this matter closely! Instead, for some sinister reason, they're trying to sell us on an unlikely octopus-fossil story.
Why?
READ MORE about Cthulhu on HiLobrow.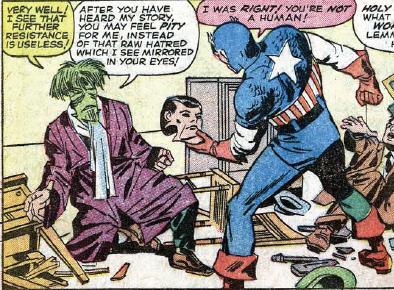 ***
READ MORE essays by Joshua Glenn, originally published in: THE BAFFLER | BOSTON GLOBE IDEAS | BRAINIAC | CABINET | FEED | HERMENAUT | HILOBROW | HILOBROW: GENERATIONS | HILOBROW: RADIUM AGE SCIENCE FICTION | HILOBROW: SHOCKING BLOCKING | THE IDLER | IO9 | N+1 | NEW YORK TIMES BOOK REVIEW | SEMIONAUT | SLATE
Joshua Glenn's books include UNBORED: THE ESSENTIAL FIELD GUIDE TO SERIOUS FUN (with Elizabeth Foy Larsen); and SIGNIFICANT OBJECTS: 100 EXTRAORDINARY STORIES ABOUT ORDINARY THINGS (with Rob Walker).