Parallel Universe: Pazzo (1/6)
By: HILOBROW
January 28, 2010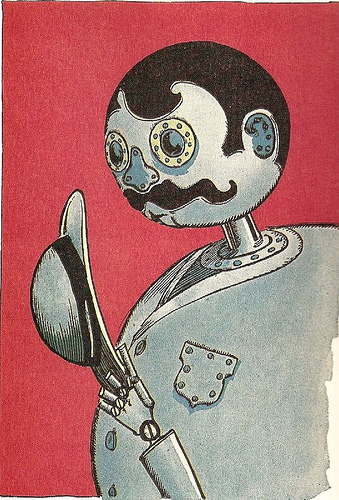 Here's the 6th and final reading from the first episode of "Parallel Universe: Pazzo," a monthly science fiction podcast sponsored by HiLobrow.com and hosted by Pazzo Books. The first episode was taped on January 15th; we'll post the entire thing soon. All readings were accompanied by the theremin stylings of Peggy Nelson.
Bostonians — want to attend a live taping of the podcast? Get updates by becoming a "fan" of the show's Facebook page.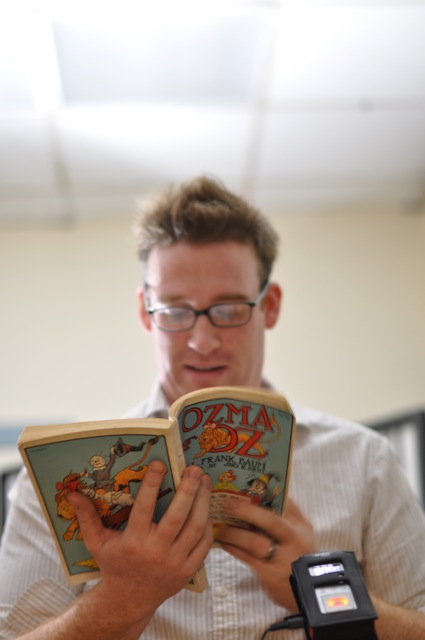 Transcript of Joshua Glenn's introduction to the 6th reading (of the 1st episode):
Our final tale, in this, the first episode of "Parallel Universe: Pazzo," is an excerpt from L. Frank Baum's third Oz book, Ozma of Oz, published in 1907. Brian Nealon will introduce us to one of the earliest fictional appearances of true machine intelligence, The Tik-Tok Man of Oz, the cuddly and cute robot ancestor of R2D2, not to mention the Roomba, a robot vacuum cleaner manufactured here in Massachusetts which will one day no doubt rise up against us. I'm your host, Josh Glenn. Thanks for joining us in the Pazzo Books studio, and thanks to our listeners at home. Join us next month for our podcast's second episode: SCARY SUPERMEN.
CLICK HERE TO LISTEN:
Parallel Universe: Pazzo (1/Brian) by HILOBROW
***
COMPLETE FIRST EPISODE OF THIS PODCAST | MORE RADIUM AGE ROBOTS | MORE RADIUM AGE SCIENCE FICTION | MORE SCIENCE FICTION | MORE PODCASTS |