Parallel Universe: Pazzo (1/5)
By: HILOBROW
January 27, 2010
Here's the 5th reading from the first episode of "Parallel Universe: Pazzo," a monthly science fiction podcast sponsored by HiLobrow.com and hosted by Pazzo Books. The first episode was taped on January 15th; it's not yet available in its entirety. All readings were accompanied by the theremin stylings of Peggy Nelson.
Bostonians — want to attend a live taping of the podcast? Get updates by becoming a "fan" of the show's Facebook page.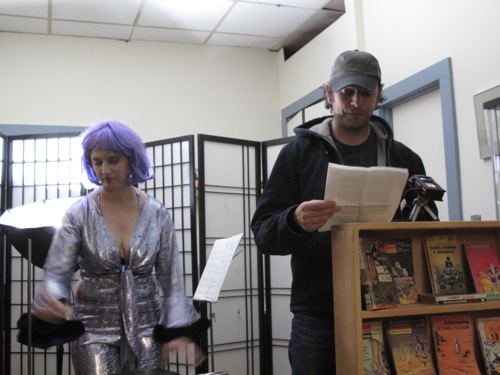 Transcript of Joshua Glenn's introduction to the 5th reading (of the 1st episode):
James Parker will read an excerpt from "The Dancing Partner," an 1893 story by the English humorist Jerome K. Jerome. Jerome's story might be described as a reverse-gendered spin on E.T.A. Hoffman's earlier, uncanny story, "The Sandman," but I prefer to think of it as a reverse-gendered spin — avant la lettre — on the sexy and witless "fembot" with whom we became so familiar in the 1960s-70s. In "The Dancing Partner," Herr Geibel invents a handsome male robot, who — to the delight of Geibel's daughter, Olga — speaks only in pleasantries and never tires of dancing.
NOTE: If the audio of this particular segment sounds slightly muffled or quiet, it's because our recorder failed at this point in the program. We were able to strip this audio from a video recording of the event.
CLICK HERE TO LISTEN:
Pazzo-james by HILOBROW
WATCH THE VIDEO:

***
COMPLETE FIRST EPISODE OF THIS PODCAST | MORE RADIUM AGE ROBOTS | MORE RADIUM AGE SCIENCE FICTION | MORE SCIENCE FICTION | MORE PODCASTS |