Parallel Universe: Pazzo (1/4)
By: HILOBROW
January 25, 2010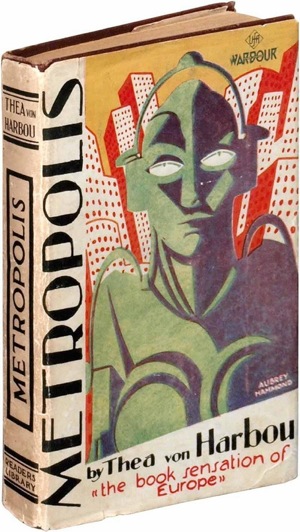 Here's the 4th reading from the first episode of "Parallel Universe: Pazzo," a monthly science fiction podcast sponsored by HiLobrow.com and hosted by Pazzo Books. The first episode was taped on January 15th; it's not yet available in its entirety. All readings were accompanied by the theremin stylings of Peggy Nelson.
Bostonians — want to attend a live taping of the podcast? Get updates by becoming a "fan" of the show's Facebook page.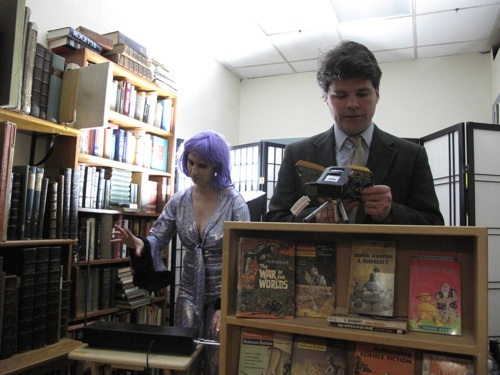 Transcript of Joshua Glenn's introduction to the 4th reading (of the 1st episode):
Ryan Mulcahy will read an excerpt from Thea von Harbou's 1926 novel, Metropolis. Von Harbou and her husband, Fritz Lang, developed the scenario for Metropolis, then she wrote the novel (in German) while he directed the 1927 film. Set in a dystopian city-state, the book concerns the efforts of an industrialist to foment rebellion among his laborers, so that he can replace them with machines. His inventor, Rotwang, constructs a robot in the exact likeness of Maria, a woman who is both the conscience of the workers and the object of the industrialist's son's affections. Here, the son finds Maria — or is it Maria? — haranguing the workers.
CLICK HERE TO LISTEN:
Parallel Universe: Pazzo (1: Ryan) by HILOBROW
***
COMPLETE FIRST EPISODE OF THIS PODCAST | MORE RADIUM AGE ROBOTS | MORE RADIUM AGE SCIENCE FICTION | MORE SCIENCE FICTION | MORE PODCASTS |