Parallel Universe: Pazzo (1/3)
By: HILOBROW
January 22, 2010
Here's the 3rd reading from the first episode of "Parallel Universe: Pazzo," a monthly science fiction podcast sponsored by HiLobrow.com and hosted by Pazzo Books. The first episode was taped on January 15th; it's not yet available in its entirety. All readings were accompanied by the theremin stylings of Peggy Nelson.
Bostonians — want to attend a live taping of the podcast? Get updates by becoming a "fan" of the show's Facebook page.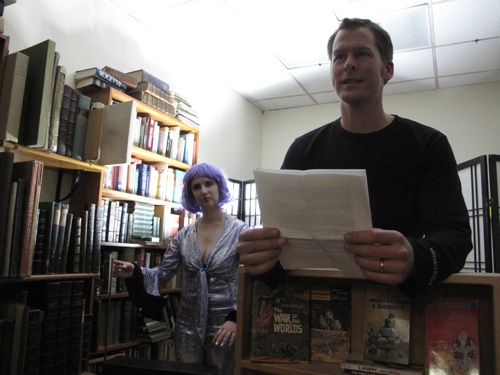 Transcript of Joshua Glenn's introduction to the 3rd reading (of the 1st episode):
Tor Aarestad will read an excerpt from "Moxon's Master," a 1909 story by Ambrose Bierce, who is best known for non-science-fiction stories like "An Occurrence at Owl Creek Bridge," and his sardonic lexicon, The Devil's Dictionary. In this story, after a thorough discussion, with Moxon, who claims to have invented a chess-playing automaton, of what it means to be "thinking" and "intelligent," the unnamed narrator spies on the inventor as he plays chess against his own creation.
CLICK HERE TO LISTEN:
Parallel Universe: Pazzo (1: Tor) by HILOBROW
***
COMPLETE FIRST EPISODE OF THIS PODCAST | MORE RADIUM AGE ROBOTS | MORE RADIUM AGE SCIENCE FICTION | MORE SCIENCE FICTION | MORE PODCASTS |