Parallel Universe: Pazzo (1/2)
By: HILOBROW
January 19, 2010
Here's the 2nd reading from the first episode of "Parallel Universe: Pazzo," a monthly science fiction podcast sponsored by HiLobrow.com and hosted by Pazzo Books. The first episode was taped this past weekend; it's not yet available in its entirety. All readings were accompanied by the theremin stylings of Peggy Nelson.
Bostonians — want to attend a live taping of the podcast? Get updates by becoming a "fan" of the show's Facebook page.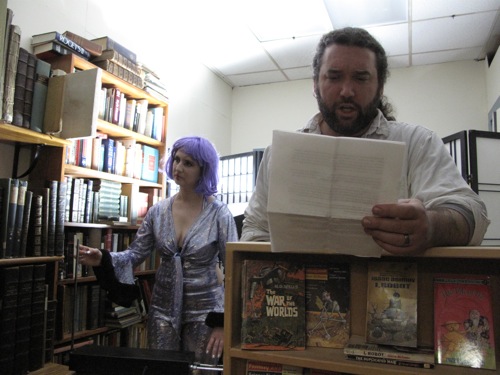 Transcript of Joshua Glenn's introduction to the 2nd reading (of the 1st episode):
Up next is Tom Nealon, who will read an excerpt from "The Last Poet and the Robots," a 1934 story by A. Merritt. At the time Merritt was considered the greatest science fiction writer of the era, not because of his sometimes clumsy art nouveau style, but because of the grand sweep of his ideas. In this story, Narodny, a Russian superman who is both the world's greatest scientist and its best poet, grows bored of a world in which all work is performed by robots. He retires, with a few chosen companions, to an underground lair where he experiments with advanced vibration technologies. But when the robots acquire intelligence and rise up, Narodny steps in.
LISTEN TO THE AUDIO:
Parallel Universe: Pazzo (1: Tom) by HILOBROW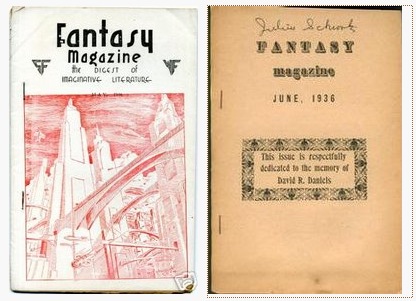 READ THE STORY. This is Merritt's chapter in Cosmos, a round-robin novel published in installments by Science Fiction Digest, which changed its name to Fantasy Magazine mid-serialization. (Merritt's chapter appeared in April 1934). The novel's other authors included John W. Campbell Jr., Otis Adelbert Kline, E.E. Smith, and Edmond Hamilton.
***
COMPLETE FIRST EPISODE OF THIS PODCAST | MORE RADIUM AGE ROBOTS | MORE RADIUM AGE SCIENCE FICTION | MORE SCIENCE FICTION | MORE PODCASTS |