Parallel Universe: Pazzo (1/1)
By: HILOBROW
January 17, 2010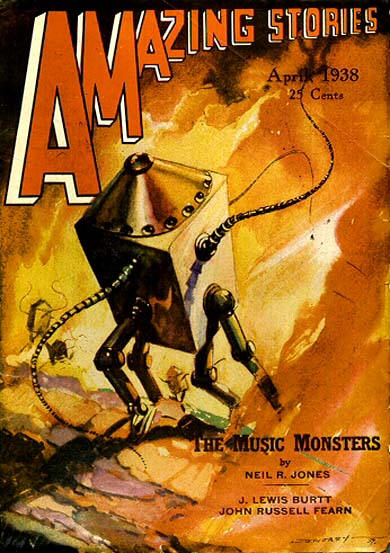 This weekend, we recorded the first episode of "Parallel Universe: Pazzo," a monthly science fiction podcast sponsored by HiLobrow.com and hosted by Pazzo Books. We're still deciding how and when we're going to make the entire podcast available, but here's an excerpt in the meantime. All readings were accompanied by the theremin stylings of HiLobrow.com's 1st Artist in Residence, Peggy Nelson.
Bostonians — want to attend a live taping of the podcast? Get updates by becoming a "fan" of the show's Facebook page.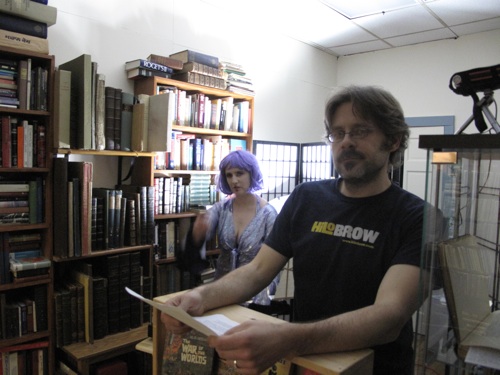 Transcript of Joshua Glenn's introduction to the 1st reading (of the 1st episode):
Tonight's first robots are friendly ones. Matthew Battles will read an excerpt from Neil R. Jones's 1931 pulp fiction, "The Jameson Satellite," which concerns a Professor Jameson who has arranged for his body to be cryopreserved — in a rocket orbiting the Earth — where it is discovered 40 million years later by alien machine-men. It was the first in a series of 21 "Jameson" stories; Asimov says that it inspired him, as a teenager, to write about "benevolent robots who could serve man with decency." In order to prevent the studio audience from laughing when a particular planet whose name strikes some people as funny is mentioned, I'll say it now: URANUS.
LISTEN TO (OR DOWNLOAD) THIS SEGMENT:
Parallel Universe: Pazzo (1: Matthew) by HILOBROW
***
COMPLETE FIRST EPISODE OF THIS PODCAST | MORE RADIUM AGE ROBOTS | MORE RADIUM AGE SCIENCE FICTION | MORE SCIENCE FICTION | MORE PODCASTS |