HADRON AGE SF (66)
By: Joshua Glenn
April 6, 2023
One in a series of posts about the 75 best sf adventures published during the genre's Hadron Age era (from 2004–2023, according to HILOBROW's periodization schema). For Josh Glenn's Hadron Age Sci-Fi 75 list (a work in progress), click here.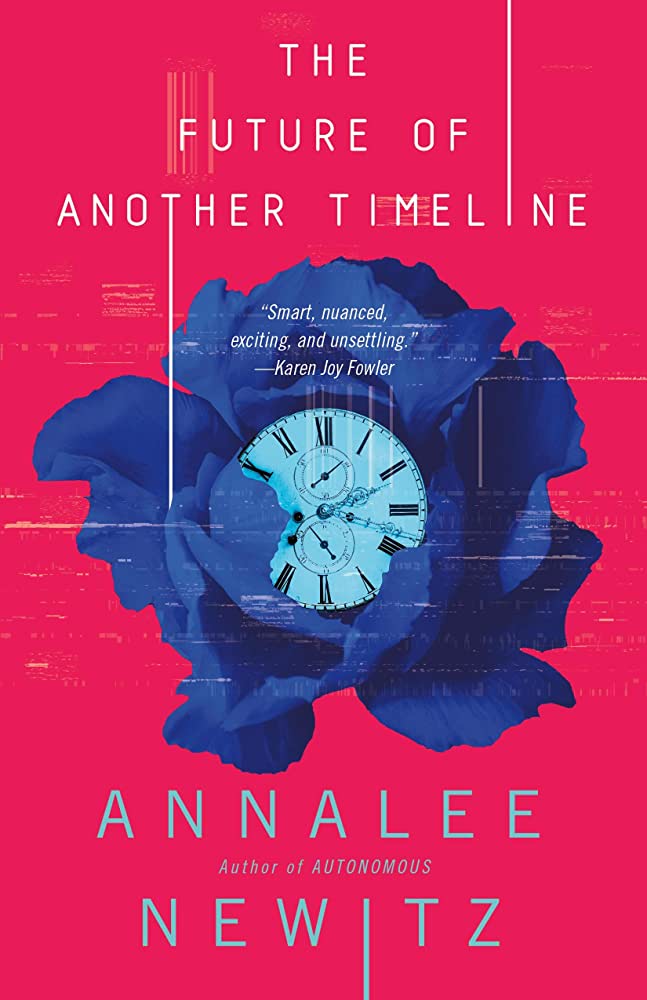 Annalee Newitz's The Future of Another Timeline (2019).
Tess, a scientist and professional time traveler who is adept at navigating the future bureaucracy that's grown around the "machines" — geologic wormhole generators that have been around since forever, but whose unspoken rules (shades of the magic-puzzles in E. Nesbit's or Edward Eager's stories) are still being figured out — would like nothing better than to focus entirely on her work. However, she can't let the Comstockers win. These incel-like misogynist disciples of Anthony Comstock, the American anti-obscenity crusader who had it in for women who controlled and enjoyed their own sexuality, are also time travelers (from a dystopian future in which women have lost their rights)… and they've made it their mission to "edit out" influential women and advances in womens' rights from our history. (I love this real-world version of Wikipedia's so-called edit wars.) So Tess is also a secret agent of the Daughters of Harriet (Tubman), who are working to make the future better for women. Newitz handles time travel and its paradoxes brilliantly, and they've also done their homework about the past moments in which Tess intervenes — particularly the 1893 Chicago World's Fair. Somehow there's also a personal, small-scale story here in which Beth, a 17-year-old punk in 1992 California, finds herself in the parking lot of a Grape Ape concert, dealing with the murdered corpse of a friend's abusive boyfriend. Beth and her friends become increasingly violent themselves. But as Tess and Beth — whose story lines will intersect eventually — will learn, "change is never linear and obvious. Often progress only becomes detectable when it inspires a desperate backlash."
Fun facts: "I feel very strongly that we can't imagine the future without being thoroughly grounded in history," Newitz has said in an interview. "Every generation wants to believe that it's unique, and that we're living through 'unprecedented times,' but that's an extremely unhelpful view, especially for anyone who hopes to build a civilization that lasts beyond a generation."
***
JOSH GLENN'S *BEST ADVENTURES* LISTS: BEST 250 ADVENTURES OF THE 20TH CENTURY | 100 BEST OUGHTS ADVENTURES | 100 BEST RADIUM AGE (PROTO-)SCI-FI ADVENTURES | 100 BEST TEENS ADVENTURES | 100 BEST TWENTIES ADVENTURES | 100 BEST THIRTIES ADVENTURES | 75 BEST GOLDEN AGE SCI-FI ADVENTURES | 100 BEST FORTIES ADVENTURES | 100 BEST FIFTIES ADVENTURES | 100 BEST SIXTIES ADVENTURES | 75 BEST NEW WAVE SCI FI ADVENTURES | 100 BEST SEVENTIES ADVENTURES | 100 BEST EIGHTIES ADVENTURES | 75 BEST DIAMOND AGE SCI-FI ADVENTURES | 100 BEST NINETIES ADVENTURES | 75 BEST HADRON AGE SCI-FI ADVENTURES.