HADRON AGE SF (64)
By: Joshua Glenn
March 23, 2023
One in a series of posts about the 75 best sf adventures published during the genre's Hadron Age era (from 2004–2023, according to HILOBROW's periodization schema). For Josh Glenn's Hadron Age Sci-Fi 75 list (a work in progress), click here.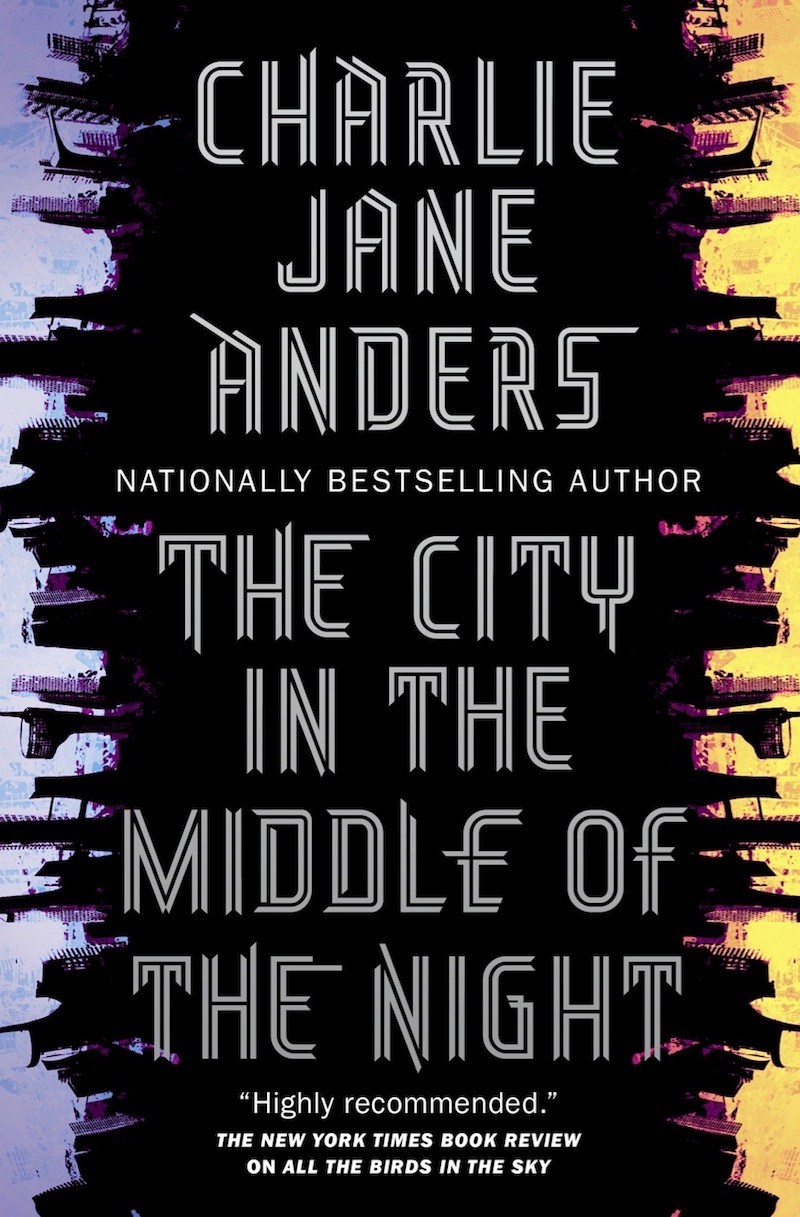 Charlie Jane Anders's The City in the Middle of the Night (2019).
On a tidally locked planet, where day and night are not times but places — one side of the planet never gets any light, while the other side is constantly bathed in light — for several hundred years human colonists have lived in a narrow "twilight zone" between the two extremes. Most of the humans live in Xiosphant, a totalitarian city-state; others live in places like Argelo, an autonomous zone run by competing criminal gangs, where a never-ending dance party rages in the club district; while others — "Citizens" — live a nomadic life. The colonists are surrounded by fearsome natives whom the colonists dismissively call "crocodiles" — though, as we'll discover, they aren't crocodilian. When Sophie, a shy young scholar, is expelled from Xiosphant, she's rescued by the natives — with whom she learns to communicate. (There's a Red Planet vibe here, though without the heavy-handed libertarian message.) We also learn the secret of the natives' city — in the middle of the planet's frozen "night" side. Sophie's transition process — into a non-humanoid body — is handled sensitively. Our other narrator, meanwhile is a "Citizen" whose tribe has been wiped out. Mouth is now a smuggler based in Argelo; can Sophie trust her? She'll have to… as they traverse the planet, facing life-threatening and world-threatening dangers… and coming to grips with conflicts that the colonists brought with them from their deeply flawed home world.
Fun facts: Winner of the 2020 Locus Award for Best Science Fiction Novel. "I wanted there to be a believable sense of cultural background, and not just have people who are all the same except for maybe their skin color is mentioned in passing or whatever," Anders has said in an interview. "A lot of it does come down to the weight of history, and how history never really goes away."
***
JOSH GLENN'S *BEST ADVENTURES* LISTS: BEST 250 ADVENTURES OF THE 20TH CENTURY | 100 BEST OUGHTS ADVENTURES | 100 BEST RADIUM AGE (PROTO-)SCI-FI ADVENTURES | 100 BEST TEENS ADVENTURES | 100 BEST TWENTIES ADVENTURES | 100 BEST THIRTIES ADVENTURES | 75 BEST GOLDEN AGE SCI-FI ADVENTURES | 100 BEST FORTIES ADVENTURES | 100 BEST FIFTIES ADVENTURES | 100 BEST SIXTIES ADVENTURES | 75 BEST NEW WAVE SCI FI ADVENTURES | 100 BEST SEVENTIES ADVENTURES | 100 BEST EIGHTIES ADVENTURES | 75 BEST DIAMOND AGE SCI-FI ADVENTURES | 100 BEST NINETIES ADVENTURES | 75 BEST HADRON AGE SCI-FI ADVENTURES.