HADRON AGE SF (63)
By: Joshua Glenn
March 14, 2023
One in a series of posts about the 75 best sf adventures published during the genre's Hadron Age era (from 2004–2023, according to HILOBROW's periodization schema). For Josh Glenn's Hadron Age Sci-Fi 75 list (a work in progress), click here.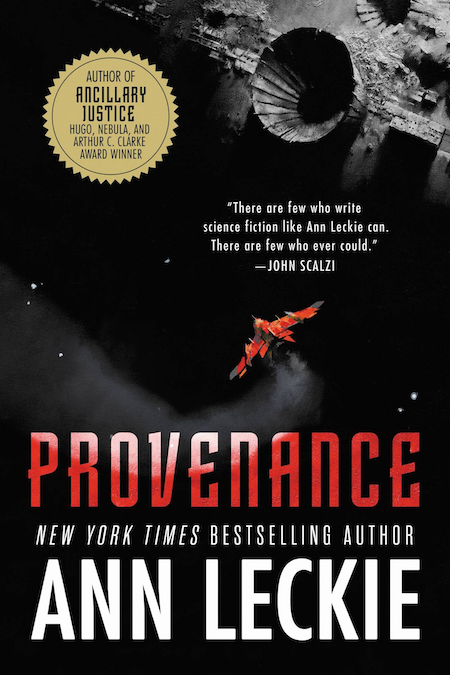 Ann Leckie's Provenance (2017).
On Hwae, people ascribe enormous significance to "vestiges" — significant objects (!) associated with important moments in history, which can command prestige, money, and political clout. The System Lareum is a museum that displays the most important vestiges — which serve as propaganda in support of Hwean claims of soverieignty and independence from Tyr, another system. Forging these objects isn't merely a crime, but a kind of religious taboo. Determined to impress her demanding foster mother (who seeks to shame a political rival), Ingray Aughskold pays to have Pahlad Budrakim, a notorious thief, released from prison — because e has allegedly stolen venerated Hwaen artifacts. (Hwaean culture sees gender as both fluid and tripartite; Pahlad uses the gender-neutral pronouns e/eir/em). The plan soon falls apart, thanks to Ingray's scheming foster brother, a neighboring planetary government that frames Pahlad for murder (as part of interplanetary treaty negotiations between ferocious alien species), and Pahlad's insistence that Ingray has freed the wrong person. Also, the two of them are being pursued by the fanatical ambassador of the alien Geck. Although it is set in the same Radchaai universe as the author's 2013 Ancillary Justice and its sequels, this entertaining romp — through byzantine social protocols, treaty terms and legal monkey business — is a stand-alone space opera. Here, too, Leckie asks readers to consider how language and names have the power to shape perception and reality.
Fun facts: "A whole section of Agatha Christie novels is murder mysteries at archaeological digs." Leckie says. "When I initially started the book, it was going to be about the archaeology of ancient alien artifacts — but as I kept reading, I saw how the history of archaeology feeds into the history of museums, which fits in nicely with a certain kind of traditional mystery plot."
***
JOSH GLENN'S *BEST ADVENTURES* LISTS: BEST 250 ADVENTURES OF THE 20TH CENTURY | 100 BEST OUGHTS ADVENTURES | 100 BEST RADIUM AGE (PROTO-)SCI-FI ADVENTURES | 100 BEST TEENS ADVENTURES | 100 BEST TWENTIES ADVENTURES | 100 BEST THIRTIES ADVENTURES | 75 BEST GOLDEN AGE SCI-FI ADVENTURES | 100 BEST FORTIES ADVENTURES | 100 BEST FIFTIES ADVENTURES | 100 BEST SIXTIES ADVENTURES | 75 BEST NEW WAVE SCI FI ADVENTURES | 100 BEST SEVENTIES ADVENTURES | 100 BEST EIGHTIES ADVENTURES | 75 BEST DIAMOND AGE SCI-FI ADVENTURES | 100 BEST NINETIES ADVENTURES | 75 BEST HADRON AGE SCI-FI ADVENTURES.