CANONICAL!
By: HILOBROW
March 7, 2023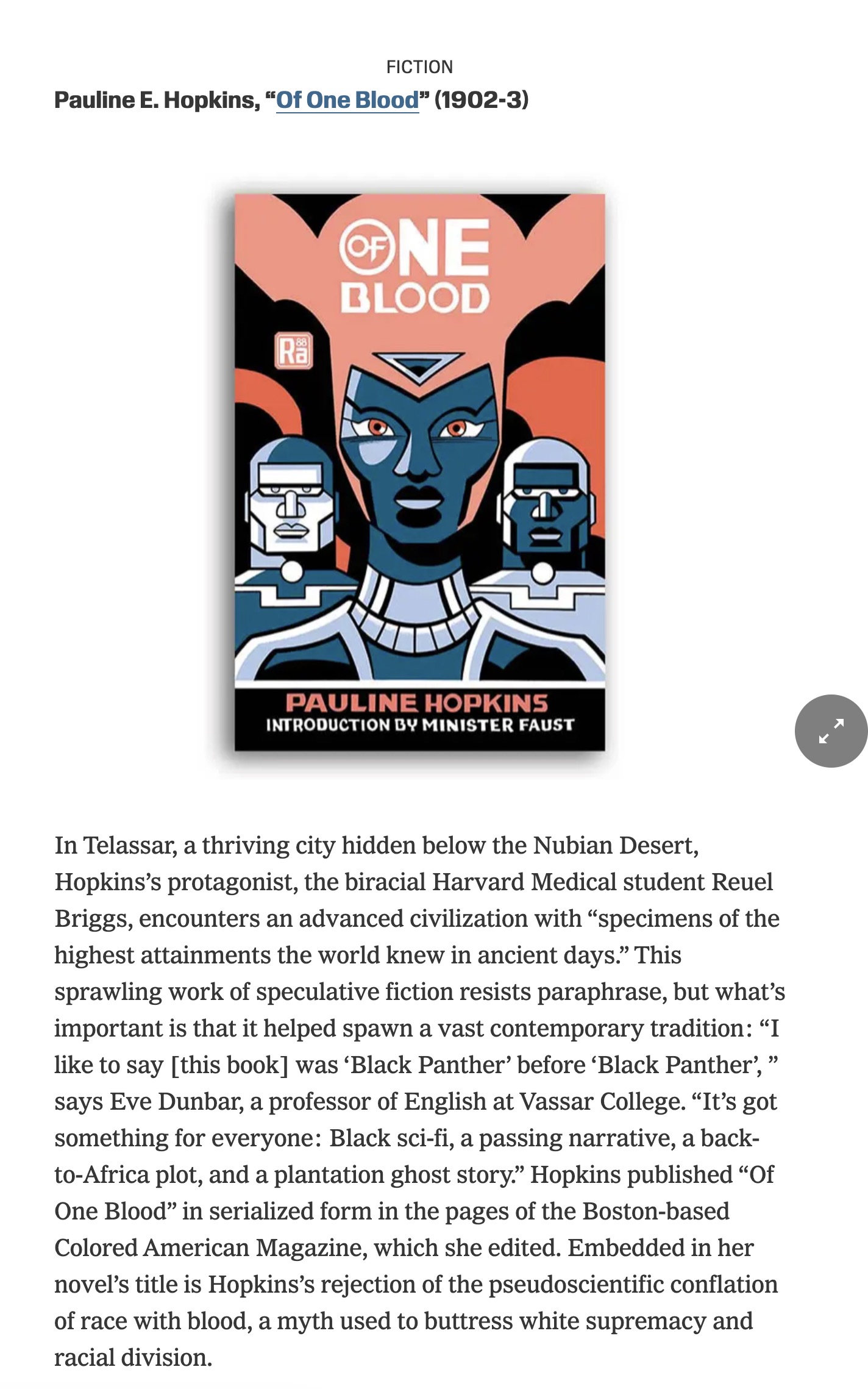 In the March issue of "T" Magazine (from the New York Times), Adam Bradley, founding director of the Laboratory for Race and Popular Culture at U.C.L.A., lists Pauline Hopkins's Of One Blood as the first of 20 books that "help to tell a story of Black American literature that reflects the infinite number of ways of being Black in America — and of being in the world."
From Bradley's writeup of the book:
This sprawling work of speculative fiction resists paraphrase, but what's important is that it helped spawn a vast contemporary tradition: "I like to say [this book] was 'Black Panther' before 'Black Panther', " says Eve Dunbar, a professor of English at Vassar College. "It's got something for everyone: Black sci-fi, a passing narrative, a back-to-Africa plot, and a plantation ghost story."
It's amazing to think of Hopkins's proto-sf becoming canonical. And fun to discover that the edition of Of One Blood shown (and linked to) in "The New Black Canon" is the 2022 reissue from the MIT Press's RADIUM AGE series, with an introduction by Minister Faust.
Here's more info on the RADIUM AGE edition of OF ONE BLOOD. The RADIUM AGE series is, as our readers know, edited by HILOBROW's Josh Glenn.
***
MORE RADIUM AGE SCI FI ON HILOBROW! RADIUM AGE SERIES from THE MIT PRESS: In-depth info on each book in the series; a sneak peek at what's coming in the months ahead; the secret identity of the series' advisory panel; and more. | RADIUM AGE: TIMELINE: Notes on proto-sf publications and related events from 1900–1935. | RADIUM AGE POETRY: Proto-sf and science-related poetry from 1900–1935. | RADIUM AGE 100: A list (now somewhat outdated) of Josh's 100 favorite proto-sf novels from the genre's emergent Radium Age.