HADRON AGE SF (61)
By: Joshua Glenn
March 2, 2023
One in a series of posts about the 75 best sf adventures published during the genre's Hadron Age era (from 2004–2023, according to HILOBROW's periodization schema). For Josh Glenn's Hadron Age Sci-Fi 75 list (a work in progress), click here.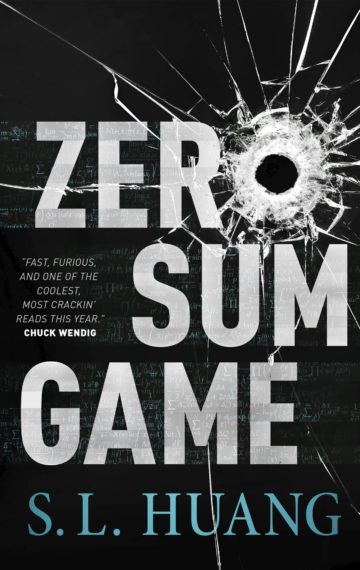 S.L. Huang's Zero Sum Game (2014). An sf thriller in which smash-and-grab mercenary Cas Russell — whose incredible facility with mathematics, top-notch proprioception, and natural athleticism make her unstoppable in a fight — is dragged unwillingly into a global conspiracy. Having rescued a young woman from a Columbian drug cartel, Cas discovers that her client — supposedly the woman's sister — isn't who she claims to be. She also discovers that her mind has been messed with… her thoughts are no longer her own! Teaming up with Arthur Tresting, a private investigator, and with Checker, a wheelchair-bound computer wizard, Cas sets out to destroy Pithica, a shadowy organization whose near-telepathic leader is apparently intent on… reducing crime worldwide. Cas is a fun character — not just a Jack Reacher-like badass, but a snarky genius, an unreliable narrator, and something of a sociopath. Speaking of which, her only "friend" is Rio, a violent, torture-forward Christian crusader. It's a morally ambiguous, fast-moving adventure — with a cast of characters that grows on you. Things aren't resolved at the end of the book… leaving us excited for the next installment.
Fun facts: The Cas Russell series — the next installments are Null Set (2019) and Critical Point (2020) — resonates with the author's experience: She is a weapons expert, Hollywood stuntwoman, and earned a math degree from MIT. Asked in an interview about the latter, Huang said it was useful in writing "the feel of how [Cas] thinks. I don't think I could have written about a gun-toting mathematician soldier of fortune without also having regularly hung out with people who use 'orthogonal' and 'monotonic' in conversation."
***
JOSH GLENN'S *BEST ADVENTURES* LISTS: BEST 250 ADVENTURES OF THE 20TH CENTURY | 100 BEST OUGHTS ADVENTURES | 100 BEST RADIUM AGE (PROTO-)SCI-FI ADVENTURES | 100 BEST TEENS ADVENTURES | 100 BEST TWENTIES ADVENTURES | 100 BEST THIRTIES ADVENTURES | 75 BEST GOLDEN AGE SCI-FI ADVENTURES | 100 BEST FORTIES ADVENTURES | 100 BEST FIFTIES ADVENTURES | 100 BEST SIXTIES ADVENTURES | 75 BEST NEW WAVE SCI FI ADVENTURES | 100 BEST SEVENTIES ADVENTURES | 100 BEST EIGHTIES ADVENTURES | 75 BEST DIAMOND AGE SCI-FI ADVENTURES | 100 BEST NINETIES ADVENTURES | 75 BEST HADRON AGE SCI-FI ADVENTURES.