HADRON AGE SF (59)
By: Joshua Glenn
February 18, 2023
One in a series of posts about the 75 best sf adventures published during the genre's Hadron Age era (from 2004–2023, according to HILOBROW's periodization schema). For Josh Glenn's Hadron Age Sci-Fi 75 list (a work in progress), click here.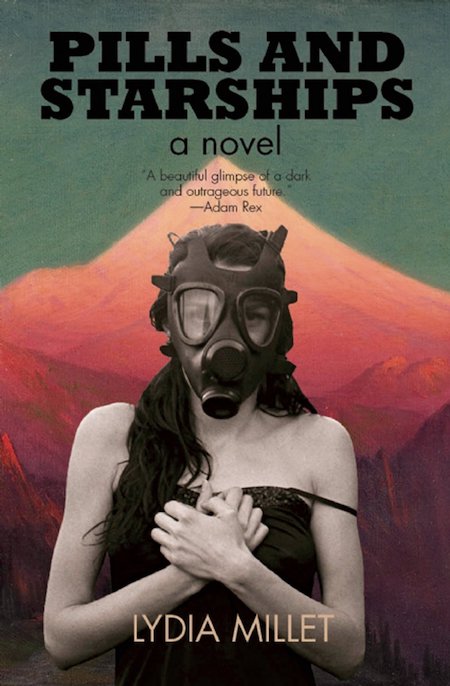 Lydia Millet's Pills and Starships (2014).
Seventeen-year-old Nat and her younger brother, Sam, have arrived in Hawaii for a family vacation — one from which their parents, who are deeply depressed by the mid-21st century's climate-changed world, do not plan to return. The family's pharma-guided last week together, at a luxury resort complex dedicated to assisted suicide for the elderly, and staffed by the corporation's faux-cheerful flunkies — the Twilight Island Acropolis surely must have influenced the creators of HBO's The White Lotus — is intended as a respite from worrying about tsunamis, heat waves, hurricanes, famines, exotic diseases, foul water, the Great Pacific Trash Vortex, species extinction , the forced migration of entire human populations, and other consequences of humankind's having pushed the planet's environment to the "tipping point." Nat is conflicted by her parents' decision, as we learn from her journal — which is heartbreaking but also very funny. Sam, meanwhile, rebels against the company his parents have hired to handle their last days and makes drastic plans; and Nat learns some shocking truths about her mother's past (again, all of this is reminiscent of the first season of The White Lotus). What should Nat do? Is there actually more hope for the world than the corporate powers that be are letting on? How to live in a world this fucked up? This is a YA novel, technically, but IMO it's another terrific story from this author… which just happens to be narrated by a teenager.
Fun facts: "I think there is a certain plausibility to it and also a certain radicalism to it," Millet said of this book in an interview. "I think that the […] lightness of the main character will alleviate some of the background darkness because she really is sort of good humored and easygoing, despite living in this apocalyptic world."
***
JOSH GLENN'S *BEST ADVENTURES* LISTS: BEST 250 ADVENTURES OF THE 20TH CENTURY | 100 BEST OUGHTS ADVENTURES | 100 BEST RADIUM AGE (PROTO-)SCI-FI ADVENTURES | 100 BEST TEENS ADVENTURES | 100 BEST TWENTIES ADVENTURES | 100 BEST THIRTIES ADVENTURES | 75 BEST GOLDEN AGE SCI-FI ADVENTURES | 100 BEST FORTIES ADVENTURES | 100 BEST FIFTIES ADVENTURES | 100 BEST SIXTIES ADVENTURES | 75 BEST NEW WAVE SCI FI ADVENTURES | 100 BEST SEVENTIES ADVENTURES | 100 BEST EIGHTIES ADVENTURES | 75 BEST DIAMOND AGE SCI-FI ADVENTURES | 100 BEST NINETIES ADVENTURES | 75 BEST HADRON AGE SCI-FI ADVENTURES.