JC Gabel Q&A
By: HILOBROW
February 15, 2023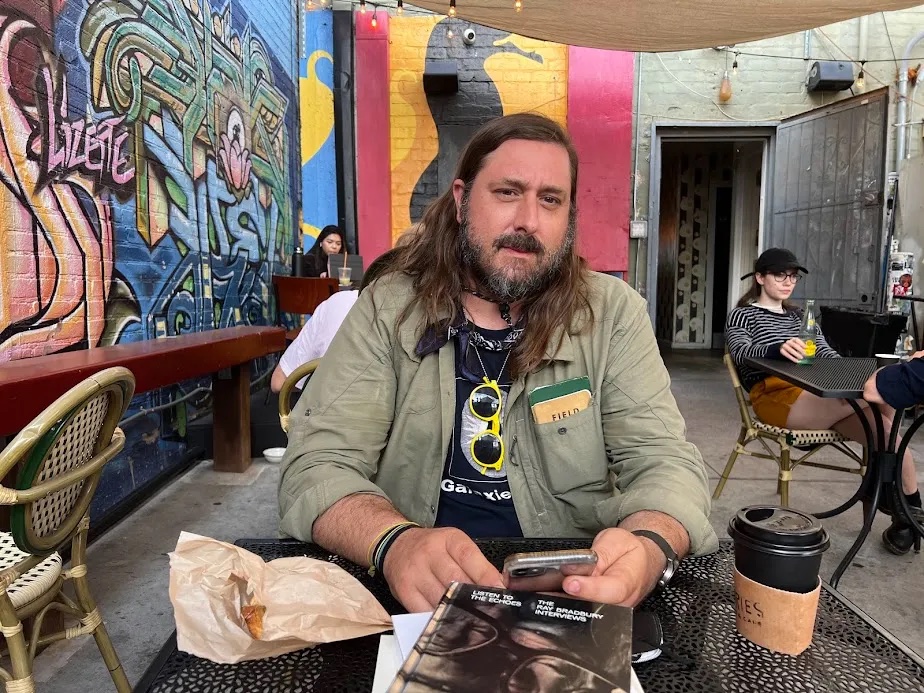 Today at Lucas Gelfond's ZINE MUNCH newsletter, check out the Q&A with HILOBROW friend J.C. Gabel.
J.C. is co-founder/publisher of Hat & Beard Press, a Los Angeles-based independent press that publishes "nonfiction books of pop-cultural and historical significance that draw on existing cult audiences." (One of Hat & Beard's most recent titles, of course, is Lost Objects: 50 Stories About the Things We Miss and Why They Matter — a collection of object-oriented nonfiction narratives and artworks that began as a HILOBROW series.) He's a longtime friend and fellow traveler (from back when he was editor of the indie magazine Stop Smiling; HILOBROW friend Annie Nocenti was a freuent contributor) — great to hear him speak his piece in this Q&A.
Here's an excerpt:
LG: Did you just start Stop Smiling, when did you…

JG: I was a kid when I started man, I was a punk kid, and I always did zines. The first couple I did with other people but it wasn't really serious, where everyone gets super excited and would fizzle out after the second issue. [Stop Smiling] was almost like a response to what was becoming the 'listicle', or blurb culture. In the mid 90s, it was just beginning, but you could see it.

Maxim was the number one magazine, and it was basically like softcore Playboy but without the good content. At least with Playboy, even if you didn't agree with [Hugh] Hef[ner]'s weird misogyny, you could still claim you read it for the articles until a certain point, because they'd pay really good people to do interviews. He created the long form interview before Rolling Stone, the Playboy interview, like with Miles Davis in 1962.

I did a [gap] year too because I got a job working at Merge Records [editor's note: the label behind Arcade Fire, The Magnetic Fields, Caribou, Neutral Milk Hotel, and The Mountain Goats, among others!]. I moved because I was like 'there's no way I'm going to get to do this ever again, I should just move to North Carolina for six months.' The first few issues of the magazine were built on touring around with all these bands in the mid-90s. […] The magazines I was writing for in the nineties were all dying as the internet was coming out. I was like 'we have to create something that's like these things I want to write for, but for ourselves.' There were other magazines at the time that were doing the same thing at the time that were kindred spirits, Space Age Bachelor, Giant Robot, Tokion, some of them are still going but most are not.

I think what really made Stop Smiling kick was the literati of New York sort of embracing what we were doing. Once Plimpton saw what we were doing and started inviting us to the Paris Review parties then we got to [Norman] Mailer and [Susan] Sontag and [Joan] Didion and [Kurt] Vonnegut and we ended up doing the last long form interviews with most of those people. I remember at the time everyone's like "how the hell are you getting all these famous people?" and I was like "wrote em a letter." Not an email, a handwritten letter.

I think at the time they were like, "Oh, people in their twenties aren't dumb as shit and they actually care about things." I became very close with Kurt Vonnegut in the last maybe five years of his life and we would talk on the phone all the time. I think he liked talking to me because I was young and actually engaged in things. I think a lot of the older generation had assumed that everyone was just a vapid shithead or something, that only cared about pop culture and video games with no intellectual pursuits, lowest common denominator shit.

[…] I always used to say that we were trying to relive the glory days of magazine publishing, which for us was like, the first five years of Rolling Stone, most of the seventies run of National Lampoon, Playboy when you could claim you read it for the articles, sixties and seventies Esquire, the first 10 years of Interview when Andy Warhol was actually running it, where if you had a good story with Tom Waits, you would just run 10,000 words of it because why not, it's good.

We lucked out in that we got in on that last bastion of money before YouTube and Facebook came out. That was the final nail in the coffin for print advertising, because it was so much easier to measure your dollar spent in experiential marketing and internet marketing than you could in a print mag where it was very hard to see "are we getting anything for this $10,000 back cover or whatever it cost."

That was our model. We stood out to the advertisers because everything was becoming listicles and blurb culture. For a while they were supportive of it because it was this outlier, but in the end the branded content stuff was just so sexy — if you can get a return on your investment, why would you care about Stop Smiling and an issue about auteur theory?
Phew! This is exactly what it's like to talk with J.C. Great stuff…
PS: Also see the ZINE MUNCH Q&A with HILOBROW's Josh Glenn, from May 2022.