HADRON AGE SF (56)
By: Joshua Glenn
January 26, 2023
One in a series of posts about the 75 best sf adventures published during the genre's Hadron Age era (from 2004–2023, according to HILOBROW's periodization schema). For Josh Glenn's Hadron Age Sci-Fi 75 list (a work in progress), click here.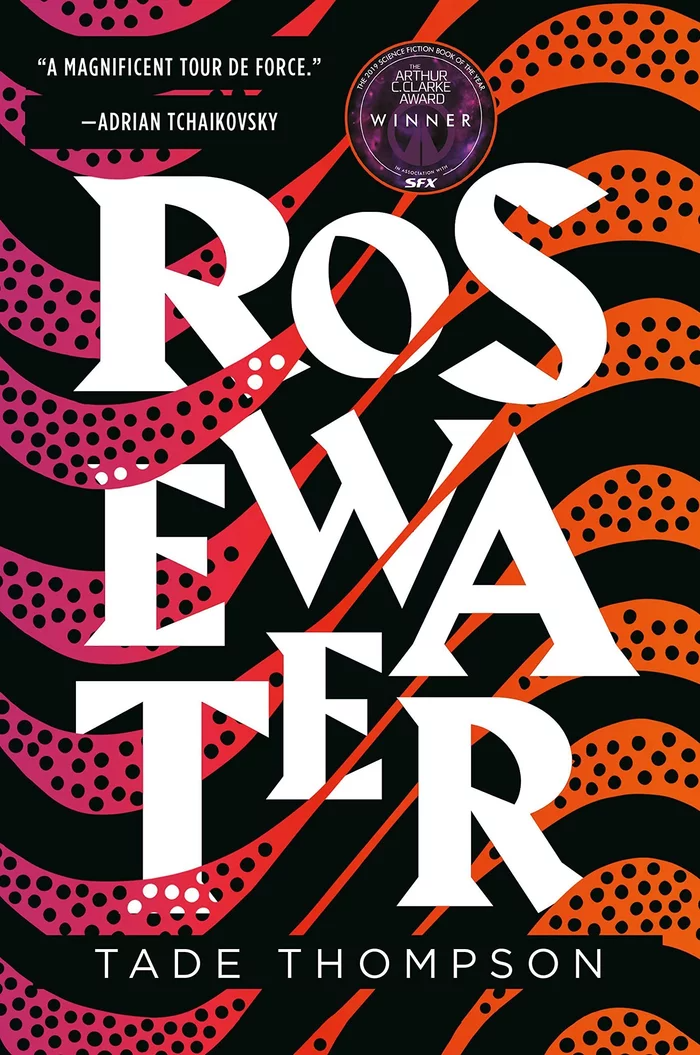 Tade Thompson's Rosewater (2016, revised 2018).
In 2012, a giant alien life-form, colloquially known as "Wormwood," landed in London, then burrowed into the Earth — its purpose unknown. In response, America (which, in most sf novels, would be the center of attention) went dark, withdrawing itself protectively from the larger world's affairs. The action of Rosewater takes place instead outside Lagos, Nigeria, from 2043–2066. Wormwood has extruded an impenetrable bio-dome here, a fungus from which interacts with human nervous systems, granting psychic powers to "sensitives." The dome periodically emits a healing ray, which explains why a dysfunctional human shantytown — Rosewater — has grown up around it, even though the dome's rays can also zombify the dead and cause mutations. The action jumps between three periods in the life of our narrator, Kaaro, a Nigerian sensitive who (in 2066) uses his abilities — he can connect to the "xenosphere," which is a kind of human collective unconscious, a biological and psychological version of cyberspace — to stop bank fraud while also working for S45, a Nigerian government secret service. Who is Molara, the women he encounters in the xenosphere… and what secret is Kaaro's new girlfriend, Aminat, keeping from him? Why are sensitives beginning to die off? We catch glimpses of Kaaro's teenage years, when he begins to explore his new abilities, as well as of the period during which he begins to work — reluctantly — for the secret service, and inadvertently plays a role in determining the fate of all humankind. Africanfuturism, cyberpunk, biopunk, zombies, romance, aliens, romance!
Fun facts: Tade Thompson is a British-born Nigerian psychiatrist. In an interview, he said this about Rosewater, the Arthur C. Clarke award-winning first book in the Wormwood trilogy: "It's both about the actual colonisation and the neo-colonisation that's happening now with people's minds, where dominant Western cultures are overshadowing many of the less dominant cultures because it's seen as successful. Therefore people copy the successful countries and their cultures." Followed by The Rosewater Insurrection (2019), The Rosewater Redemption (2019).
***
JOSH GLENN'S *BEST ADVENTURES* LISTS: BEST 250 ADVENTURES OF THE 20TH CENTURY | 100 BEST OUGHTS ADVENTURES | 100 BEST RADIUM AGE (PROTO-)SCI-FI ADVENTURES | 100 BEST TEENS ADVENTURES | 100 BEST TWENTIES ADVENTURES | 100 BEST THIRTIES ADVENTURES | 75 BEST GOLDEN AGE SCI-FI ADVENTURES | 100 BEST FORTIES ADVENTURES | 100 BEST FIFTIES ADVENTURES | 100 BEST SIXTIES ADVENTURES | 75 BEST NEW WAVE SCI FI ADVENTURES | 100 BEST SEVENTIES ADVENTURES | 100 BEST EIGHTIES ADVENTURES | 75 BEST DIAMOND AGE SCI-FI ADVENTURES | 100 BEST NINETIES ADVENTURES | 75 BEST HADRON AGE SCI-FI ADVENTURES.