HADRON AGE SF (55)
By: Joshua Glenn
January 21, 2023
One in a series of posts about the 75 best sf adventures published during the genre's Hadron Age era (from 2004–2023, according to HILOBROW's periodization schema). For Josh Glenn's Hadron Age Sci-Fi 75 list (a work in progress), click here.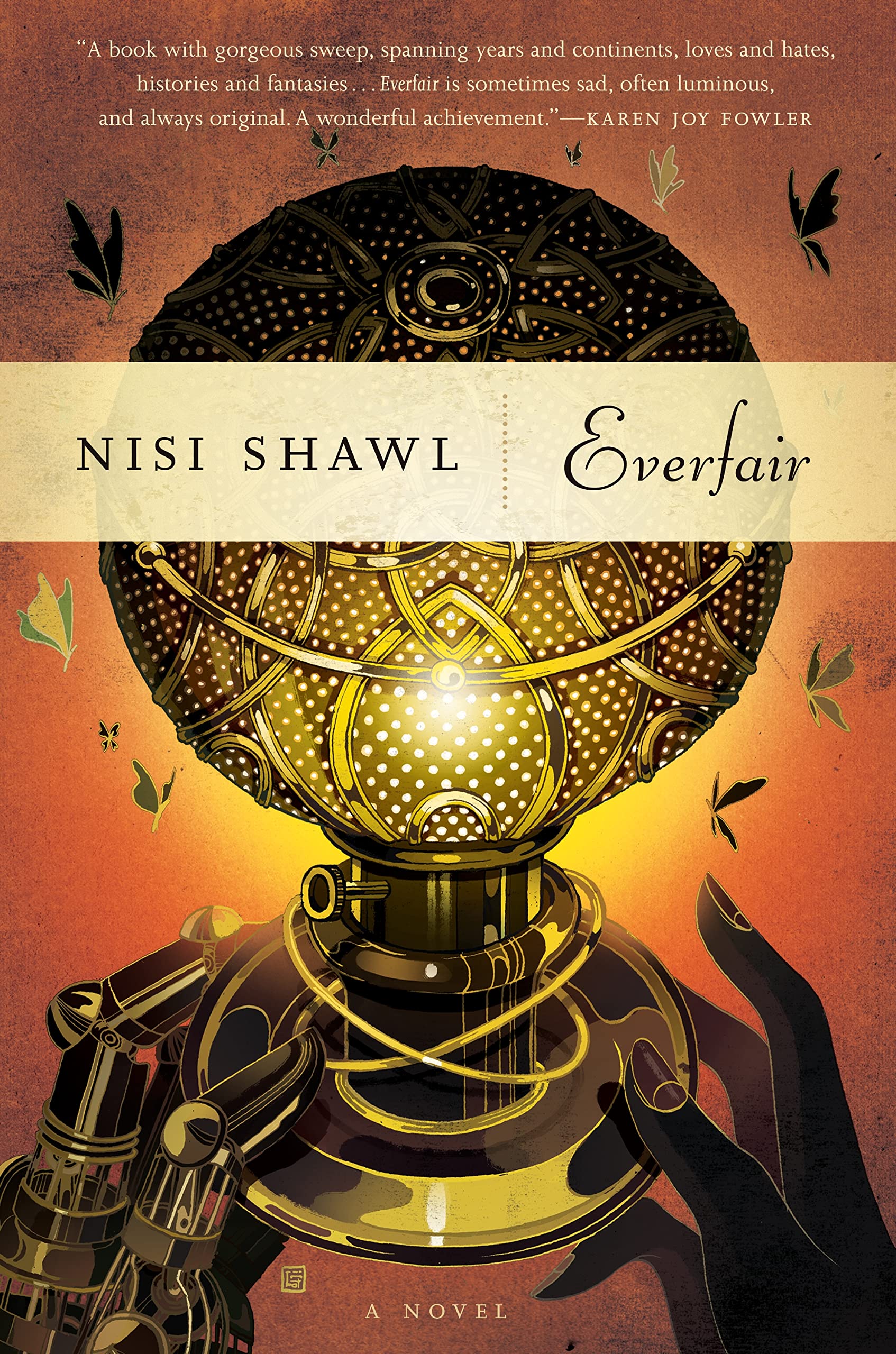 Nisi Shawl's Everfair (2016).
Shawl's first novel is an epic, steampunk alternate history of the Congo from the era of Belgian control through World War I. Shawl's what-if: If Congo's native populations had adopted (and adapted) steam technology earlier; and if refugees from the brutality of Belgium's King Leopold II — in cooperation with various immigrants (Chinese, African American, French, English, Congolese; lesbians, Fabian Socialists, scientists, missionaries) had sought to establish an intersectional state in the Congo Basin; might they have driven out the Belgians? (Spoiler alert: The answer is "Yes, but…") This smart, emotionally affecting, action-packed novel is told from multiple perspectives, giving voice to characters whom the usual histories relegate to the margins; and it jumps from one event to another over a number of years — it's not a continuous narrative. There is a continuous theme, however, which is this: racism, colonialism, sexism, homophobia, and religious extremism work in subtle ways, even among valiant progressives. The British Fabians, for example, are heroic champions of social justice… who also impose western customs on the inhabitants of the Everfair colony. I've been a fan of Shawl's stories ever since "I Was a Teenage Genetic Engineer" in the 1989 Semiotext(e) SF anthology; and I look forward to further Everfair adventures.
Fun facts: "I have been accused by some readers of writing a bunch of related short stories rather than a novel," Shawl has said in an interview. "There is actually an arc to the novel. It's not the arc of a person, it's the arc of a nation. People who know that going in might have an easier time of it."
***
JOSH GLENN'S *BEST ADVENTURES* LISTS: BEST 250 ADVENTURES OF THE 20TH CENTURY | 100 BEST OUGHTS ADVENTURES | 100 BEST RADIUM AGE (PROTO-)SCI-FI ADVENTURES | 100 BEST TEENS ADVENTURES | 100 BEST TWENTIES ADVENTURES | 100 BEST THIRTIES ADVENTURES | 75 BEST GOLDEN AGE SCI-FI ADVENTURES | 100 BEST FORTIES ADVENTURES | 100 BEST FIFTIES ADVENTURES | 100 BEST SIXTIES ADVENTURES | 75 BEST NEW WAVE SCI FI ADVENTURES | 100 BEST SEVENTIES ADVENTURES | 100 BEST EIGHTIES ADVENTURES | 75 BEST DIAMOND AGE SCI-FI ADVENTURES | 100 BEST NINETIES ADVENTURES | 75 BEST HADRON AGE SCI-FI ADVENTURES.