HADRON AGE SF (53)
By: Joshua Glenn
January 6, 2023
One in a series of posts about the 75 best sf adventures published during the genre's Hadron Age era (from 2004–2023, according to HILOBROW's periodization schema). For Josh Glenn's Hadron Age Sci-Fi 75 list (a work in progress), click here.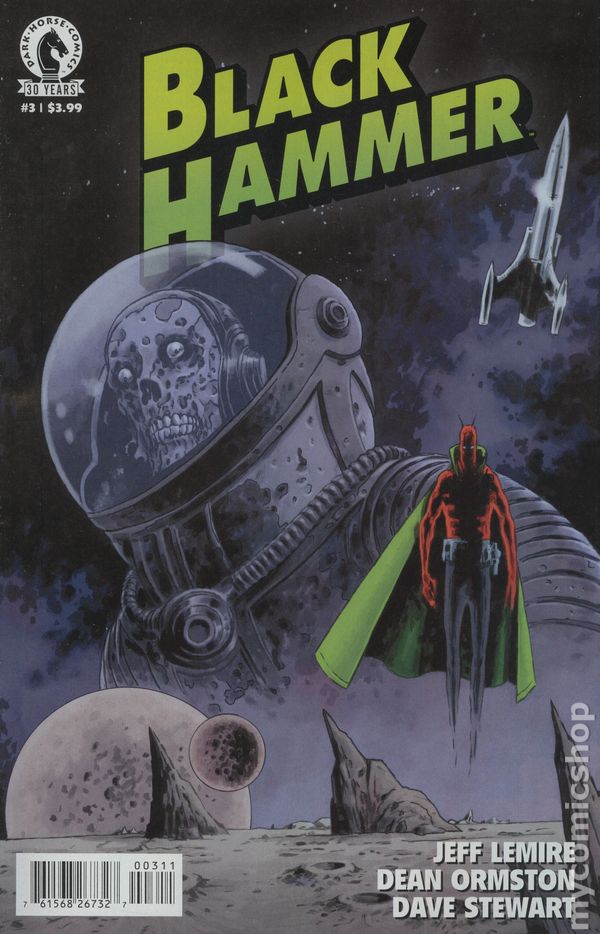 Jeff Lemire, Dean Ormston, Dave Stewart, and Todd Klein, Black Hammer (serialized 2016–present).
A Watchmen-meets-Lost series about six superheroes who saved Spiral City from the Anti-God… but in the process were banned from existence by a multiversal crisis, and became trapped in Rockwood, a timeless village. Shortly after the heroes arrived, the titular Black Hammer died while trying to escape. The others — Abraham Slam, Golden Gail, Colonel Weird, Talky Walky, Madame Dragonfly, and Barbalien — get by as best they can in this strange purgatory… until a stranger arrives to set them free. It's less a superhero comic than a wry, retro-ish love letter to and send-up of superhero comics, particularly DC's "Crisis" events… as Dean Ormston's idiosyncratic artwork makes evident. Each issue in Vol. 1: Secret Origins features one of the characters, focuses on their individual problems (in Rockwood, that us), and gives a bit of their origin story. In Vol. 2: The Event, a visitor from the outside world — an investigative journalist — arrives looking for the Black Hammer and bringing news of Spiral City. Her arrival awakens hope in the marooned heroes. In Vols. 3 and 4: Age of Doom, a new Black Hammer finds herself trapped in a world of punk rock detectives, emo gods, anthropomorphic humans, and absurdist heroes. Lemire has also written several spinoffs including Sherlock Frankenstein and the Legion of Evil, Cthu-Louise, and Doctor Star and the Kingdom of Lost Tomorrows with different artists.
Fun facts: Winner of a 2017 Eisner award for Best New Series. "I wanted each character to embody a specific era or archetype, and then put my own little personal spin on it," Lemire has said in an interview. "Golden Gail and Abe were both Golden Age heroes. Barbalien was like the bronze age sword and sandal heroes meets a more sci-fi bronze age concept. Colonel Weird is obviously Silver Age sci-fi and Dragonfly was 80's or 90's proto-Vertigo horror. Black Hammer is a 70's blaxploitation character etc." A television adaptation — of this series, and the larger World of Black Hammer — is in the works.
***
JOSH GLENN'S *BEST ADVENTURES* LISTS: BEST 250 ADVENTURES OF THE 20TH CENTURY | 100 BEST OUGHTS ADVENTURES | 100 BEST RADIUM AGE (PROTO-)SCI-FI ADVENTURES | 100 BEST TEENS ADVENTURES | 100 BEST TWENTIES ADVENTURES | 100 BEST THIRTIES ADVENTURES | 75 BEST GOLDEN AGE SCI-FI ADVENTURES | 100 BEST FORTIES ADVENTURES | 100 BEST FIFTIES ADVENTURES | 100 BEST SIXTIES ADVENTURES | 75 BEST NEW WAVE SCI FI ADVENTURES | 100 BEST SEVENTIES ADVENTURES | 100 BEST EIGHTIES ADVENTURES | 75 BEST DIAMOND AGE SCI-FI ADVENTURES | 100 BEST NINETIES ADVENTURES | 75 BEST HADRON AGE SCI-FI ADVENTURES.