HADRON AGE SF (52)
By: Joshua Glenn
December 27, 2022
One in a series of posts about the 75 best sf adventures published during the genre's Hadron Age era (from 2004–2023, according to HILOBROW's periodization schema). For Josh Glenn's Hadron Age Sci-Fi 75 list (a work in progress), click here.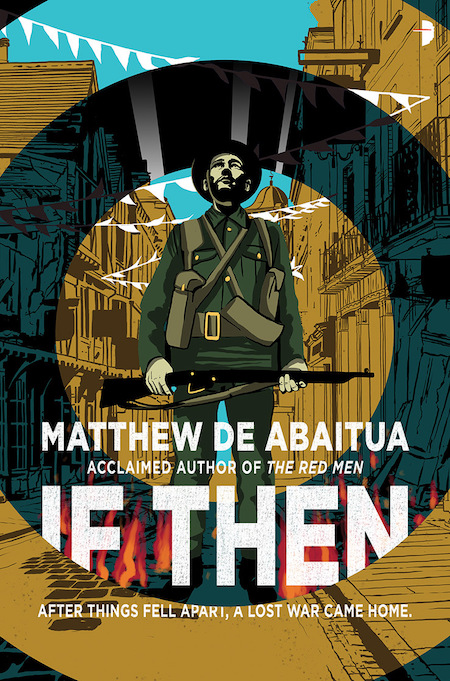 Matthew De Abaitua's IF THEN (2015).
In the near future, automation, artificial intelligence, and algorithm-based investment have combined to bring about a global "Seizure" — in the aftermath of which nations and corporations are defunct. The internet no longer exists, and most people are refugees within their own homelands. Just one English town, Lewes, has survived the Seizure, its inhabitants engaging in agriculture, craftwork, scavenging, and whatever the Process produces for them. The Process is an emergent algorithmic computer system that allocates resources and directs human activity as it sees fit; Lewes's residents, who are monitored by implants, have come to regard the Process with superstition. One is reminded of E.M. Forster's "The Machine Stops." Explicitly, however, this beautifully written novel is an homage to the Radium Age proto-sf of Olaf Stapledon, whose WWI experiences — along with those of the mathematician Lewis Fry Richardson, the philosopher Pierre Teilhard De Chardin, and others — inform what unfolds. When James, Lewes's bailiff, discovers an artificial soldier struggling against a barbed war fence, it becomes clear that the Process is readying for war… to be precise, for World War One. All of which has something to do with the Institute, a group of savants including Alex Drown and the mysterious Omega John, who seem to be conducting a vast ethical experiment. The novel soon becomes a harrowing war story… and its least relatable (and least human) character somehow becomes its most sympathetic. A brilliant, thrilling and chilling tour de force.
Fun facts: This is the second installment in a loosely connected trilogy that includes The Red Men (2007) and The Destructives (2016), all of which explore the development of post-Singularity AI. One character from The Red Men, Alex Drown, appears in the second; her grandson is the protagonist of The Destructives.
***
JOSH GLENN'S *BEST ADVENTURES* LISTS: BEST 250 ADVENTURES OF THE 20TH CENTURY | 100 BEST OUGHTS ADVENTURES | 100 BEST RADIUM AGE (PROTO-)SCI-FI ADVENTURES | 100 BEST TEENS ADVENTURES | 100 BEST TWENTIES ADVENTURES | 100 BEST THIRTIES ADVENTURES | 75 BEST GOLDEN AGE SCI-FI ADVENTURES | 100 BEST FORTIES ADVENTURES | 100 BEST FIFTIES ADVENTURES | 100 BEST SIXTIES ADVENTURES | 75 BEST NEW WAVE SCI FI ADVENTURES | 100 BEST SEVENTIES ADVENTURES | 100 BEST EIGHTIES ADVENTURES | 75 BEST DIAMOND AGE SCI-FI ADVENTURES | 100 BEST NINETIES ADVENTURES | 75 BEST HADRON AGE SCI-FI ADVENTURES.