HADRON AGE SF (50)
By: Joshua Glenn
December 14, 2022
One in a series of posts about the 75 best sf adventures published during the genre's Hadron Age era (from 2004–2023, according to HILOBROW's periodization schema). For Josh Glenn's Hadron Age Sci-Fi 75 list (a work in progress), click here.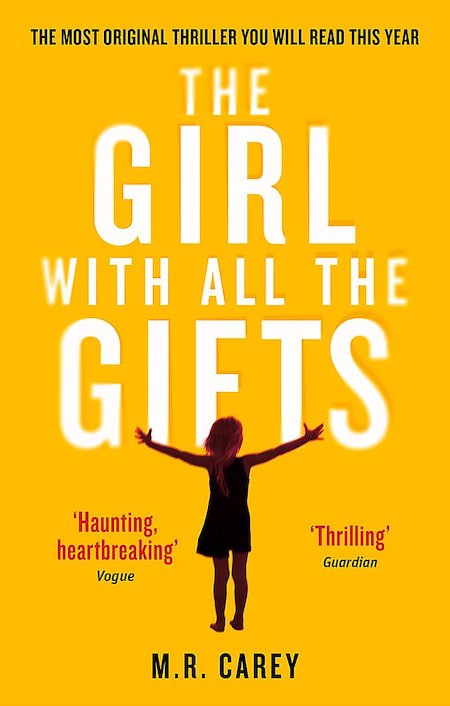 M.R. Carey's The Girl With All the Gifts (2014).
In a post-apocalyptic England, a young girl named Melanie — along with other kids her age — attends a school where she's strapped into a wheelchair and escorted by armed soldiers to the classroom. (When she jokes, "I won't bite," the soldiers don't laugh.) She's a member of an isolated community of survivors, some ten years after a mutated version of the fungus Ophiocordyceps unilateralis — the parasite behind "zombie ants" — has spread to humans. But this isn't your usual zombie story; in fact, the character here most obsessed with killing people to get at their brains is the compound's chief scientist. Melanie, by contrast, is full of life, curiosity and the ability to form emotional attachments… in particular, she is enamored of a kind teacher, Miss Justineau. When another group of survivors attacks the compound — herding mindless "hungries" ahead of them, weaponizing them against the soldiers and scientists — Melanie, Miss Justineau, the chief scientist, and a couple of soldiers make a getaway. This unlikely crew sets out on a voyage of discovery — are there any humans left out there, besides the raiders? And are there other kids like Melanie? I'm purposely avoiding describing what, exactly, Melanie is — because she herself doesn't figure it out for a while. When she does, she must decide where her ultimate loyalties lie….
Fun facts: Before this book, Carey was mostly known as a writer for such comics as Lucifer, X-Men, and Hellblazer. The novel is based on his 2013 story "Iphigenia In Aulis," and was written concurrently with the screenplay for the 2016 film. In 2017, Carey published a prequel novel, The Boy on the Bridge.
***
JOSH GLENN'S *BEST ADVENTURES* LISTS: BEST 250 ADVENTURES OF THE 20TH CENTURY | 100 BEST OUGHTS ADVENTURES | 100 BEST RADIUM AGE (PROTO-)SCI-FI ADVENTURES | 100 BEST TEENS ADVENTURES | 100 BEST TWENTIES ADVENTURES | 100 BEST THIRTIES ADVENTURES | 75 BEST GOLDEN AGE SCI-FI ADVENTURES | 100 BEST FORTIES ADVENTURES | 100 BEST FIFTIES ADVENTURES | 100 BEST SIXTIES ADVENTURES | 75 BEST NEW WAVE SCI FI ADVENTURES | 100 BEST SEVENTIES ADVENTURES | 100 BEST EIGHTIES ADVENTURES | 75 BEST DIAMOND AGE SCI-FI ADVENTURES | 100 BEST NINETIES ADVENTURES | 75 BEST HADRON AGE SCI-FI ADVENTURES.