HADRON AGE SF (48)
By: Joshua Glenn
November 30, 2022
One in a series of posts about the 75 best sf adventures published during the genre's Hadron Age era (from 2004–2023, according to HILOBROW's periodization schema). For Josh Glenn's Hadron Age Sci-Fi 75 list (a work in progress), click here.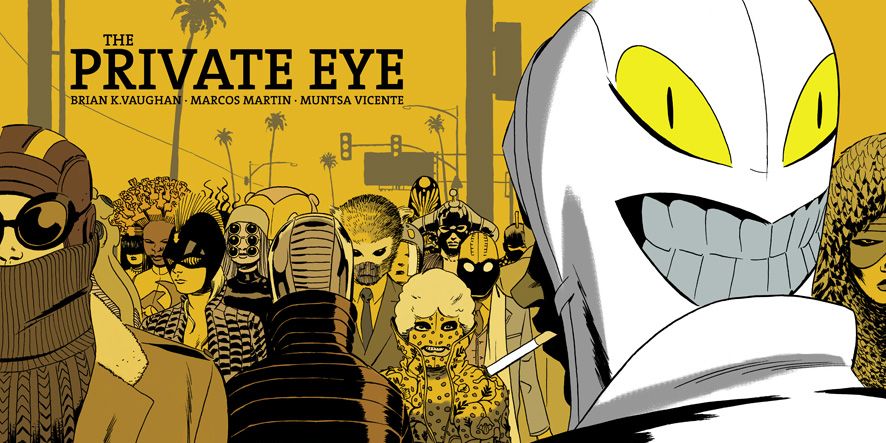 Brian K. Vaughan with Marcos Martín and Muntsa Vicente's The Private Eye (serialized 2013).
At some point between now and 2076, all the digital data collected about each and every one of us will become publicly available — after which catastrophic time it will be jokingly said that "the cloud has burst." The consequences of this event are extreme. For one thing, the Internet will cease to exist. For another, people will now become so excessively secretive about their identities that they will only appear in public wearing elaborate masks and costumes. Written by Brian K. Vaughan, the visionary comic-book writer known for Y: The Last Man, Runaways, Saga, and Paper Girls, to name just a few of my own favorites, The Private Eye follows the adventures of one "Patrick Immelman," a paparazzo who is very, very good at ferreting out personal information. Patrick's office is decorated with noir movie posters, offering a hint at the private-eye story — complete with a wealthy dame in distress, double-crosses, and ethical quandaries — that unfold. The ten-part series is illustrated by Marcos Martin (Batman, Daredevil, Amazing Spider-Man), who is talented at bringing dynamic urban scenes to life, and at depicting action sequences — rendered all the more cinematic thanks to the horizontality of the layout. Muntsa Vicente's vibrant color palette, which worked well when the series was published online, translates beautifully to the printed page.
Fun facts: The Private Eye was the first comic from a big-name creative team to go digital-first — via Vaughan and Martin's PanelSyndicate website — thus demonstrating the viability of an artist-owned online distribution model, bypassing print publishers and digital outlets like Comixology alike. In 2015, the series won an Eisner Award for Best Digital/Webcomic and the Harvey Award for Best Online Comics Work. The series was published in hardcover by Image Comics that same year.
***
JOSH GLENN'S *BEST ADVENTURES* LISTS: BEST 250 ADVENTURES OF THE 20TH CENTURY | 100 BEST OUGHTS ADVENTURES | 100 BEST RADIUM AGE (PROTO-)SCI-FI ADVENTURES | 100 BEST TEENS ADVENTURES | 100 BEST TWENTIES ADVENTURES | 100 BEST THIRTIES ADVENTURES | 75 BEST GOLDEN AGE SCI-FI ADVENTURES | 100 BEST FORTIES ADVENTURES | 100 BEST FIFTIES ADVENTURES | 100 BEST SIXTIES ADVENTURES | 75 BEST NEW WAVE SCI FI ADVENTURES | 100 BEST SEVENTIES ADVENTURES | 100 BEST EIGHTIES ADVENTURES | 75 BEST DIAMOND AGE SCI-FI ADVENTURES | 100 BEST NINETIES ADVENTURES | 75 BEST HADRON AGE SCI-FI ADVENTURES.