HADRON AGE SF (47)
By: Joshua Glenn
November 23, 2022
One in a series of posts about the 75 best sf adventures published during the genre's Hadron Age era (from 2004–2023, according to HILOBROW's periodization schema). For Josh Glenn's Hadron Age Sci-Fi 75 list (a work in progress), click here.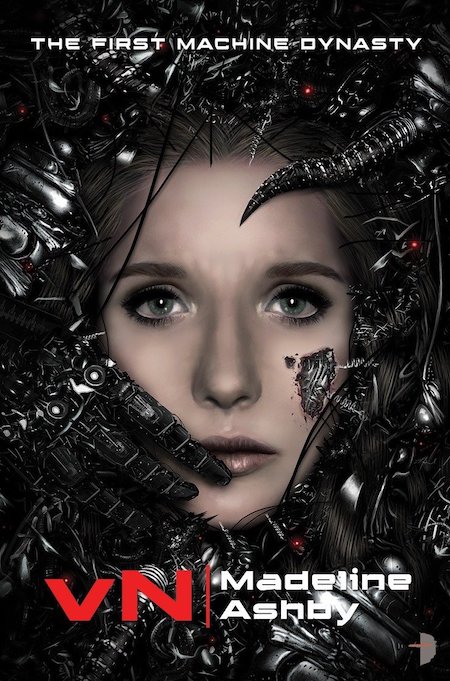 Madeline Ashby's vN (2012).
At Amy Peterson's kindergarten graduation, her "grandmother" Portia — whom she has never met — shows up, and immediately kills a little boy. Amy opens her mouth wide… and eats Portia up! SPOILER: Amy and her grandmother are von Neumann machines (self-replicating humanoid robots, sentient synthetic beings with thoughts and desire, who can procreate/iterate and evolve); Amy has been raised by a mixed organic/synthetic family and hadn't until this moment realized that she wasn't organic. It seems that vNs (who are basically slaves to humankind, used for labor, sex, and worse) lack free will, and are also fitted with a failsafe that makes them black out if they see a human in pain… but Portia's failsafe no longer worked. Now that it's clear that Amy's failsafe doesn't work, either, she must go on the run — to avoid both those who want to destroy her, and also those who would use her as a lethal weapon. Portia, meanwhile, now takes up residence in Amy's head (as a partition on her memory drive); and Amy literally grows up overnight. Also, Amy teams up with another vN, Javier, whose failsafe is still working… and who wasn't raised to think of himself as human. It's a fast-paced story with a lot of visceral, personal fight scenes — great for fans of Ghost in the Shell and Evangelion. It's also a philosophical story about parenting-as-programming, and how one might overcome one's programming; and about the machine version of human emotions such as love and respect.
Fun facts: Other installments in the Machine Dynasties series include The Education of Junior Number 12 (2011), "Give Granny a Kiss" (short story 2012), iD: The Second Machine Dynasty (2013), and reV: The Third Machine Dynasty (novel 2020). "We're facing increasing evidence that self-awareness among organic humans is an illusion," Ashby has explained. "I wanted a story where Pinocchio slowly realized that becoming a real little boy wasn't so terribly special, after all."
***
JOSH GLENN'S *BEST ADVENTURES* LISTS: BEST 250 ADVENTURES OF THE 20TH CENTURY | 100 BEST OUGHTS ADVENTURES | 100 BEST RADIUM AGE (PROTO-)SCI-FI ADVENTURES | 100 BEST TEENS ADVENTURES | 100 BEST TWENTIES ADVENTURES | 100 BEST THIRTIES ADVENTURES | 75 BEST GOLDEN AGE SCI-FI ADVENTURES | 100 BEST FORTIES ADVENTURES | 100 BEST FIFTIES ADVENTURES | 100 BEST SIXTIES ADVENTURES | 75 BEST NEW WAVE SCI FI ADVENTURES | 100 BEST SEVENTIES ADVENTURES | 100 BEST EIGHTIES ADVENTURES | 75 BEST DIAMOND AGE SCI-FI ADVENTURES | 100 BEST NINETIES ADVENTURES | 75 BEST HADRON AGE SCI-FI ADVENTURES.