HADRON AGE SF (44)
By: Joshua Glenn
November 2, 2022
One in a series of posts about the 75 best sf adventures published during the genre's Hadron Age era (from 2004–2023, according to HILOBROW's periodization schema). For Josh Glenn's Hadron Age Sci-Fi 75 list (a work in progress), click here.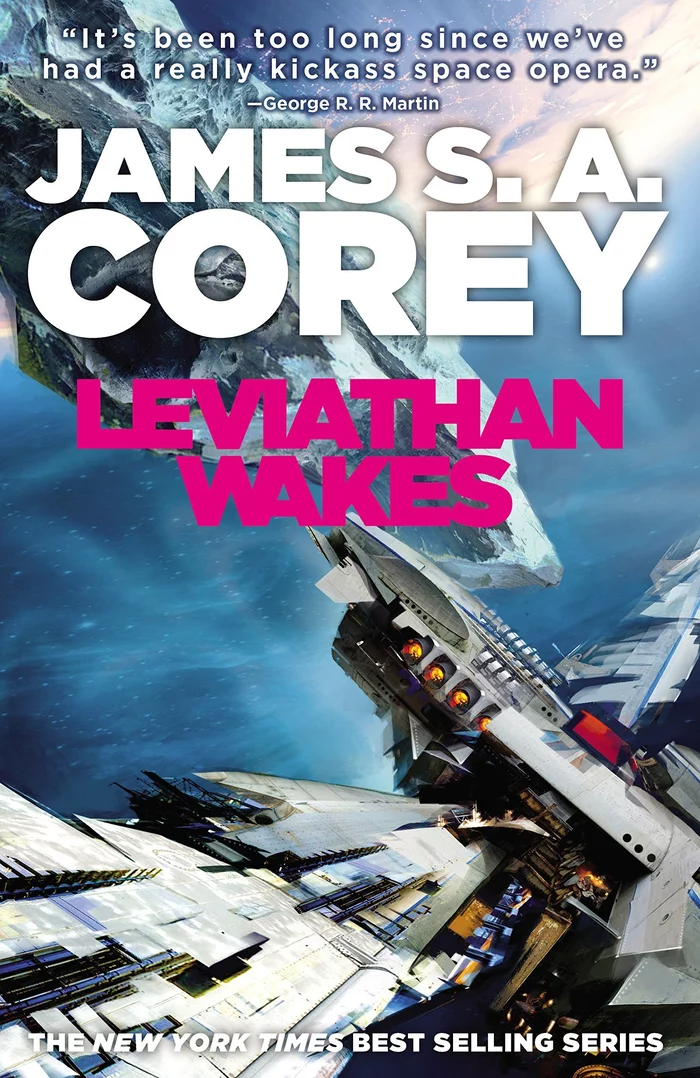 James S.A. Corey's Leviathan Wakes (2011).
The first book in Corey's Expanse series is set in a future in which humanity has colonized much of the Solar System. Earth and the Martian Congressional Republic maintain an uneasy military alliance in order to exert hegemony over the "Belters" of the Asteroid belt, who carry out the difficult work that provides the system with essential natural resources. Meanwhile, the Outer Planets Alliance (OPA), a network of loosely-aligned militant groups, seeks to combat the Belt's exploitation. The story is told from the point of view of Belter detective Joe Miller (on Ceres Station), and Earther Jim Holden. Holden is working on an ice hauling ship that's destroyed by a warship — which appears to be Martian; he and a small team who've survived in a shuttle (while investigating a distress signal from an abandoned ship, the Scopuli) are picked up by a Martian battleship. Which is then attacked by the same mysterious foe. Miller, meanwhile, has been contracted to locate Julie Mao, daughter of wealthy magnate, and send her back to her family on Luna; he also can't help but notice that all the criminals are abandoning Ceres Station — what do they know? Julie, it turns out, had joined the OPA — and she's disappeared while performing an important mission for them aboard the Scopuli. Which pulls the threads of this story — which turns out to involve a strange organic growth, in fact an alien "protomolecule" — together.
Fun facts: James S. A. Corey is the pen name of Daniel Abraham and Ty Franck. Other novels in the Expanse series include Caliban's War (2012), Abaddon's Gate (2013), and six others; I haven't read them. Leviathan Wakes was adapted for TV in 2015 as the first season-and-a-half of The Expanse by Syfy.
***
JOSH GLENN'S *BEST ADVENTURES* LISTS: BEST 250 ADVENTURES OF THE 20TH CENTURY | 100 BEST OUGHTS ADVENTURES | 100 BEST RADIUM AGE (PROTO-)SCI-FI ADVENTURES | 100 BEST TEENS ADVENTURES | 100 BEST TWENTIES ADVENTURES | 100 BEST THIRTIES ADVENTURES | 75 BEST GOLDEN AGE SCI-FI ADVENTURES | 100 BEST FORTIES ADVENTURES | 100 BEST FIFTIES ADVENTURES | 100 BEST SIXTIES ADVENTURES | 75 BEST NEW WAVE SCI FI ADVENTURES | 100 BEST SEVENTIES ADVENTURES | 100 BEST EIGHTIES ADVENTURES | 75 BEST DIAMOND AGE SCI-FI ADVENTURES | 100 BEST NINETIES ADVENTURES | 75 BEST HADRON AGE SCI-FI ADVENTURES.