HADRON AGE SF (42)
By: Joshua Glenn
October 19, 2022
One in a series of posts about the 75 best sf adventures published during the genre's Hadron Age era (from 2004–2023, according to HILOBROW's periodization schema). For Josh Glenn's Hadron Age Sci-Fi 75 list (a work in progress), click here.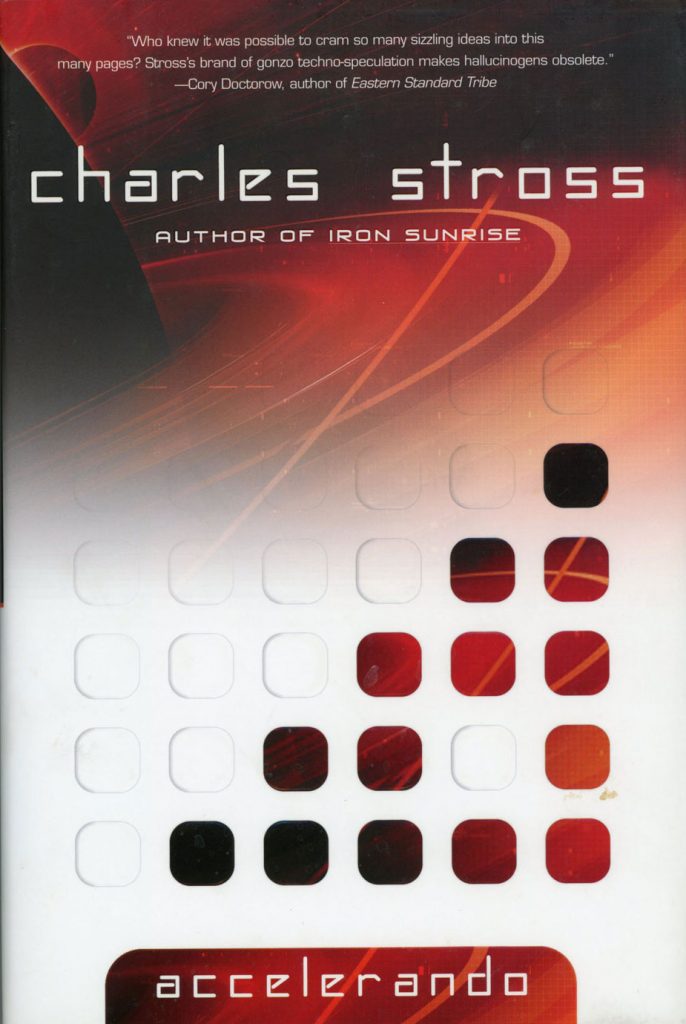 Charles Stross's Accelerando (2005).
In early-21st-century Amsterdam, Manfred Macx, a "venture altruist," receives a call from entities claiming to be a KGB-created AI seeking to defect. In fact, Manfred's new acquaintances are much stranger than that; they're the uploaded brain-scans of California spiny lobsters looking to escape from humanity's interference. Not only does he help to team them up with an entrepreneur looking for an AI to crew a spacefaring project which will build a self-replicating factory complex from cometary material, but he helps to establish a legal precedent that will help define the rights of future AIs and uploaded minds. After the knotty, jargon-heavy first three stories, Accelerando — a novel in the form of nine linked stories — goes off in a tangential direction. Manfred's daughter, Amber, uploads herself into a computer program to go on an expedition to a nearby star… where alien intelligence has been detected. (There's also a whole subplot about Manfred's ex-wife, who seeks in vain to control Amber.) In the process, Amber discovers that microscopic AIs have surrounded the star and are converting all extraneous mass into further copies of themselves. One gets the impression that this is the inevitable outcome of the Singularity, in any solar system. The final stories involve Amber's son, Sirhan, who inhabits a floating habitat in Saturn's upper atmosphere. Can Manfred, Amber, Sirhan, and Manfred's cyborg cat (maybe), Aineko, escape their own solar system while there's still time?
Fun facts: A fixup from several "Lobsters" stories published 2001–2004. "I think we can take an eventual mature nanotechnology as a given by the late 21st century," Stross said in an interview when Accelerando came out. "I see no real practical stumbling blocks to the idea of interfacing human brains (and the software running on them) directly to computing machinery. Those two developments alone will dwarf everything else that has happened to the human species since … the development of agriculture."
***
JOSH GLENN'S *BEST ADVENTURES* LISTS: BEST 250 ADVENTURES OF THE 20TH CENTURY | 100 BEST OUGHTS ADVENTURES | 100 BEST RADIUM AGE (PROTO-)SCI-FI ADVENTURES | 100 BEST TEENS ADVENTURES | 100 BEST TWENTIES ADVENTURES | 100 BEST THIRTIES ADVENTURES | 75 BEST GOLDEN AGE SCI-FI ADVENTURES | 100 BEST FORTIES ADVENTURES | 100 BEST FIFTIES ADVENTURES | 100 BEST SIXTIES ADVENTURES | 75 BEST NEW WAVE SCI FI ADVENTURES | 100 BEST SEVENTIES ADVENTURES | 100 BEST EIGHTIES ADVENTURES | 75 BEST DIAMOND AGE SCI-FI ADVENTURES | 100 BEST NINETIES ADVENTURES | 75 BEST HADRON AGE SCI-FI ADVENTURES.