HADRON AGE SF (41)
By: Joshua Glenn
October 12, 2022
One in a series of posts about the 75 best sf adventures published during the genre's Hadron Age era (from 2004–2023, according to HILOBROW's periodization schema). For Josh Glenn's Hadron Age Sci-Fi 75 list (a work in progress), click here.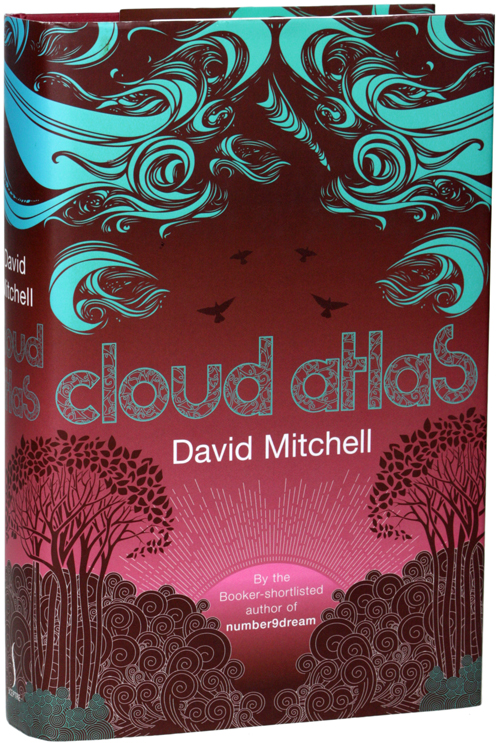 David Mitchell's Cloud Atlas (2004).
The book's title obliquely suggests its dismal theme — that no matter how much the historical context (the "cloud") may change, human nature (the "atlas") will always lead to individuals preying on individuals, groups on groups, and nations on nations. The characters in the six imbricated stories here are, the author would have us understand, reincarnated versions of the same person. As with Calvino's If on a winter's night a traveler, each narrative here is at first left incomplete; however, in the second half of the book, the narratives are wrapped up. Although the book does not perhaps live up to its own goals, it's fun to jump from era to era and from genre to genre. The first story is set near New Zealand in the mid-nineteenth century, where Adam Ewing, an American lawyer, awaits repairs to his ship. The second, set near Bruges in 1931, is told in the form of letters from Robert, a recently disowned English musician, to his lover Rufus. The third, a mystery/thriller, is set in a Californian town in 1975; Luisa Rey, a young journalist, discovers that whistleblowers ar the Seaboard HYDRA nuclear power plant are being killed. Set in Britain in the present day, the fourth story involves a vanity press publisher forced to flee when the brothers of a gangster author threaten him. We enter the realm of sf with the fifth story, set in a dystopian futuristic state in Korea; its narrator is a "fabricant" waitress at a fast-food restaurant who has been arrested and put on trial. The sixth story takes place in post-apocalyptic Hawaii, and is narrated by an old man who remembers what life was like before worldwide civilization collapsed.
Fun fact: A film adaptation of the book, which was well-received by both the general literary community and the speculative fiction community, was directed by the Wachowskis and Tom Tykwer. It was released in 2012.
***
JOSH GLENN'S *BEST ADVENTURES* LISTS: BEST 250 ADVENTURES OF THE 20TH CENTURY | 100 BEST OUGHTS ADVENTURES | 100 BEST RADIUM AGE (PROTO-)SCI-FI ADVENTURES | 100 BEST TEENS ADVENTURES | 100 BEST TWENTIES ADVENTURES | 100 BEST THIRTIES ADVENTURES | 75 BEST GOLDEN AGE SCI-FI ADVENTURES | 100 BEST FORTIES ADVENTURES | 100 BEST FIFTIES ADVENTURES | 100 BEST SIXTIES ADVENTURES | 75 BEST NEW WAVE SCI FI ADVENTURES | 100 BEST SEVENTIES ADVENTURES | 100 BEST EIGHTIES ADVENTURES | 75 BEST DIAMOND AGE SCI-FI ADVENTURES | 100 BEST NINETIES ADVENTURES | 75 BEST HADRON AGE SCI-FI ADVENTURES.