HADRON AGE SF (37)
By: Joshua Glenn
September 14, 2022
One in a series of posts about the 75 best sf adventures published during the genre's Hadron Age era (from 2004–2023, according to HILOBROW's periodization schema). For Josh Glenn's Hadron Age Sci-Fi 75 list (a work in progress), click here.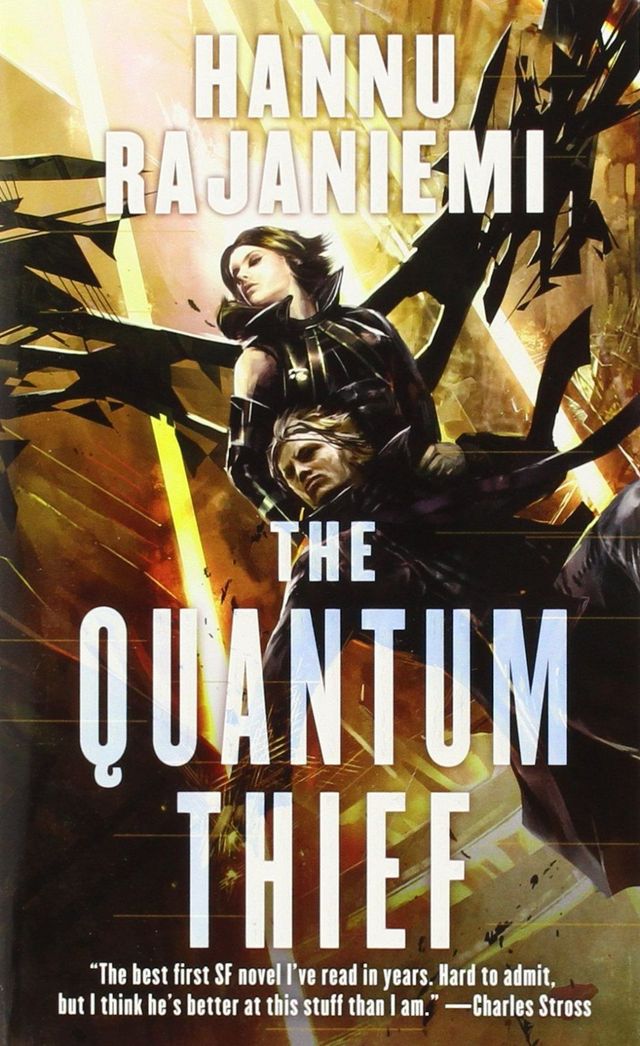 Hannu Rajaniemi's The Quantum Thief (2010).
An imaginative and complex heist story, the protagonist of which — Jean le Flambeur — sees himself as a real-life Arsène Lupin, Maurice Leblanc's gentleman thief character who forever seeks redemption only to slip back into a life of crime. He is our narrator and protagonist, though some points of view in the novel — including those in which Jean assumes another name, identity or disguise — are narrated in the third person. It's all very fractal; in fact, in the novel's epic opening sequence, our antihero is imprisoned in the Dilemma Prison, a Sobornost prison located in the Neptunian Trojan belt — which is "seeded" with copies of Le Flambeur's "gogol," each of which must play a perpetual game of iterated prisoner's dilemma. A gogol (a reference to Gogol's Dead Souls) is the uploaded mind of a human being. The Sobornost, meanwhile, are a near-omnipotent posthuman upload collective; their goal is to upload all sentient minds in the solar system. (The Sobornost's Founders are also characters here; conflicts among them appear to be what has set this plot in motion.) A version of Le Flambeur is sprung from prison by the Oortian Mieli and her sentient, flirtatious spidership; the Oortians are humanoid descendants of Finns who long ago colonized the Oort Cloud. Mieli, who is a bad-ass warrior (great fight sequences) wants Le Flambeur to pull off a heist in Oubliette, a Moving City of Mars inhabited by the last remnants of near-baseline humanity. What he needs to locate and retrieve are… his own memories. All of which has something to do with the Sobornost's conflict with a beleaguered community of quantum entangled minds who adhere to the "no-cloning" principle of quantum information theory. An Oubliette private eye, Beautrelet, who helps vigilantes catch Sobornost agents illicitly uploading human minds, is employed to investigate the arrival of Le Flambeur… and discovers that the memories of Oubliette's citizenry may be fabrications!
Fun facts: A sequel, The Fractal Prince, was published in 2012. The third book in the series, The Causal Angel, was published in 2014.
***
JOSH GLENN'S *BEST ADVENTURES* LISTS: BEST 250 ADVENTURES OF THE 20TH CENTURY | 100 BEST OUGHTS ADVENTURES | 100 BEST RADIUM AGE (PROTO-)SCI-FI ADVENTURES | 100 BEST TEENS ADVENTURES | 100 BEST TWENTIES ADVENTURES | 100 BEST THIRTIES ADVENTURES | 75 BEST GOLDEN AGE SCI-FI ADVENTURES | 100 BEST FORTIES ADVENTURES | 100 BEST FIFTIES ADVENTURES | 100 BEST SIXTIES ADVENTURES | 75 BEST NEW WAVE SCI FI ADVENTURES | 100 BEST SEVENTIES ADVENTURES | 100 BEST EIGHTIES ADVENTURES | 75 BEST DIAMOND AGE SCI-FI ADVENTURES | 100 BEST NINETIES ADVENTURES | 75 BEST HADRON AGE SCI-FI ADVENTURES.