HADRON AGE SF (34)
By: Joshua Glenn
August 24, 2022
One in a series of posts about the 75 best sf adventures published during the genre's Hadron Age era (from 2004–2023, according to HILOBROW's periodization schema). For Josh Glenn's Hadron Age Sci-Fi 75 list (a work in progress), click here.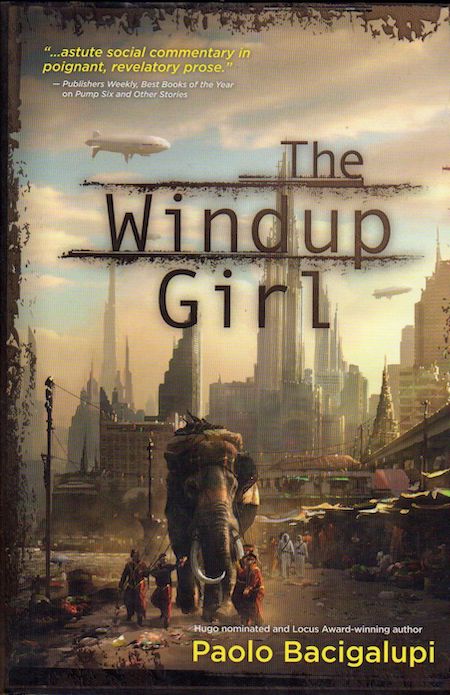 Paolo Bacigalupi's The Windup Girl (2009).
In the not-too-distant future, after the global economy has collapsed in a "jackpot" (to use William Gibson's term) of war, genetic engineering tragedies, and the end of the oil-based economy, one of the world's new power centers is Des Moines, Iowa, whence AgriGen directs its "calorie men" to travel the world, locating seed stock to genehack and rip into commodities. Anderson Lake, AgriGen's man in Bangkok, combs the city's street markets in search of viable foodstuffs; his cover job is manager of a factory trying to mass-produce a revolutionary new model of kink-spring (the successor to the internal combustion engine) that could maybe store gigajoules of energy. AgriGen and its rival megacorporations, PurCal and RedStar, use bioterrorism, private armies and economic hitmen like Lake to control food production and create markets for their seeds — genetically engineered to be sterile. There are many characters, here, including Hock Seng, Lake's factory foreman, who plots to steal the kink-spring designs; and Jaidee Rojjanasukchai, the honest and zealous captain of Bangkok's Environment Ministry enforcement wing. Emiko, the titular "windup girl," is a genetically modified human who has been discarded from her servitude in a Bangkok sex club; Lake teams up with her once she reveals information she has learned about a secret seedbank. In the end, nobody succeeds in exactly what they were aiming to accomplish.
Fun facts: Asked, in an interview with Andrew Liptak, why the book — which won a Nebula, a Hugo, and the Locus Award for best first novel — is set in Thailand, Bacigalupi said, "Maybe the future will be defined in China, or Brazil, or Sierra Leone, or in Ukraine, or in some no-name village that's about to melt away in the Arctic Circle, or by some jerk in Iowa who lets loose a GMO super weed."
***
JOSH GLENN'S *BEST ADVENTURES* LISTS: BEST 250 ADVENTURES OF THE 20TH CENTURY | 100 BEST OUGHTS ADVENTURES | 100 BEST RADIUM AGE (PROTO-)SCI-FI ADVENTURES | 100 BEST TEENS ADVENTURES | 100 BEST TWENTIES ADVENTURES | 100 BEST THIRTIES ADVENTURES | 75 BEST GOLDEN AGE SCI-FI ADVENTURES | 100 BEST FORTIES ADVENTURES | 100 BEST FIFTIES ADVENTURES | 100 BEST SIXTIES ADVENTURES | 75 BEST NEW WAVE SCI FI ADVENTURES | 100 BEST SEVENTIES ADVENTURES | 100 BEST EIGHTIES ADVENTURES | 75 BEST DIAMOND AGE SCI-FI ADVENTURES | 100 BEST NINETIES ADVENTURES | 75 BEST HADRON AGE SCI-FI ADVENTURES.