HADRON AGE SF (31)
By: Joshua Glenn
August 3, 2022
One in a series of posts about the 75 best sf adventures published during the genre's Hadron Age era (from 2004–2023, according to HILOBROW's periodization schema). For Josh Glenn's Hadron Age Sci-Fi 75 list (a work in progress), click here.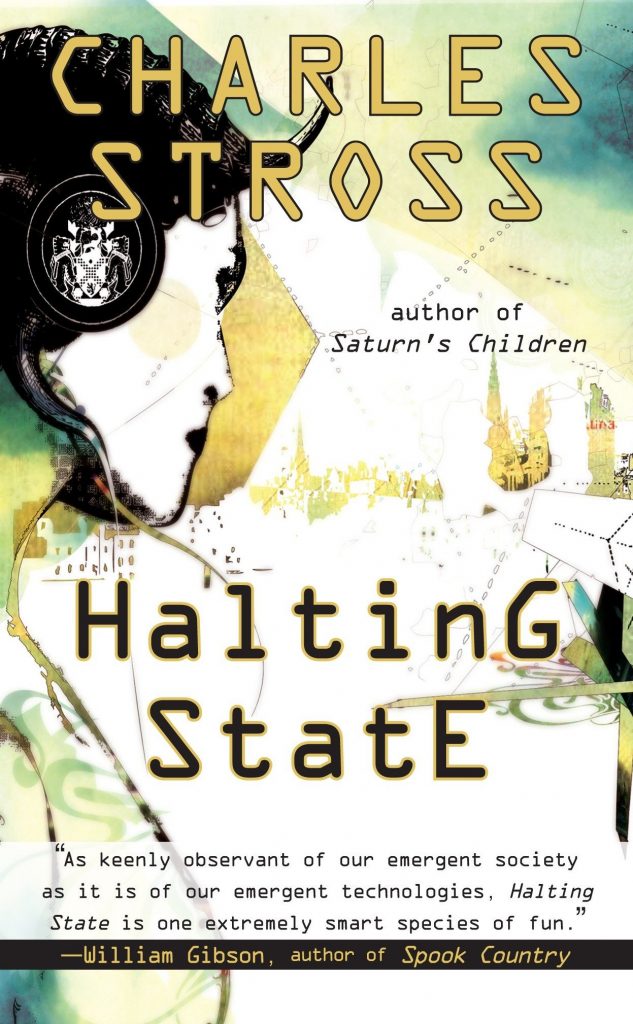 Charles Stross's Halting State (2007).
When Sgt. Sue Smith of the Edinburgh constabulary (this is 2018, and Scotland is now an independent nation) is called in to investigate a bank robbery of several thousand euros worth of "prestige items," she discovers that the bank was inside Avalon Four, a popular MMORPG. The robbers were a horde of orcs, plus a dragon for "fire support." Items in online games have real-world value, of course, but how to track, charge, prosecute, and assess the insurance liability is complex… which is where a second protagonist, an insurance fraud investigator named Elaine, comes in. At Elaine's urging, Sgt. Smith also recruits Jack Reed, a recently laid-off programmer and expert on MMORPGs, to assist with the investigation. Which turns out to be a much larger conspiracy involving international espionage and counterterrorism. Stross's fans don't consider this one of his best efforts, particularly because of how it's all written in the second-person present, and jumps back and forth between the three characters' persepective… but I enjoyed how the action took place both inside Avalon Four and on the streets of near-future Edinburgh. Also, the VR goggles that everyone wears, all the time, haven't dated badly if you ask me — I think we'll see this become common soon. I've forgotten the plots of many thrillers from the 2010s, but not this one's!
Fun facts: "The second person is the natural narrative voice of the computer game, all the way back to the original colossal cave adventure in the early 1970s," Stross said in a 2008 Q&A. "The computer is the fourth wall between the audience and the story; it's a machine for generating stories and it is telling the story to you, the audience. Writing Halting State in that mode just seemed essential." Halting State was followed by Rule 34 (2011), as well as by the never-completed The Lambda Functionary.
***
JOSH GLENN'S *BEST ADVENTURES* LISTS: BEST 250 ADVENTURES OF THE 20TH CENTURY | 100 BEST OUGHTS ADVENTURES | 100 BEST RADIUM AGE (PROTO-)SCI-FI ADVENTURES | 100 BEST TEENS ADVENTURES | 100 BEST TWENTIES ADVENTURES | 100 BEST THIRTIES ADVENTURES | 75 BEST GOLDEN AGE SCI-FI ADVENTURES | 100 BEST FORTIES ADVENTURES | 100 BEST FIFTIES ADVENTURES | 100 BEST SIXTIES ADVENTURES | 75 BEST NEW WAVE SCI FI ADVENTURES | 100 BEST SEVENTIES ADVENTURES | 100 BEST EIGHTIES ADVENTURES | 75 BEST DIAMOND AGE SCI-FI ADVENTURES | 100 BEST NINETIES ADVENTURES | 75 BEST HADRON AGE SCI-FI ADVENTURES.