HADRON AGE SF (29)
By: Joshua Glenn
July 19, 2022
One in a series of posts about the 75 best sf adventures published during the genre's Hadron Age era (from 2004–2023, according to HILOBROW's periodization schema). For Josh Glenn's Hadron Age Sci-Fi 75 list (a work in progress), click here.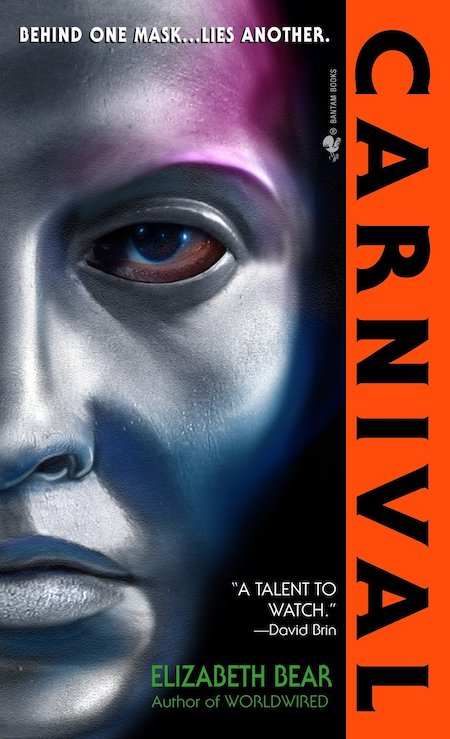 Elizabeth Bear's Carnival (2006).
Two agents of the Old Earth Colonial Coalition, one trained in the art of subterfuge and the other in the art of reading people for signs of subterfuge, have been sent on a diplomatic mission to New Amazonia — a matriarchal colony planet ruled by lesbians. Michelangelo Kusanagi-Jones and Vincent Katherinessen, ex-lovers and comrades reunited after a mission went awry nearly two decades earlier, were chosen for this assignment because they are "gentle" — homosexual — and therefore, unlike straight men (who are used for reproduction and labor), allowed to move about New Amazonia with a certain degree of autonomy. Control of the preservation of interplanetary natural resources has been given over, generations earlier, to artificial intelligences called the Governors, who enforce carbon neutrality via strict/genocidal population control and energy consumption regulation. Vincent and Michelangelo's true mission is to figure out the secret of New Amazonia's seemingly inexhaustible power supply, bequeathed to its current inhabitants by the planet's previous inhabitants — who are not entirely gone. (By doing so, they may be able to end the AI's reign of terror.) New Amazonia is not the nurturing, pacifistic female utopia that the reader may have been expecting: Its inhabitants are gun-toting bravas obsessed with guns and honor and dueling; and some of them are scheming a violent revolution that will establish equality for males. What's more, Michelangelo and Vincent have their own secret agendas!
Fun facts: "Environmental Fascists Fight Gun-Loving Lesbians for Alien Technology" trumpets the headline of Annalee Newitz's 2008 review of Carnival. "Bear's idea that an eco-regime like this would breed conservatism rather than progressivism is really quite smart, and world-building junkies like me will love her careful attention to how ideologies might evolve over time."
***
JOSH GLENN'S *BEST ADVENTURES* LISTS: BEST 250 ADVENTURES OF THE 20TH CENTURY | 100 BEST OUGHTS ADVENTURES | 100 BEST RADIUM AGE (PROTO-)SCI-FI ADVENTURES | 100 BEST TEENS ADVENTURES | 100 BEST TWENTIES ADVENTURES | 100 BEST THIRTIES ADVENTURES | 75 BEST GOLDEN AGE SCI-FI ADVENTURES | 100 BEST FORTIES ADVENTURES | 100 BEST FIFTIES ADVENTURES | 100 BEST SIXTIES ADVENTURES | 75 BEST NEW WAVE SCI FI ADVENTURES | 100 BEST SEVENTIES ADVENTURES | 100 BEST EIGHTIES ADVENTURES | 75 BEST DIAMOND AGE SCI-FI ADVENTURES | 100 BEST NINETIES ADVENTURES | 75 BEST HADRON AGE SCI-FI ADVENTURES.