HADRON AGE SF (27)
By: Joshua Glenn
July 5, 2022
One in a series of posts about the 75 best sf adventures published during the genre's Hadron Age era (from 2004–2023, according to HILOBROW's periodization schema). For Josh Glenn's Hadron Age Sci-Fi 75 list (a work in progress), click here.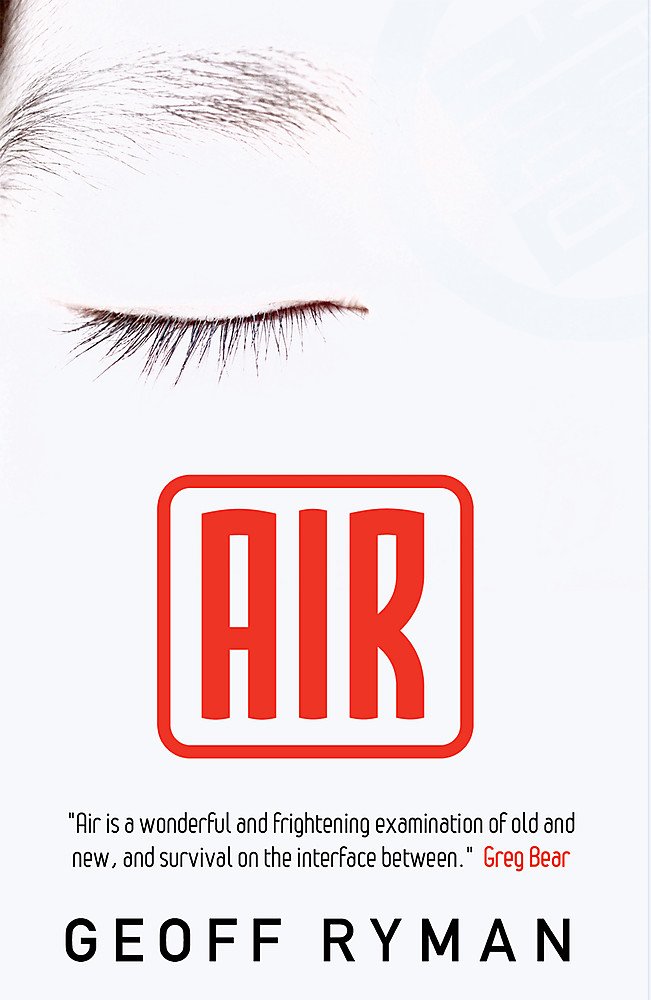 Geoff Ryman's Air (2005).
Chung Mae, an illiterate but smart and ambitious middle-aged woman living in a small Central Asian rice-farming village, has enough problems already. Her foolish husband has been swindled by the village strong man and will surely lose his land; as a Muslim among Buddhists, and a woman in a rural patriarchal society, she is undervalued; plus, she has caught feelings for her neighbor. Although Mae has reinvented herself as a fashion expert, taking women into the city for makeovers and providing teenagers with graduation dresses, she remains dissatisfied. And then Air, a next-level Internet that uses quantum technology to implant itself in one's mind, is tested on their village. The consequences are disastrous, and the test is temporarily halted. Mae, however, finds herself trapped inside the system, her mind melded with that of an older woman from her village who died during the test. She now possesses the ability to see, via the quantum realm, into both the past and the future. Although she has no status in her village, Mae sets about attempting to educate and prepare her neighbors for the social, cultural, and economic changes that she alone can see coming. The book was developed from Ryman's story "Have Not Have," the title of which suggests the theme of the novel. Contra neoliberal theory, unless they're trained to use it properly the have-nots of the world do not automatically benefit from new technologies. Fun fact: Ryman is a pioneer of "Mundane science fiction," a c. 2004 movement that calls for sf stories in which the extension of technology and science as it exists at the time the story is written is a plausible one. This novel won the British Science Fiction Association Award, the James Tiptree, Jr. Award, and the Arthur C. Clarke Award.
***
JOSH GLENN'S *BEST ADVENTURES* LISTS: BEST 250 ADVENTURES OF THE 20TH CENTURY | 100 BEST OUGHTS ADVENTURES | 100 BEST RADIUM AGE (PROTO-)SCI-FI ADVENTURES | 100 BEST TEENS ADVENTURES | 100 BEST TWENTIES ADVENTURES | 100 BEST THIRTIES ADVENTURES | 75 BEST GOLDEN AGE SCI-FI ADVENTURES | 100 BEST FORTIES ADVENTURES | 100 BEST FIFTIES ADVENTURES | 100 BEST SIXTIES ADVENTURES | 75 BEST NEW WAVE SCI FI ADVENTURES | 100 BEST SEVENTIES ADVENTURES | 100 BEST EIGHTIES ADVENTURES | 75 BEST DIAMOND AGE SCI-FI ADVENTURES | 100 BEST NINETIES ADVENTURES | 75 BEST HADRON AGE SCI-FI ADVENTURES.