HADRON AGE SF (25)
By: Joshua Glenn
June 21, 2022
One in a series of posts about the 75 best sf adventures published during the genre's Hadron Age era (from 2004–2023, according to HILOBROW's periodization schema). For Josh Glenn's Hadron Age Sci-Fi 75 list (a work in progress), click here.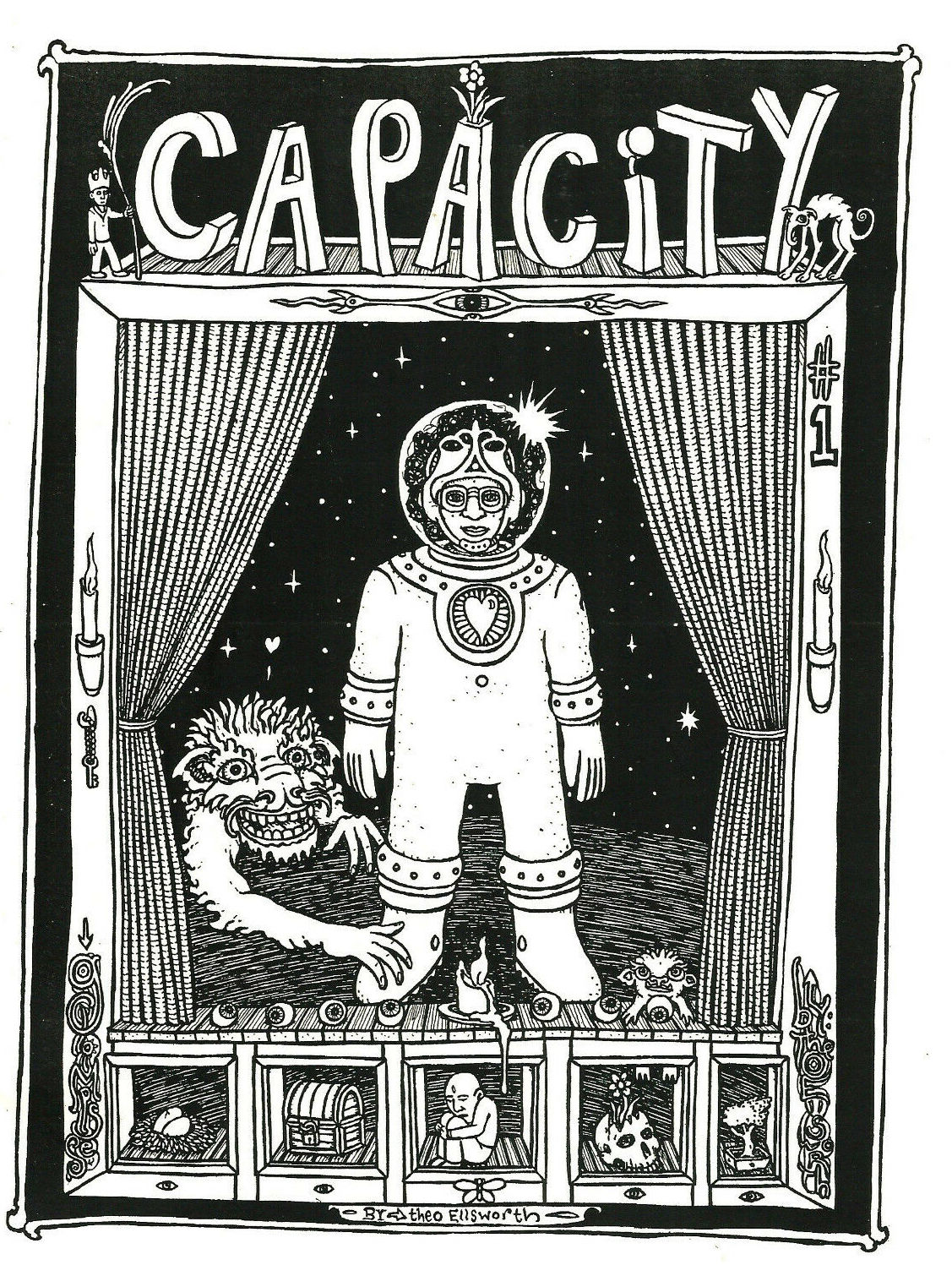 Theo Ellsworth's Capacity (serialized 2004–2007, as a book 2008).
Ellsworth's debut graphic novel, which was first self-published as a series of mini-comics, to which new material providing an overarching framework was later added, is an autobiographical journey not only through the author's life but through his restless, anxious, and incredibly fertile imagination… the lineaments of which are phantasmagorical, for the most part, but also science-fictional. The picaresque journey on which we're taken isn't set in the future, exactly; Ellsworth's imagination is instead a kind of parallel world or fourth dimension ("psychological thoughtplane," Ellsworth suggests) in which fantastic creatures and benevolent monsters cavort — and attempt to communicate some sort of wisdom of tremendous import, but which remains forever elusive. I hesitate to describe Capacity as a story, because (true to the comics medium) it apparently developed without planning, willy-nilly, as imagery — semi-conscious doodling evolved into complex Bruegel- or Bosch-like scenes, over which the author invents us to brood along with him. He often portrays himself as a kind of astronaut — spacesuited, helmeted — struggling to make sense of the alien planet, its flora and fauna, its languages and customs, inside of his own head. The fascinatingly dense artwork and dream logic make it difficult for us to get any purchase, at times… but we sympathize with the protagonist, and root for him to find the resolution he desires. In fact, we come to feel that this won't happen without our active participation as readers… if this is partly reminiscent of Frigyes Karinthy's proto-sf novel A Journey Round My Skull, it's also reminscent of The Monster at the End of This Book. Ellsworth is a Groveresque guide whom I'd follow anywhere.
Fun facts: "It's like I'm trying to figure out how to reach a point where I'm thinking absolutely clearly about something," Ellsworth has said, of Capacity, in an interview with The Comics Journal. "Also, I'm trying to figure out how to disengage from thoughts that completely self-sabotage me and gear my mind towards something that's going to actually take me somewhere."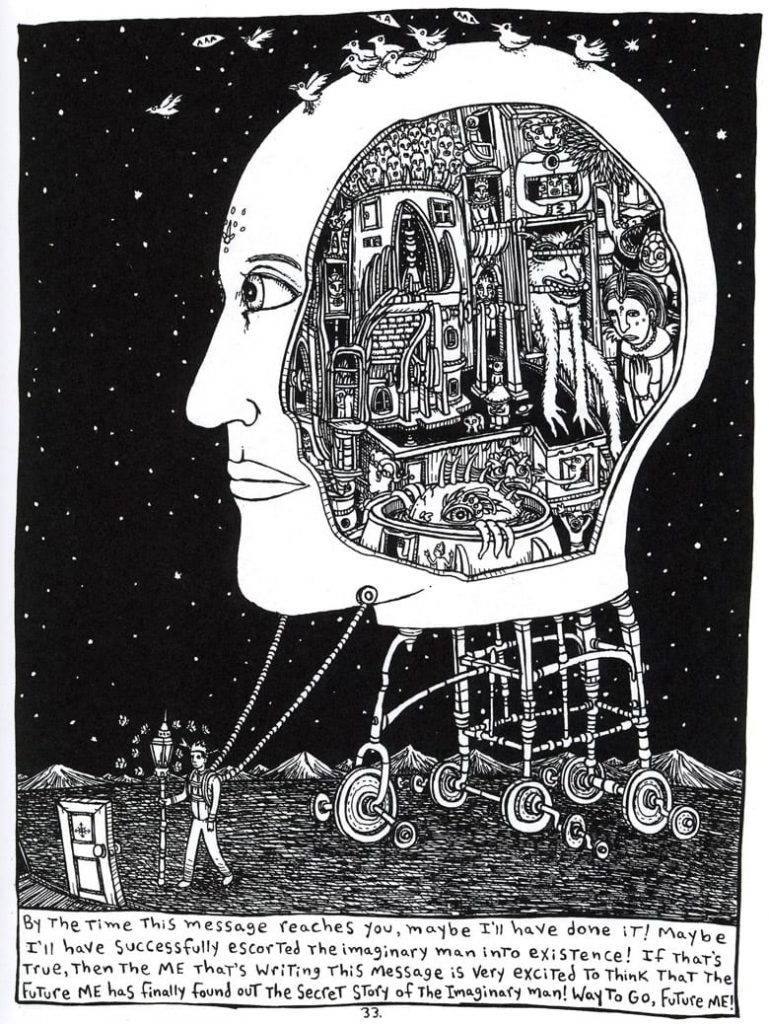 ***
JOSH GLENN'S *BEST ADVENTURES* LISTS: BEST 250 ADVENTURES OF THE 20TH CENTURY | 100 BEST OUGHTS ADVENTURES | 100 BEST RADIUM AGE (PROTO-)SCI-FI ADVENTURES | 100 BEST TEENS ADVENTURES | 100 BEST TWENTIES ADVENTURES | 100 BEST THIRTIES ADVENTURES | 75 BEST GOLDEN AGE SCI-FI ADVENTURES | 100 BEST FORTIES ADVENTURES | 100 BEST FIFTIES ADVENTURES | 100 BEST SIXTIES ADVENTURES | 75 BEST NEW WAVE SCI FI ADVENTURES | 100 BEST SEVENTIES ADVENTURES | 100 BEST EIGHTIES ADVENTURES | 75 BEST DIAMOND AGE SCI-FI ADVENTURES | 100 BEST NINETIES ADVENTURES | 75 BEST HADRON AGE SCI-FI ADVENTURES.