HADRON AGE SF (23)
By: Joshua Glenn
June 7, 2022
One in a series of posts about the 75 best sf adventures published during the genre's Hadron Age era (from 2004–2023, according to HILOBROW's periodization schema). For Josh Glenn's Hadron Age Sci-Fi 75 list (a work in progress), click here.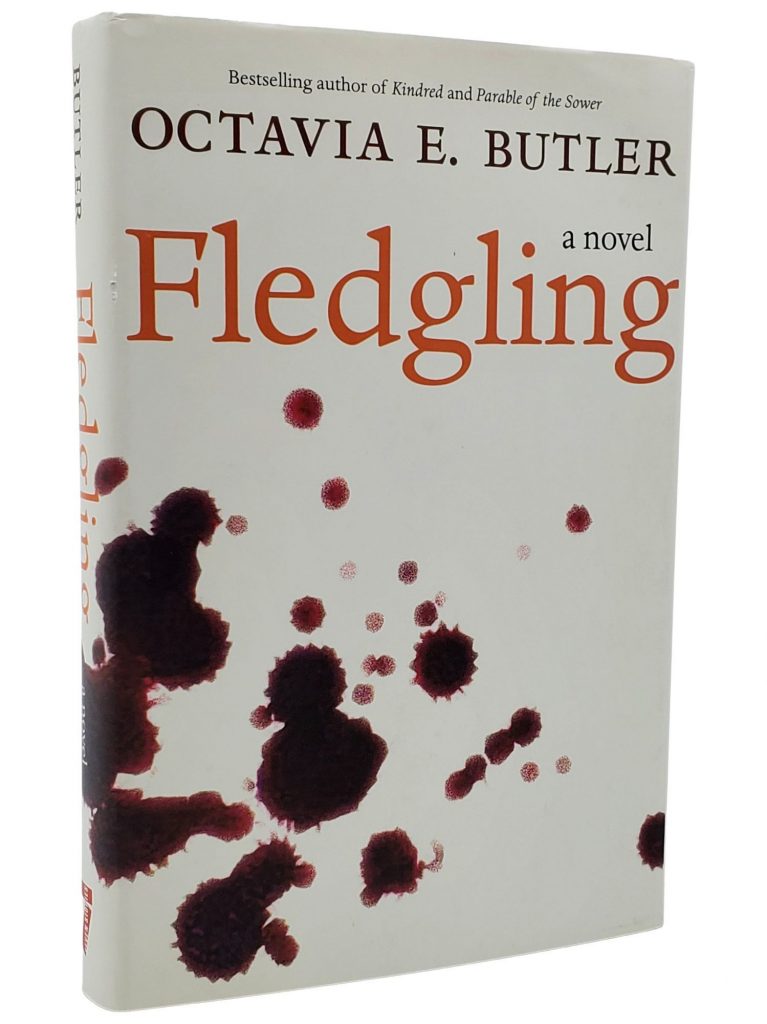 Octavia E. Butler's Fledgling (2005).
Shori, the protagonist of Butler's last novel, is a member of the Ina — a vampiric species of biological rather than supernatural origin, who for millennia have cohabitated symbiotically with selected humans in non-hierarchical, interdependent communities. (The nocturnal, long-lived Ina drink human blood; the humans live up to 200 years in excellent health.) While traditionally Ina have always been white-skinned, Shori — who, although 53 years old, resembles a 10-year-old — wakes up from a near-fatal attack to discover that she is the result of an experiment controversial among Ina. Her genetic makeup includes human melanin — allowing her to stay awake during the day, and to survive exposure to the sun. She represents an evolutionary leap forward. However, she has lost her memory… and is ravenous for blood! Shori gathers together a group of human "symbionts" (with whom she begins to form deep emotional connections, despite such hurdles as their sexual possessiveness and biphobia… which contrast sharply with her own pansexuality) and goes on the run, attempting to escape raiders who keep burning down the settlements where she lives; are they motivated by racist disdain for her newly dark-skinned appearance? Or by speciesist disdain for humans? During an Ina-symbiont trial scene (which slows the novel's pace quite a bit), Shori may finally get answers to her questions about race, family, and free will.
Fun facts: In an interview, Butler would confess that she read vampire novels — and wrote Fledgling — as a diversion after becoming overwhelmed by the grimness of her Parable series. In 2021, HBO gave production a pilot order to a TV adaptation of the novel, to be executive produced by Issa Rae and J.J. Abrams.
***
JOSH GLENN'S *BEST ADVENTURES* LISTS: BEST 250 ADVENTURES OF THE 20TH CENTURY | 100 BEST OUGHTS ADVENTURES | 100 BEST RADIUM AGE (PROTO-)SCI-FI ADVENTURES | 100 BEST TEENS ADVENTURES | 100 BEST TWENTIES ADVENTURES | 100 BEST THIRTIES ADVENTURES | 75 BEST GOLDEN AGE SCI-FI ADVENTURES | 100 BEST FORTIES ADVENTURES | 100 BEST FIFTIES ADVENTURES | 100 BEST SIXTIES ADVENTURES | 75 BEST NEW WAVE SCI FI ADVENTURES | 100 BEST SEVENTIES ADVENTURES | 100 BEST EIGHTIES ADVENTURES | 75 BEST DIAMOND AGE SCI-FI ADVENTURES | 100 BEST NINETIES ADVENTURES | 75 BEST HADRON AGE SCI-FI ADVENTURES.