HADRON AGE SF (22)
By: Joshua Glenn
May 31, 2022
One in a series of posts about the 75 best sf adventures published during the genre's Hadron Age era (from 2004–2023, according to HILOBROW's periodization schema). For Josh Glenn's Hadron Age Sci-Fi 75 list (a work in progress), click here.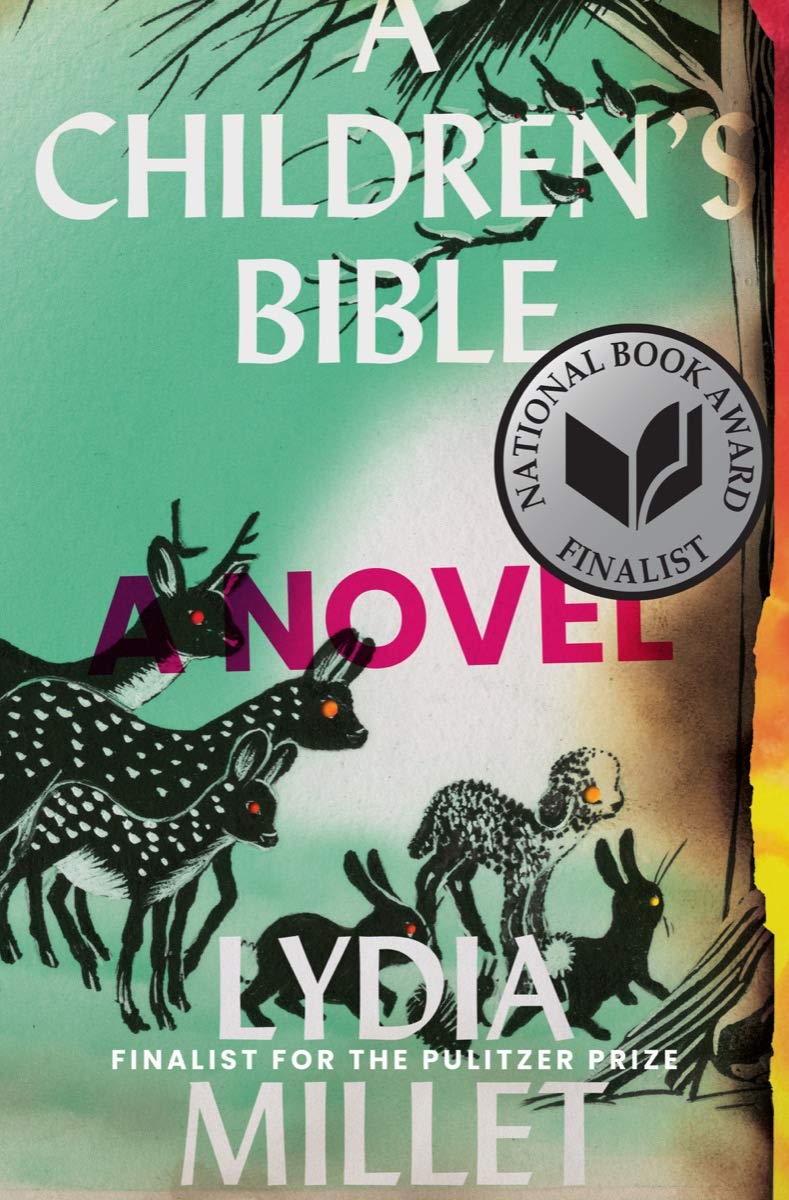 Lydia Millet's A Children's Bible (2020).
When a multi-family summer holiday at an East Coast beach house is disrupted by a climate-charged hurricane, the sardonic adolescent children of the group — who already despised their elders, and who are particularly incensed at their elders' inability to take constructive action in the face of eco-catastrophe — commandeer a car and split. Yes, this is a generational parable… about the futility of trusting your elders to do the right thing for anyone other than themselves (or even for themselves). The kids wind up squatting in a farm in Pennsylvania whose wealthy owner is elsewhere; there's an incursion of armed invaders. Millet pulls off something extraordinary here — balancing the story's charming Ransome-ish, kids-on-the-own aspect with an increasingly ominous sense of foreboding. Our narrator, Evie (a throwback to Radium Age sf, when the female protagonist of a catastrophe story was often named Eve), is fiercely protective of her young brother, Jack — who has become fascinated by a children's book of Bible stories, which he interprets in eccentric yet insightful ways. As a result, Millet's story makes reference to the Hebrew Captivity in Egypt, the Exodus, the Flood, the Virgin Birth, even the Crucifixion — adding to the apocalyptic vibe.
Fun facts: "I swear on a stack of copies," writes the Washington Post reviewer, of Millet's book, which was shortlisted for the 2020 National Book Award for Fiction, "that it's a blistering little classic: Lord of the Flies for a generation of young people left to fend for themselves on their parents' rapidly warming planet."
***
JOSH GLENN'S *BEST ADVENTURES* LISTS: BEST 250 ADVENTURES OF THE 20TH CENTURY | 100 BEST OUGHTS ADVENTURES | 100 BEST RADIUM AGE (PROTO-)SCI-FI ADVENTURES | 100 BEST TEENS ADVENTURES | 100 BEST TWENTIES ADVENTURES | 100 BEST THIRTIES ADVENTURES | 75 BEST GOLDEN AGE SCI-FI ADVENTURES | 100 BEST FORTIES ADVENTURES | 100 BEST FIFTIES ADVENTURES | 100 BEST SIXTIES ADVENTURES | 75 BEST NEW WAVE SCI FI ADVENTURES | 100 BEST SEVENTIES ADVENTURES | 100 BEST EIGHTIES ADVENTURES | 75 BEST DIAMOND AGE SCI-FI ADVENTURES | 100 BEST NINETIES ADVENTURES | 75 BEST HADRON AGE SCI-FI ADVENTURES.