COLOR CODE (1)
By: Joshua Glenn
May 17, 2022
One in a series of posts investigating what specific colors, in specific material contexts, signify to the series' contributors.
As announced today in Rob Walker's The Art of Noticing newsletter, HILOBROW has issued its own art-of-noticing challenge.
If we make ourselves receptive, the colors of specific phenomena in our lives can evoke all sorts of ideas, values, memories, and emotions. So show us a color — materialized in object form — and tell us what it means to you!
The goal is to pay attention to various specific material manifestations of color in everyday life — a splash of red from the label of an old tomato sauce can that you use to store loose change, say, or the blue handles on a trusty pair of scissors that you use every day — and to share out any meaningful examples that you may discover. You can participate in this creative exercise by posting an image (of a specific color, embodied in the real world somehow) along with your "color code" story, to Instagram. Include the hashtag #colorcodestory.
I was inspired to develop this exercise, earlier this year, after idly glancing at a 1965 paperback edition of "The Fellowship of the Ring" that I'd owned as a child. My son Max is away at college, and I was reorganizing the bookshelf in his bedroom — as part of a larger decluttering and reorganizing project — when my hand fell upon the book. I pulled it from the shelf, admired the front cover, then looked at the back cover… which is when a sensation of meaningfulness was triggered for me.
We'll celebrate a few of our favorite installments in this group effort not only here at HILOBROW, but via Rob's newsletter. Below is a first installment, to help get this irregularly published series launched.
---
TOLKIEN GREEN
---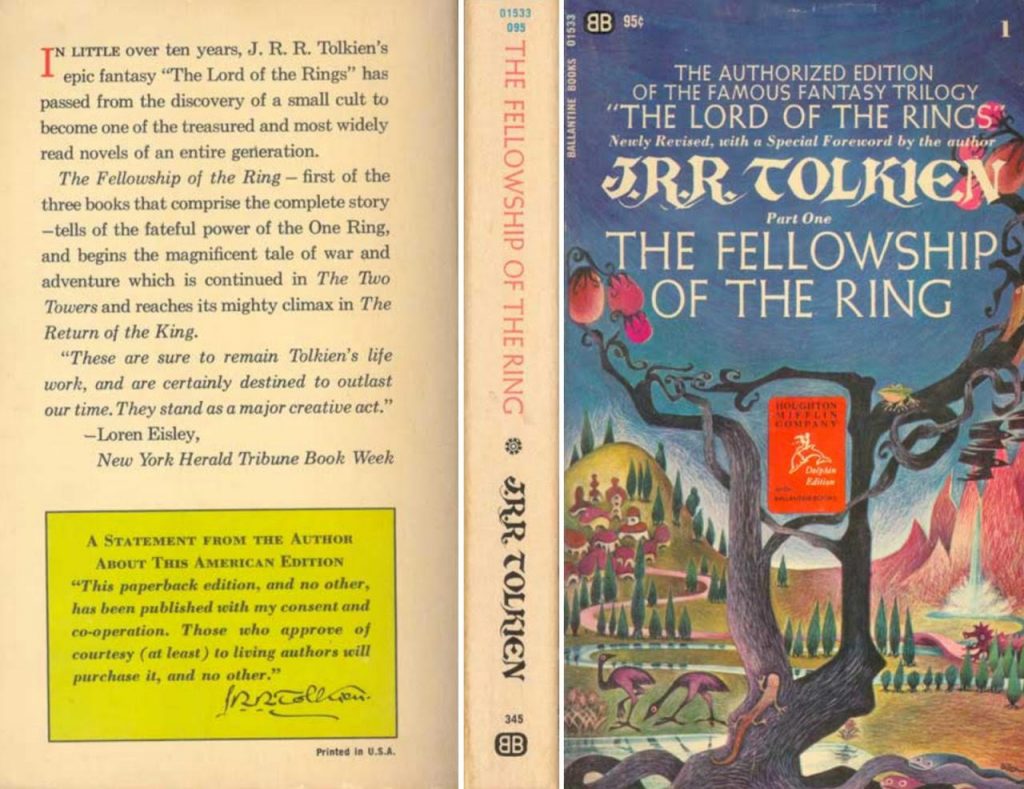 There's a little colored box on the back cover of Ballantine's Tolkien books — a signed statement from Tolkien himself about the American edition of his series. As an adolescent, poring over these books, I'd read the text inside that box many times. That particular greenish yellow, or yellowish green — barberry yellow? golden gun? let's call it "Tolkien green" for the sake of a good rhyme — had, I realized now, become synonymous, for me, with the escapist high fantasy I associate with Tolkien. The little box on those Ballantine books, for me, serves as a kind of portal — out of drab everyday reality and into a bright, mysterious, inviting, far more colorful dimension.
***
COLOR CODE: Josh Glenn on TOLKIEN GREEN | Marc Weidenbaum on TEAL | Jason Sandberg on ZINC CHROMATE | more TBD. Want to participate in this project? You can beguin by posting a photo of a meaningful color manifestation to Instagram with the hashtag #colorcodestory.
MORE JOSH GLENN + ROB WALKER COLLABORATIONS: LOST OBJECTS (forthcoming) | PROJECT:OBJECT | SIGNIFICANT OBJECTS.
ALSO SEE: John Hilgart (ed.)'s HERMENAUTIC TAROT series | Josh Glenn's VIRUS VIGILANTE series | & old-school HILOBROW series like BICYCLE KICK | CECI EST UNE PIPE | CHESS MATCH | EGGHEAD | FILE X | HILOBROW COVERS | LATF HIPSTER | HI-LO AMERICANA | PHRENOLOGY | PLUPERFECT PDA | SKRULLICISM.