HADRON AGE SF (19)
By: Joshua Glenn
May 11, 2022
One in a series of posts about the 75 best sf adventures published during the genre's Hadron Age era (from 2004–2023, according to HILOBROW's periodization schema). For Josh Glenn's Hadron Age Sci-Fi 75 list (a work in progress), click here.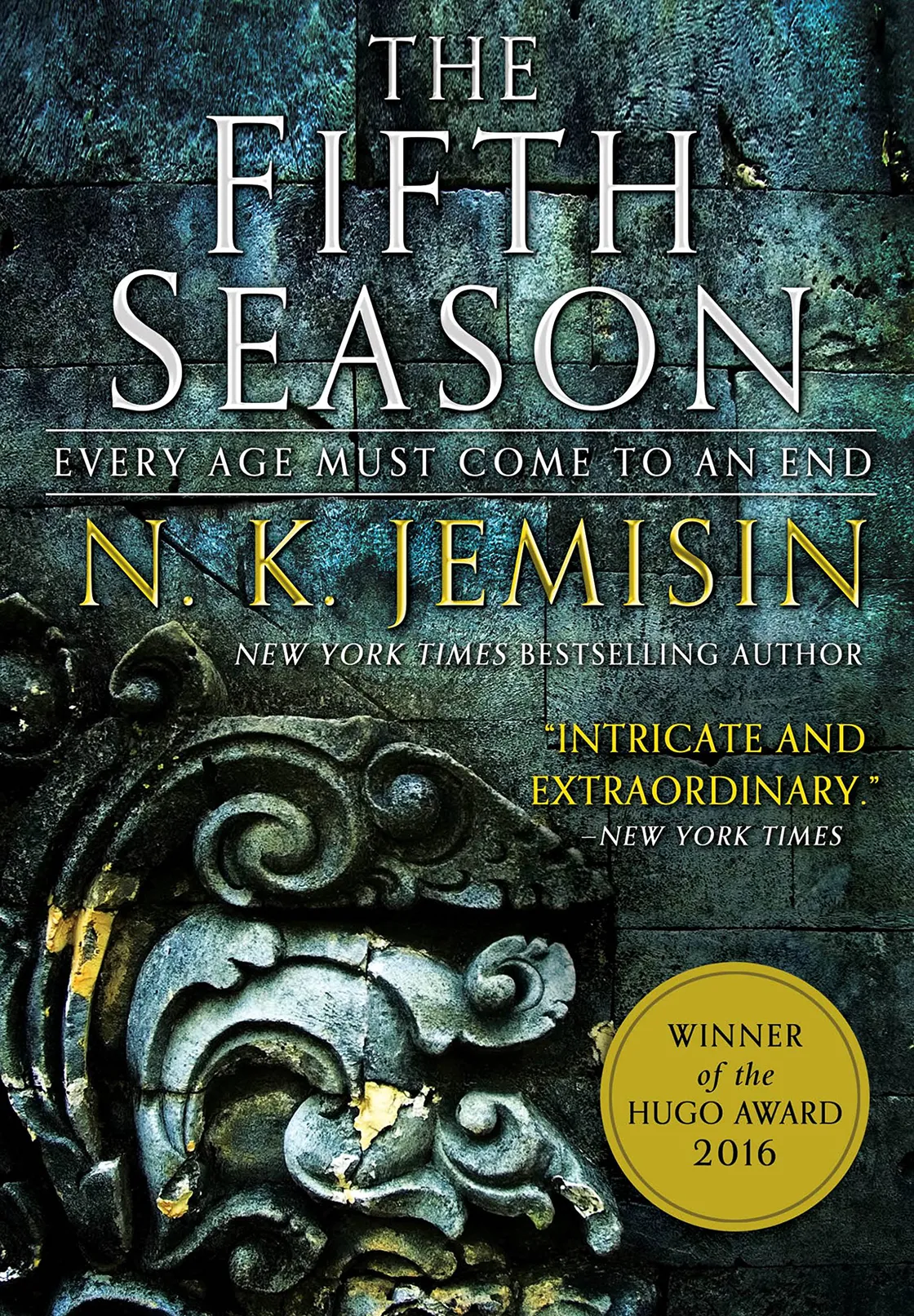 N.K. Jemisin's Fifth Season (2015).
Every few centuries, the single supercontinent of the planet on which this story takes place is rocked by earthquakes and volcano eruptions; this inevitably leads to a "fifth season" of cataclysmic climate change involving darkness, famine, and poisonous water and air. Previous civilizations have failed to survive such seasons — the planet is littered with forgotten technology, including floating obelisks. The Sanze empire, however, has harnessed the magical powers of "orogenes" — mutants who can manipulate earth and stone by absorbing or redirecting heat and energy — to forestall the next eco-catastrophe. The three stories in this, the first installment in Jemisin's Broken Earth trilogy, explore this world via the experiences of three female orogenes. Essun discovers that her husband, from whom she'd concealed her abilities, has murdered their son and kidnapped their daughter; she's also attacked by a mob of her fellow villagers. As she travels in search of her daughter, it becomes apparent to Essun that a truly apocalyptic geologic upheaval is in the offing. Damaya, meanwhile, is taken by the Guardians — an ancient order of humans with supernatural abilities whose sole task is to manage and control her kind — to the Fulcrum, a training facility for young orogenes. Syenite, finally, is rescued from the Fulcrum — by a Stone Eater, a moving sculpture-like being that can move through solid rock — and transported to an island community of pirates! In the book's final scene, we learn that the latest Fifth Season was triggered intentionally… and perhaps for a good reason.
Fun facts: Winner of the Hugo Award for Best Novel. Its sequels, The Obelisk Gate (2016) and The Stone Sky (2017), won the same prize — making Jemisin the first sf author to win the Hugo three years in a row or for all three books in a trilogy.
***
JOSH GLENN'S *BEST ADVENTURES* LISTS: BEST 250 ADVENTURES OF THE 20TH CENTURY | 100 BEST OUGHTS ADVENTURES | 100 BEST RADIUM AGE (PROTO-)SCI-FI ADVENTURES | 100 BEST TEENS ADVENTURES | 100 BEST TWENTIES ADVENTURES | 100 BEST THIRTIES ADVENTURES | 75 BEST GOLDEN AGE SCI-FI ADVENTURES | 100 BEST FORTIES ADVENTURES | 100 BEST FIFTIES ADVENTURES | 100 BEST SIXTIES ADVENTURES | 75 BEST NEW WAVE SCI FI ADVENTURES | 100 BEST SEVENTIES ADVENTURES | 100 BEST EIGHTIES ADVENTURES | 75 BEST DIAMOND AGE SCI-FI ADVENTURES | 100 BEST NINETIES ADVENTURES | 75 BEST HADRON AGE SCI-FI ADVENTURES.