HADRON AGE SF (18)
By: Joshua Glenn
May 1, 2022
One in a series of posts about the 75 best sf adventures published during the genre's Hadron Age era (from 2004–2023, according to HILOBROW's periodization schema). For Josh Glenn's Hadron Age Sci-Fi 75 list (a work in progress), click here.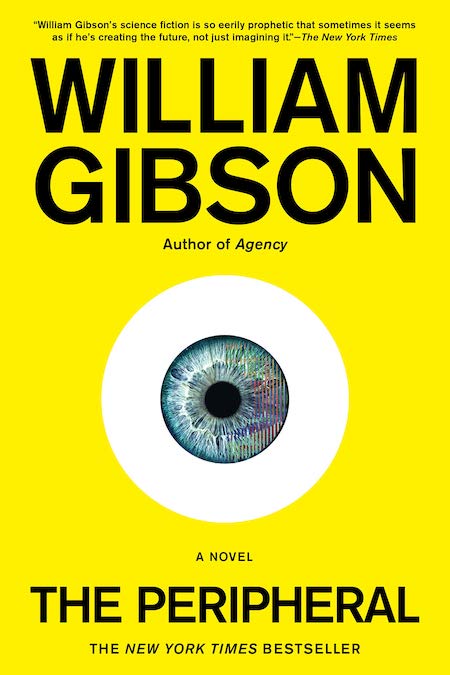 William Gibson's The Peripheral (2014).
The first installment in Gibson's Jackpot trilogy is a mystery thriller braiding together two stories. One of these, set perhaps thirty years in the future, depicts a pre-apocalyptic America in which "Homes" (Homeland Security) is running the show, and the denizens of small-town America acquire most goods at Hefty Mart, or else fab them at a 3D-print shop… which is where one of our protagonists, Flynne, works. Set maybe another seventy years in the future, in an all-but-deserted London, the other story line is a post-apocalyptic one. A series of events known as the Jackpot, because everything shitty that had been threatening to happen did happen, has wiped out eighty percent of the world's population. London is controlled by "klepts" (Russian oligarchs), and our protagonist here is Wilf, an alcoholic PR man whose klept friend Lev is a "continua enthusiast." Using Lev's black-market time-travel tech, Wilf has hired Flynne's brother, Burton, for a security job in what Burton believes is cyberspace. In fact, he is piloting a drone through the London of Wilf's future… where Flynne, filling in for Burton, witnesses the nanobot murder of Wilf's celebrity client. This leads to an assassination contract being put out on Burton, which in turn leads to some typically frantic Gibsonian action scenes… and meanwhile, Flynne is transported into the future via a peripheral (a cyborg avatar) in order to help solve the murder case!
Fun facts: "If the Jackpot is going to happen," Gibson has said in an interview, "it's already happening. It's been happening for at least 100 years." Amazon has tapped Westworld creators Lisa Joy and Jonathan Nolan to develop a TV series adaptation of The Peripeheral. The second installment in the Jackpot series, Agency, was published in 2020; the third is forthcoming.
***
JOSH GLENN'S *BEST ADVENTURES* LISTS: BEST 250 ADVENTURES OF THE 20TH CENTURY | 100 BEST OUGHTS ADVENTURES | 100 BEST RADIUM AGE (PROTO-)SCI-FI ADVENTURES | 100 BEST TEENS ADVENTURES | 100 BEST TWENTIES ADVENTURES | 100 BEST THIRTIES ADVENTURES | 75 BEST GOLDEN AGE SCI-FI ADVENTURES | 100 BEST FORTIES ADVENTURES | 100 BEST FIFTIES ADVENTURES | 100 BEST SIXTIES ADVENTURES | 75 BEST NEW WAVE SCI FI ADVENTURES | 100 BEST SEVENTIES ADVENTURES | 100 BEST EIGHTIES ADVENTURES | 75 BEST DIAMOND AGE SCI-FI ADVENTURES | 100 BEST NINETIES ADVENTURES | 75 BEST HADRON AGE SCI-FI ADVENTURES.