HADRON AGE SF (17)
By: Joshua Glenn
April 27, 2022
One in a series of posts about the 75 best sf adventures published during the genre's Hadron Age era (from 2004–2023, according to HILOBROW's periodization schema). For Josh Glenn's Hadron Age Sci-Fi 75 list (a work in progress), click here.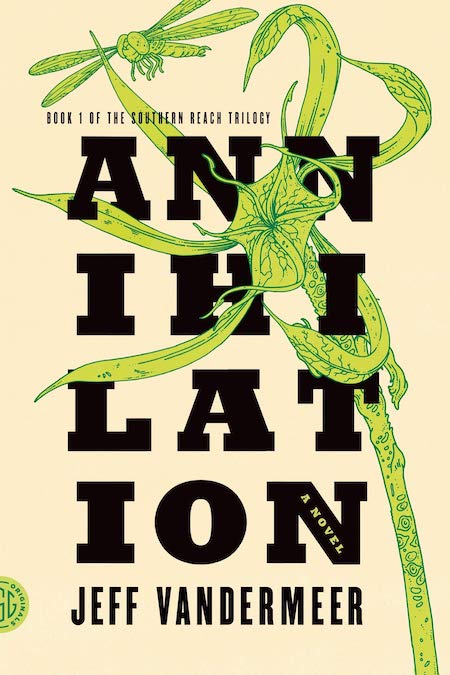 Jeff VanderMeer's Annihilation (2014).
In this Ballardian/Kafkaesque exercise in science-fictional psychological horror, a biologist, an anthropologist, a psychologist, and a surveyor are transported to Area X — an unspoiled stretch of US coastline that for years now has been held under quarantine by a government agency, the Southern Reach. Previous missions have ended in catastrophe or worse. In fact, the husband of our narrator, the biologist, served as a medic on one such foray; he returned home an eerily altered person — was it really him? The biologist's marriage had been an unhappy one, we learn, because of her propensity to objectify everyone and everything… but this failing is what allows her to remain psychologically intact when Area X begins to affect the rest of her team in uncanny ways. I'm reminded, actually, of Captain Kirk's solution to the problem of alien spores that transform his crew members into blissed-out hippies (in the episode "This Side of Paradise"); he simply refuses to go with the flow. There are alien spores here, too — inside an underground structure where a mysterious organism writes biblical admonitions on the walls. Then the anthropologist goes missing; they find her body inside the structure. The psychologist vanishes, too; and soon enough, the surveyor attempts to ambush the biologist. What's going on? The biologist doggedly tracks down clues: journals from previous expeditions, piled in a secret chamber inside a lighthouse; biological samples suggesting that the flora and fauna of Area X is not what it appears to be; a confession from the psychologist. But it's only via cold-blooded analysis of the "brightening" that she's undergoing that she begins to comprehend what's really going on.
Fun facts: Annihilation, which won a Nebula Award, was adapted into a 2018 film — starring Natalie Portman, Jennifer Jason Leigh, Gina Rodriguez, Tessa Thompson, Tuva Novotny, and Óscar Isaac — by Alex Garland. Its sequels in the Southern Reach trilogy, Authority and Acceptance, were also released in 2014.
***
JOSH GLENN'S *BEST ADVENTURES* LISTS: BEST 250 ADVENTURES OF THE 20TH CENTURY | 100 BEST OUGHTS ADVENTURES | 100 BEST RADIUM AGE (PROTO-)SCI-FI ADVENTURES | 100 BEST TEENS ADVENTURES | 100 BEST TWENTIES ADVENTURES | 100 BEST THIRTIES ADVENTURES | 75 BEST GOLDEN AGE SCI-FI ADVENTURES | 100 BEST FORTIES ADVENTURES | 100 BEST FIFTIES ADVENTURES | 100 BEST SIXTIES ADVENTURES | 75 BEST NEW WAVE SCI FI ADVENTURES | 100 BEST SEVENTIES ADVENTURES | 100 BEST EIGHTIES ADVENTURES | 75 BEST DIAMOND AGE SCI-FI ADVENTURES | 100 BEST NINETIES ADVENTURES | 75 BEST HADRON AGE SCI-FI ADVENTURES.