Best 2002 Adventures (7)
By: Joshua Glenn
January 15, 2021
One in a series of 10 posts identifying Josh Glenn's favorite 2002 adventure novels.
*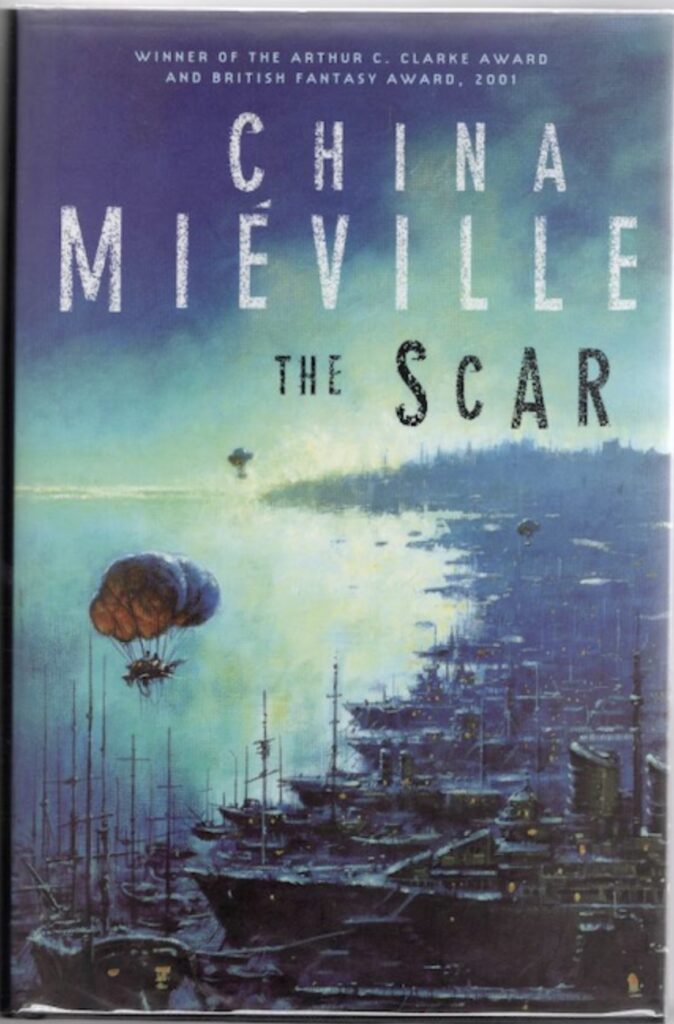 China Miéville's New Crobuzon science fantasy adventure The Scar.
After the events recounted in Perdido Street Station (2000), linguist Bellis Coldwine flees New Crobuzon by ship… only to be captured by pirates and relocated to Armada, a vast floating city populated by exiles, criminals, and runaways — including the surgically "Remade." In giving us this cold protagonist — who despises Armada, and who actively works to subvert the city's great endeavor — Miéville suppresses our own instinctive resistance to the allure of an anarchist utopia. Which is exactly what this filthy, leaky, confusing, collection of hundreds of lashed-together ships is. What's more, the The Scar is a mashup of the utopian sci-fi travelogue with Lovecraftian horror. It seems that Armada's leaders wish to summon and capture a leviathan from the bottom of the ocean… as phase one of a plan to harness transdimensional, reality-warping forces located at the planet's "Scar," which will be unleashed against imperialistic New Crobuzon! The plot develops shambolically; there are vampiric mosquito-people, Scabmettlers, the underwater Cray people, and murderous "Grindylows" to contend with, not to mention the story of Tanner Sack, an escaped Remade slave who finds liberation and fulfillment in Armada. Uther Doul, the city's mercenary enforcer, turns out to be one of the more important figures; Bellis Coldwine, in the end, not so much. The prose is purple, the action thrilling, and the politics fascinating… but what keeps you coming back to Miéville is the wildly imaginative, overwhelmingly atmospheric world-building.
Fun facts: Winner of the British Fantasy Award and Locus Award.
***
JOSH GLENN'S *BEST ADVENTURES* LISTS: BEST 250 ADVENTURES OF THE 20TH CENTURY | 100 BEST OUGHTS ADVENTURES | 100 BEST RADIUM AGE (PROTO-)SCI-FI ADVENTURES | 100 BEST TEENS ADVENTURES | 100 BEST TWENTIES ADVENTURES | 100 BEST THIRTIES ADVENTURES | 75 BEST GOLDEN AGE SCI-FI ADVENTURES | 100 BEST FORTIES ADVENTURES | 100 BEST FIFTIES ADVENTURES | 100 BEST SIXTIES ADVENTURES | 75 BEST NEW WAVE SCI FI ADVENTURES | 100 BEST SEVENTIES ADVENTURES | 100 BEST EIGHTIES ADVENTURES | 75 BEST DIAMOND AGE SCI-FI ADVENTURES | 100 BEST NINETIES ADVENTURES | 75 BEST HADRON AGE SCI-FI ADVENTURES | NOTES ON 21st-CENTURY ADVENTURES.